Man files suit against Diocese of St. Petersburg saying a Tampa priest sexually abused him in the 1980s
By Waveney Ann Moore
Tampa Bay Times
October 17, 2018

https://www.tampabay.com/article/20181017/ARTICLE/310179831/1071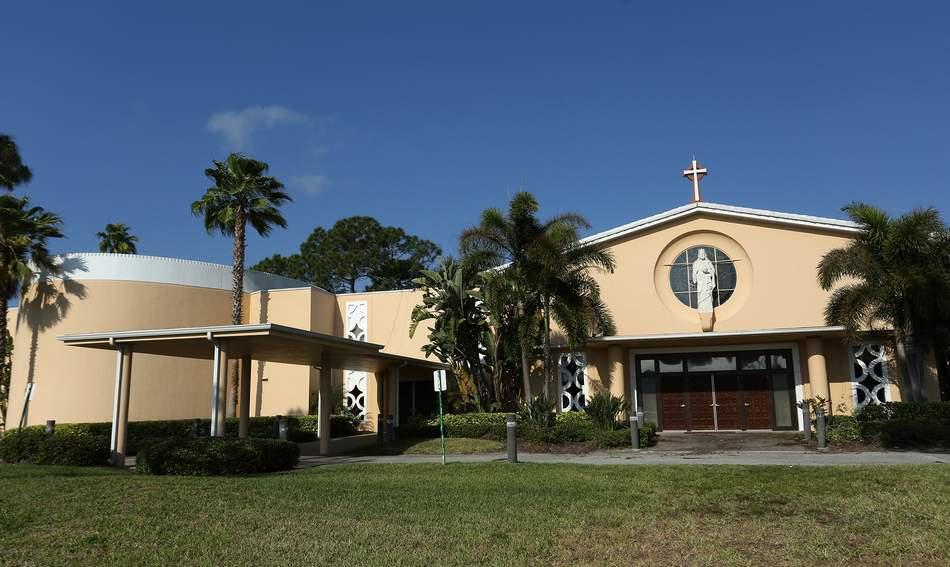 Christ the King Church at 821 South Dale Mabry. This photo was taken in April 2018 before a major construction project started on the church.
Photo by JAMES BORCHUCK
A former parishioner of Christ the King Catholic Church in Tampa, now a lawyer and magistrate in the Virginia Supreme Court, has filed suit against the Diocese of St. Petersburg alleging that he was sexually abused as a child by a now deceased priest.
According to the lawsuit filed this week, Mark Cattell says he was 9 years old in 1981 when he was sexually abused by the Rev. Robert D. Huneke. Cattell, now 45, was a student at Christ the King Catholic School and attended the parish church.
During a news conference Wednesday, Cattell's attorney, Jeff Herman, called what happened to his client "a crime that was committed at the highest level of the Catholic church." It involved, he said, "two bishops and a pedophile priest."
According to the lawsuit, Huneke had previously been assigned to St. Dominic's parish in the Diocese of Rockville Centre, in Long Island, N.Y., where he sexually molested a boy named John Salveson. Herman produced letters that he said Salveson, who is not a party in the suit, wrote as an adult to the Long Island bishop about the abuse that began when he was 13 years old.
By then, Huneke was in Florida, at Christ the King. In a July 26, 1980, letter on Christ the King stationery to the Rockville Centre bishop, Huneke admits to "past incidents" in New York and says he has "undergone counseling as well as spiritual direction."
On Aug. 7, 1981, Salveson wrote a letter to alert Bishop W. Thomas Larkin, head of the St. Petersburg Diocese. In his response, dated Aug. 14, 1981, Larkin thanked Salveson for his letter and said he would keep the matter "in mind in our personnel placements." Larkin, who died in 2006 and whose name graces both a high school and the diocese's pastoral center in front of which Wednesday's news conference was held, said he had been unaware of the accusations against Huneke. "I do not know whether he is undergoing any kind of therapy but will look into the matter," his letter said.
Huneke, who died in 2002, was not removed from the ministry until 1982.
"The Diocese of St. Petersburg has these letters," Herman said, and never contacted the authorities or alerted parishioners and families.
In a statement, the diocese said Huneke was transferred to the St. Petersburg Diocese — which encompasses Pinellas, Hillsborough, Pasco, Citrus and Hernando counties — in 1979. The transfer came with a letter of recommendation from his bishop, the statement said.
"At that time the Diocese of St. Petersburg was unaware of any prior misconduct with minors. He was assigned to Christ the King Parish in Tampa in 1979. In 1982, Huneke was removed from ministry in the Diocese of St. Petersburg after an allegation that he abused a child while in the Diocese of Rockville Centre. At the time of his removal, the Diocese had received no complaints relating to the ministry of Huneke while he served in this Diocese of St. Petersburg," the statement said.
More recently, on July 16, the diocese said it heard allegations that Huneke had abused a minor at Christ the King. The diocese said it referred the victim to its victim assistance coordinator and advised the individual to report the incident to law enforcement. The diocese said it also reported the matter to the state attorney.
The diocese website — last updated in September — lists nine priests since 1968 who have been "credibly accused of sexual abuse of a minor or minors." Huneke's name is not on the list.
Diocese spokeswoman Teresa Peterson said Huneke's name is not included "because he was a priest of the Diocese of Rockville Centre, not a priest of the Diocese of St. Petersburg."
"The silence in their statement about receiving this letter (to Larkin) and their response is deafening," Herman said, adding that a cover-up continues.
"They don't come clean on that statement that they knew about the 1981 letter from John (Salveson) and made it seem that when they got notice, they removed him," he said.
Cattell has filed suit against the Diocese of St. Petersburg and its leader, Bishop Gregory Parkes, as well as the Diocese of Rockville Centre and its bishop. The lawsuit gives graphic details of Cattell's abuse and describes Huneke as a "charismatic and friendly priest, who was well liked by parishioners." Huneke, the suit says, forced the Christ the King student to perform oral sex on him.
Herman said Cattell has suffered through the years and only began to deal with the abuse of his childhood after marrying two years ago. He's now "trying to move forward with his life," the lawyer said.
Tim Lennon, president of SNAP, the Survivors Network of those Abused by Priests, said it's not unusual for survivors to wait so long to speak about their abuse.
"Pennsylvania has lifted a cover," he said referring to the Pennsylvania grand jury report detailing the molestation of more than 1,000 children by at least 300 Roman Catholic priests. "Many other organizations are seeing a dramatic increase in victims coming forward seeking help, seeking resolution. When you bring attention to the issue, it provides an opportunity for survivors to step forward."
The St. Petersburg Diocese says it "stands with victims of sexual abuse and we recognize the courage it requires to speak out about their betrayal and hurt."
The organization said it has "consistently provided counseling, pastoral care, prayer and other support to victims to assist with their healing" and has "established policies that include a zero tolerance for sexual abuse of minors and vulnerable adults," along with other safeguards. Since 1992, it has completed fingerprint background screenings on 59,000 priests, deacons, lay employees, volunteers, contractors and vendors working with, or in close proximity, to minors and vulnerable adults.
Herman said he wants to hold the New York and St. Petersburg dioceses "legally and financially responsible" for what happened to his client, and is looking for an award of "over $10 million."
Contact: wmoore@tampabay.com