Illinois Catholic Bishops Sued over Alleged Sex Abuse Cover-up
By Eric Stock and Ryan Denham
GLT 89.1 FM
October 18, 2018

http://www.wglt.org/post/illinois-catholic-bishops-sued-over-alleged-sex-abuse-cover-0#stream/0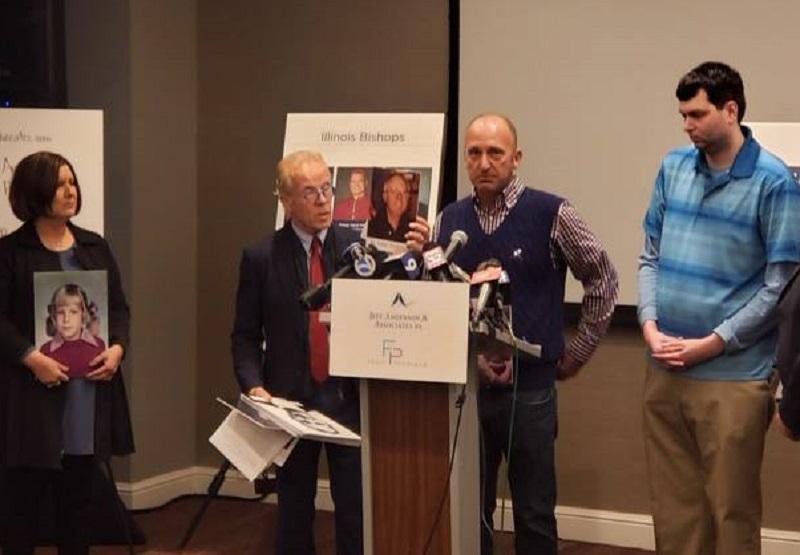 Darin Buckman addresses reporters about the alleged abuse he encountered as a child as he stands with attorney Jeff Anderson and plaintiffs Cynthia Yesko and Joshua Bollman (right).



The Catholic Church in Illinois has been sued by four people who claim they were sexually abused by priests and that the church protected the priests by concealing the abuse.

Two of the victims claim they were abused in the Peoria diocese.

The public nuisance lawsuit filed Wednesday in Cook County names the Catholic Conference of Illinois and each of the six Catholic dioceses in Illinois.

"(It's) a conspiracy of silence, a conspiracy of secrecy, a conspiracy of self-protection and scandal avoidance," attorney Jeff Anderson said at a news conference in Chicago.

The 54-page complaint asks the Catholic church to release the names of each priest or church leader accused of child molestation and to implement policies that would "better protect children and the general public from further harm."

Anderson said the Catholic church revealed only partial lists of abusive priests in prior legal settlements. He said Peoria Bishop Daniel Jenky previously posted 16 priests the church deemed to be credibly accused of assault of minors who are not in ministry.

"What about the ones that have been accused that are in ministry?" Anderson asked. "Bishop Jenky, danger!"

Chillicothe Allegation

Darin Buckman said Father John Anderson sexually abused him at St. Edwards Parish in Chillicothe from approximately 1979 to 1984 when Buckman was between 8 and 14 years old.

"He took away my manhood," Buckman said, choking back tears. "I knew I had to come to this so no other one would be sexually abused again."

Buckman said he called the Peoria diocese over two years ago and said he never received a reply. Anderson has since retired.

Buckman added the abuse has lived with him for nearly four decades, causing him to battle with depression, anxiety and alcoholism.

"It's part of the avenue of coping with what happened," Buckman said.

The Peoria diocese said in a statement Thursday it was still reviewing the lawsuit. The diocese said it "has had conversations" with Buckman and his attorneys, as recently as Wednesday. The diocese said Jenky removed Anderson from all public ministry (citing a 2002 statement) and that he's "forbidden to exercise priestly ministry."

"Under the direction of Bishop Jenky, the Catholic Diocese of Peoria remains committed to maintaining a safe environment to all children," the diocese said.

Peoria Allegation

An anonymous plaintiff named as John Doe claims he was 15 when he sexually abused by Monsignor Charles Beebe at the Academy of Our Lady/Spalding Institute in Peoria in 1981.

Beebe is listed as a senior priest on the Catholic Diocese of Peoria's website. He has served churches in Pekin, Dunlap, Roanoke and Benson during his 48 years in ministry.

The Peoria diocese said it immediately contacted police in June about the allegation against Beebe, who was placed on administrative leave. The church said its Diocesan Review Commission later determined the allegation was "unsubstantiated and could not be deemed credible." Beebe was reinstated in ministry, the diocese said. He's been retired since 2016.

"Mr. (Jeff) Anderson claimed that Bishop Jenky has ignored this allegation. This statement is inaccurate," the diocese said.

Jenky issued a statement in August following reports of widespread molestation by priests in Pennsylvania saying he was deeply disturbed by the failures of some bishops to address the crisis, but said the church is doing a better job handling abuse claims than it did in the past.

People like you value experienced, knowledgeable and award-winning journalism that covers meaningful stories in Bloomington-Normal. To support more stories and interviews like this one, please consider making a contribution.