Chilean court orders mediation between Church and alleged abuse victims
By Natalia A. Ramos Miranda
Reuters
October 24, 2018

https://reut.rs/2SgOn8o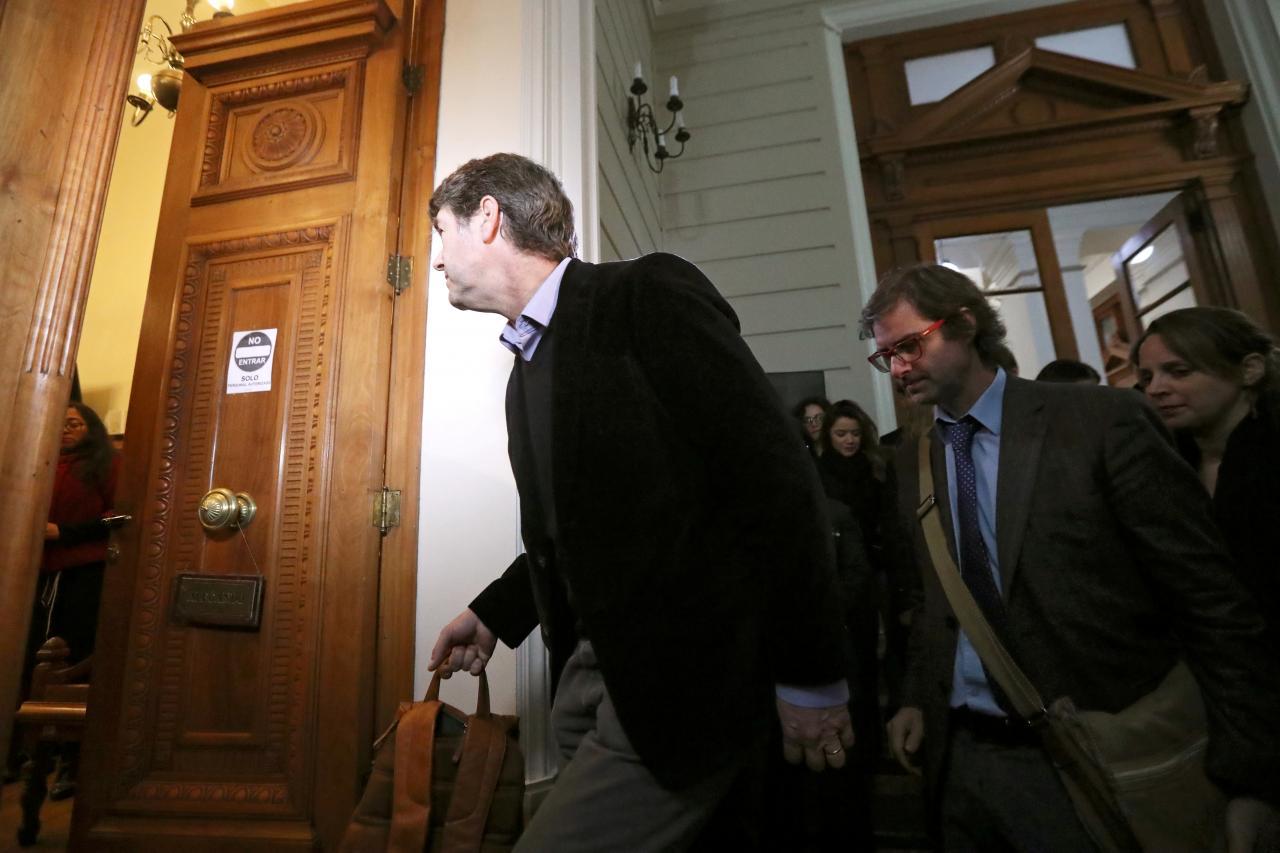 James Hamilton and Juan Andres Murillo, victims of clerical sexual abuse in Chile, attend a court seeking compensation in civil case in Santiago, Chile, October 18, 2018.
Photo by Ivan Alvarado
Santiago's Archbishop and three men who allege they were sexually abused by Chilean priest Fernando Karadima must appear at a mediation hearing called by Chile's Court of Appeal.
In a statement posted on its website on Wednesday, the court instructed the two parties to meet with the possibility of an agreement between them. The hearing has been set for Nov. 20.
Claimants James Hamilton, Jose Andres Murillo and Juan Carlos Cruz filed an appeal for "moral damages" against the Church earlier this year, accusing it of covering up abuse crimes. The case was previously rejected by a lower court for lack of evidence.
They were invited to Rome earlier this year to tell the Pope about their alleged abuse. They have accused Karadima, who worked for the Santiago Archbishopric as a parish priest in a Santiago suburb, of abusing them and the Church of covering up that abuse.
A decision in favour of the men could pave the way for a flood of civil lawsuits seeking monetary damages from Chile's Roman Catholic Church.
The plaintiffs' lawyer Juan Pablo Hermosilla told Reuters that he was against the mediation hearing and had filed papers asking for it to be cancelled. "It would only prolong the process and re-traumatize my clients," he said.
A spokesperson for the Santiago Archbishopric did not reply to a request for comment.
Cruz wrote on Twitter on Wednesday, "There will be no conciliation. We will appeal until we have no other option."
Local media on Sunday reported that the court had already found in favour of the claimants and ordered the Church to pay 450 million pesos ($650,000) in total damages, citing a leaked court document. Reuters was unable to independently confirm the report.
The Church sex abuse and cover-up scandal has led Chilean prosecutors to investigate hundreds of cases of alleged abuse and prompted Pope Francis to apologise to its faithful.
Karadima, now 88 and living in a nursing home in the capital, has denied the accusations. He was never charged by civilian authorities because the statute of limitations had expired. He was found guilty of sexual abuse in a Vatican investigation in 2011, and last month was defrocked by the Pope.