Former Altar Boy Sexually Abused by Priest Tells Why He's Raising His Kids in the Catholic Church
By Lauren Chval
Chicago Tribune
October 26, 2018

https://www.chicagotribune.com/lifestyles/ct-life-catholic-church-sex-abuse-parenting-1025-story.html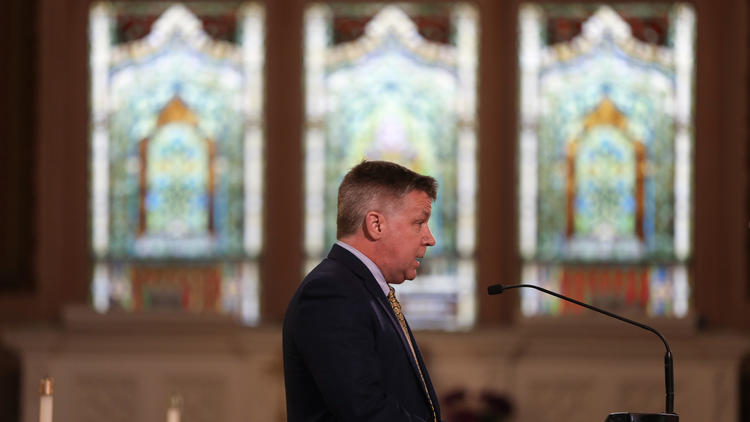 The annual Hope and Healing Mass, which took place for the seventh year Oct. 20., is a way to honor wounds from sexual abuse and celebrate ongoing healing, according to Michael Hoffman, a victim and survivor of sexual abuse by a priest. It is put on by clergy, victim-survivors and the archidiocese's Office for the Protection of Children and Youth's Office of Assistance Ministry. (Abel Uribe)



Michael Hoffman is what some call a "cradle Catholic." Born and raised into the faith, he and his family were extremely involved in their Lake Forest parish throughout his childhood. As a kid, he was an altar server. As an adult, he considers the Catholic community the "fabric" of his life.

From 12 to 16, it was also the source of his sexual abuse.

Hoffman, now 53, kept that to himself for a long time. It wasn't until 2006 — a decade into his marriage — that he decided to tell his wife. The second person he told? His pastor at St. Mary of the Woods Parish in Chicago.

"I was that active at our parish that I felt compelled to tell him. My kids were going to school there. I was on the athletic board," Hoffman said. "If that experience went poorly — and there's a 50-50 chance that it could go either way — he might have thought that I was attacking his ministry or attacking his character, which I wasn't doing. If he didn't handle it the way he handled it, which was a very good and gracious way, that could have changed my path. But he didn't. I was just at a moment in my life where I was really wanting help."

The Rev. Robert Mayer had been head of the altar servers; that's how he gained access to his victims, and Hoffman said there were many. Having pizza up in the priest's room was framed as a beneficial mentoring relationship.

"My parents adored the priest. And he groomed a lot of parents to gain access to a lot of children. Not just me. There were many boys in the room. One day it was him, the next day it was me, the next day it was this guy," he said. "So that's tough, tough on my mom and dad, tough on all the parents. Because I was 12 years old. They had to drive me to get abused. They had to pick me up from getting abused."

Hoffman doesn't like to talk about his abuser. ("He's not the story; he's not my story.") His childhood parish was the third of nine the priest was shuffled to before he was convicted of abuse in 1992. He was sentenced to three years in prison and laicized in 2010.

Hoffman's story is not uncommon. In August, a grand jury report alleged that more than 300 Pennsylvania priests sexually abused 1,000 identifiable children — and likely "thousands more" unreported — over the course of seven decades. A hierarchy of church leaders, including a bishop who was later elevated to archbishop of Washington, D.C., is accused of then covering up the abuse. The scandal renewed the outrage that followed a sweeping 2002 Boston Globe investigation of abuse and cover-up in the Catholic Archdiocese of Boston.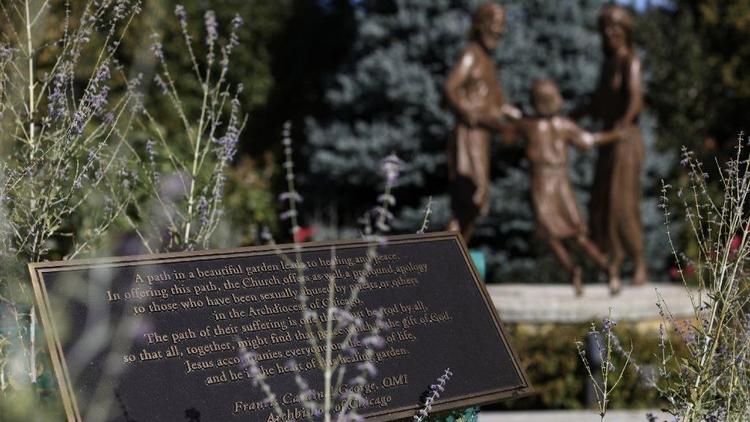 The healing garden outside Holy Family Church, shown on Oct. 20, 2018. (Abel Uribe/Chicago Tribune)



People ask Hoffman why he stayed. Why did he continue to practice a faith that had betrayed him? Why continue to attend a church that protected his abuser and enabled him to violate others? Why did he decide to raise his children in it? These days, why does any Catholic parent?

Even as they decide to stay in the church, these are questions that many Catholic parents wrestle with. The potential that parents could be delivering their child into the hands of an abuser, as Hoffman's parents unwittingly did, is a threat that hangs over what should be a safe place in a family's life: their church. That threat can have a powerful impact on how parents view the church and relate to their children.

"The same policies that we have about any stranger approaching you inappropriately — if anyone is touching you in a private area, you tell mommy or daddy — previously it would not have been so much on my mind to make sure I was telling my kids to be safe in terms of the church," said Justin Hanson, a 35-year-old father of two in La Grange. "But yeah, now, for me, it is. I have to remind them to be careful and to let us know about things like that."

The tension between that worry and the dedication to one's faith can be difficult to navigate. Hanson said he and his wife haven't considered leaving the church, but they do feel a pull to take greater personal responsibility for their children's Catholic faith and education rather than leaving it to church leaders. Personally, Hanson said, he finds the experience of working through the latest revelations jarring.

"It kind of feels like a member of your family has betrayed you," Hanson added. "And of that dear member of your family, you have good memories, but now you're conflicted, and you're mad and betrayed. But at the end of the day, they're still a member of your family. And you've just got to spend time processing."

When Kevin and Caroline McCarthy started looking for preschools in Arlington Heights, they didn't necessarily expect to fall in love with the community at St. James Parish. Both were raised Catholic and wanted to pass that on to their three children. Their oldest, now in first grade, has continued at the school because they've been so impressed.

"It just feels like they're teaching him to be a good person, as a whole," said Caroline McCarthy, 38.

When the Pennsylvania grand jury report came out in August, they appreciated that their pastor was proactive about addressing the abuse.

"Our pastor came out pretty early on when all this started coming up again and gave a really good homily, as well as an after-message where he basically encouraged all of us to speak up," said Kevin McCarthy, 41. "Don't be silent. If you're mad, frustrated, tell people. You have a right to be mad and frustrated that these things are happening."

Though the McCarthys won't leave the church, Caroline said the latest revelations were the "final nail in the coffin" for her parents, which makes for a more challenging dynamic within the family. Though she and Kevin have been satisfied with the children's training at the school regarding sexual abuse, Caroline said that if she ever heard a whisper of inappropriate behavior at St. James, she'd withdraw their children immediately.

For others, there is comfort in the numbers. According to the 2004 John Jay Report that investigated abuse from 1950 to 2002, approximately 4 percent of priests were accused during that time.

Kevin Byrnes, a 63-year-old Elmhurst resident who grew up in Beverly and Jeffrey Manor in Chicago, is reassured by the percentages. He's familiar with the church's history of abuse. When he was a teenager, his brother told him about being invited to the priest's rectory and seeing a Playboy magazine out on display. This priest, who was regularly invited to family backyard barbecues, was the same priest who abused Hoffman.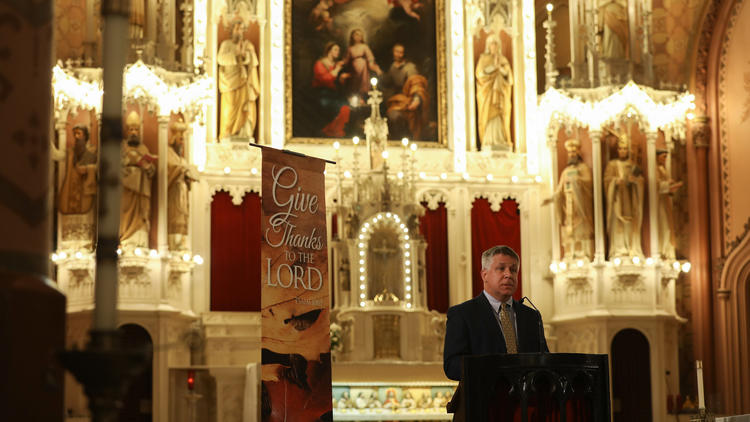 Michael Hoffman shares some details of his experience and healing process. (Abel Uribe/Chicago Tribune)



And after Byrnes graduated from college, he worked and volunteered in Catholic ministries and would hear stories about priests who were "farmed out to Iowa" to "sort things out."

His daughters, now 29 and 22, both attended Catholic school. Despite his experiences, he said he never worried about their safety in the church or in school. Byrnes said that times have changed. Where priests were once categorically revered, now there is more caution. It's a sentiment that Hoffman shares.

"There are no altar serving 'trips to the cabin' anymore," he said.

That caution exists everywhere, not just in the Catholic Church, said Lori Ann Post, director for the Institute for Public Health and Medicine at Northwestern University.

"I wouldn't leave my children alone with any adult who is a man," Post said. "I know what the risks are. I know how many predators are out there. I would never put my children at risk for being exploited."

Post speaks, in part, from personal experience. She was director of the Sexual Assault Surveillance System for the state of Michigan, and her daughter happened to be in gymnastics where Larry Nassar worked. The Catholic Church is not unusual in its abuse or in its cover-up — she considers it unique only in how vulnerable victims are.

"You have families that trust their religious leaders; they trust their children with religious leaders. Those children are taught to be deferent," Post said. "Children are left alone with them young, and easily groomed."

The Archdiocese of Chicago has worked to combat abuse in the church by providing training to guard against the vulnerability. In 1992, it established the Office for the Protection of Children and Youth (OPCY), the first of its kind in any archdiocese in the country. The office does outreach to victim-survivors as well as prevention efforts through training for both adults and children. Mayra Flores is the OPCY safety environment coordinator.

"The training is twofold: We have the adult training that teaches about the methods and means by which perpetrators try to groom the community to try to gain access to children and then abuse them," Flores said. "But then, we have our children's training, which is age-appropriate, research-based and that is to learn that they have a right to be safe. And if they don't feel safe, they have a right to report. That they have a voice and they should report to a trusted adult."

Since 2003, the office has trained 263,000 adults. Just last year, 112,000 students were trained. OPCY Director Mary Jane Doerr said the office's record can serve as reassurance for parents.

She added that in the wake of the Boston Globe reports in 2002, the principles and procedures enacted by the Archdiocese of Chicago were developed into what's known as "The Charter for the Protection of Children and Young People." In January, the archdiocese will host a seven-day spiritual retreat at Mundelein Seminary for Catholic bishops from across the country to "work to address the current U.S. clergy sex abuse crisis."

Once a board member of his children's school, Hoffman is very familiar with the extent of the archdiocese's effort to implement change. In addition to the three-hour training and background check every adult volunteer and employee must go through, he pushed for a process in which volunteers are interviewed by a board member.

"I had a dad say, 'I don't want to go to the class.' I said, 'OK, that's great. You're not coaching your child.' He said, 'What do you mean?' Isn't your child worth it? A three-hour class with some discussion is a minimum standard," Hoffman explained. "That culture didn't exist when I was in Catholic school. Anybody could coach kids, and you never knew what was happening. Now we have a minimum standard, and we're turning people away (if they don't meet that standard)."

Through it all, Hoffman never left the church. His wife was also raised Catholic, and they never had any doubts that they wanted the same for their children, he said. Their kids, now 21 and 19, were both altar servers. Hoffman said the community of the church is his support system.

Once he came forward, the same church that was the source of his pain provided Hoffman opportunities to heal. It's a message he wanted to instill in his children.

"What I've tried to do is tell them, even if abuse occurred in the Catholic Church and I'm one of the victims, good and healthy God-blessed things can actually happen here too," he said. "That's what I think is healing: If the church can take that leadership role, they should, after all this abuse. In many cases, they are taking a leadership role."

A key part of that leadership role is working with victim-survivors, both in their initial coming forward and in their healing process. That's how Hoffman got involved with the archdiocese — after his initial report, he wanted to keep working with the church to help others who had been abused.

One example of this outreach is the annual Hope and Healing Mass, which took place for the seventh year Oct. 20. Hoffman is the chairman of the group that plans the day, and he described the Mass as a way to honor the wounds from abuse, while celebrating the healing that's happened and is still ongoing. It's put on by clergy, victim-survivors and OPCY's Office of Assistance Ministry. Some of those who help aren't victims, themselves, but loved ones working through their grief.

Tom Tharayil helps with the Mass as the director of the Office of Assistance Ministry. He said a victim-survivor once offered something that sticks with him: "My abuser took so much from me, but I'm not going to let him take my faith."

It's a sentiment that Hoffman echoed.

"There are all these unspoken stories or little victories — personal victories — of overcoming very painful memories, trauma, depression, anxiety, however it takes form in all the different people (at the Mass)," Hoffman said. "They walk through that door, and they're participating in something in common.

"It fits with my Catholic faith."

Editor's note: An earlier version of this story incorrectly identified Michael Hoffman's childhood parish as being in Forest Park. The parish was in Lake Forest.

Contact: laurenchval@chicagotribune.com