Diocese Asks Government to Do Autopsy on Dead Priest in India Bishop Rape Case
By Nirmala Carvalho
Crux
October 27, 2018

https://cruxnow.com/church-in-asia-oceania/2018/10/27/diocese-asks-government-to-do-autopsy-on-dead-priest-in-india-bishop-rape-case/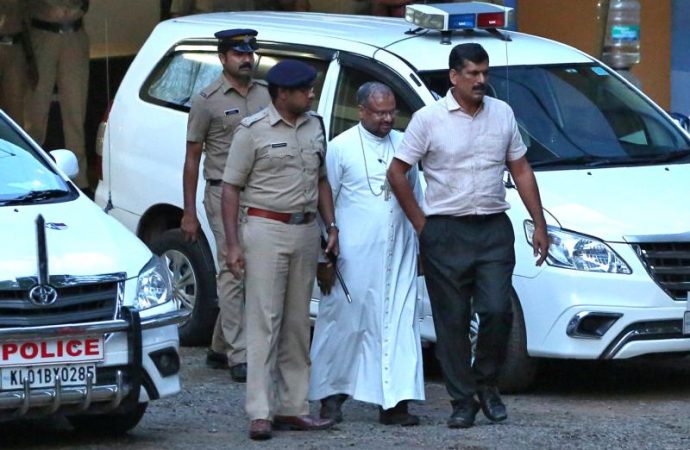 Bishop Franco Mulakkal of Jalandhar, India, is led away for questioning by police Sept. 19 on the outskirts of Cochin. (Credit: Sivaram V, /Reuters via CNS.)



After the death of a witness against an Indian bishop accused of raping a nun, the diocese has called on the government to conduct an autopsy.

Father Kuriakose Kattuthara, 67, was found dead inside his room in Jalandhar Oct. 22, a week after Bishop Franco Mulakkal of Jalandhar was granted bail by the state court in Kerala and went back to his diocese.

A 43-year-old nun made a formal police complaint against the bishop in June, claiming he raped her 13 times between 2014 and 2016. The nun is a member of the Punjab-based Missionaries of Jesus congregation, but said the attacks happened at one of the order's convents in the southern state of Kerala.

Mulakkal vehemently denies the charges, and claims the nun is retaliating because he initiated an investigation against her for an affair she allegedly had with a married man.

Kattuthara gave testimony against Mulakkal, and his family said they believe he was murdered for his actions, adding that "he was under tremendous pressure" to retract his statements against the bishop.

On Oct. 26, Bishop Agnelo Gracias, whom Pope Francis appointed apostolic administrator of Jalandhar on Sept. 20, issued a statement noting Kattuthara "suffered from a number of health problems such as high blood pressure, diabetes and heart ailments."

"In order to preclude any suspicions with regard to the cause of his death, we requested that an autopsy be conducted not at a Church hospital but at a government hospital," the bishop said.

"The fact that the police authorities allowed the body to be taken to Kerala for burial indicates that they do not suspect anything untoward. We await the final results of the autopsy. We ask the public too to await the results and not succumb to conjectures about the cause of death that are currently floating around. We have done our best to ensure transparency in arriving at the cause of death," Gracias continued.

The bishop also noted Kattuthara "enjoyed all the benefits and allowances of the priests of Jalandhar Diocese till his last days and the injustice alleged by certain persons has no basis whatsoever."

Earlier this month, Cardinal Oswald Gracias of Mumbai - no relation to the Jalandhar administrator - said he had met with officials in the Vatican about the Mulakkal case, and that they are "closely following" the case.