In Buffalo, a deacon's quest to hold his bishop accountable
By Michael J. O'loughlin
America
October 27, 2018

https://bit.ly/2RpeuJ1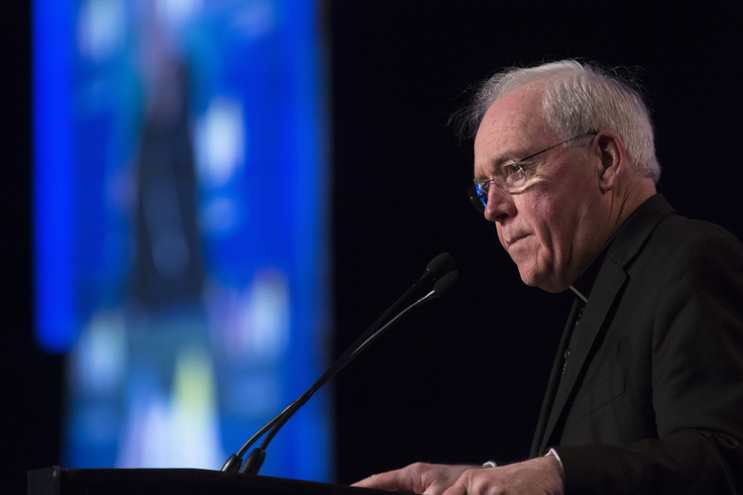 Bishop Richard J. Malone of Buffalo, N.Y., speaks during the 11th annual National Catholic Prayer Breakfast in May 2015 at the Marriott Marquis Hotel in Washington.
Photo by Tyler Orsburn
A deacon at St. Mary's Catholic Church in Swormville, N.Y., for 15 years, Paul Snyder felt "complete shock" one night earlier this year when he learned from a local newscast that his longtime pastor was the subject of sexual harassment allegations made by three young adults.
The pastor, Rev. Robert Yetter, had been accused of making unwanted sexual advances toward at least two young men who had reached out to him for counsel and support.
A series of investigations by Buffalo television station WKBW showed that Bishop Richard Malone and other diocesan officials knew about the complaints but decided to allow the priest to retire without making the allegations public. For his part, Father Yetter had implied in an email that the diocese's fundraising efforts would be harmed if the allegations were made public.
Mr. Snyder, a local businessman who formerly served on the boards of the local Catholic Charities agency and Christ the King Seminary, said his parish community had been told that Father Yetter had chosen to retire, with no mention that the priest had been accused of misconduct.
"That was one of the lies the diocese told our congregation," Mr. Snyder told America in a recent interview.
The deacon said that when he tried to talk about the situation with Bishop Malone, he was told the bishop would not meet with him nor would he make time to visit the parish.
"How could he in good conscience not come to our aid?" Mr. Snyder recalled thinking, as confused and angry parishioners demanded answers.
Mr. Snyder will tell his story on "60 Minutes" this Sunday. The segment will also feature Siobahn O'Connor, a former assistant to Bishop Malone who is described as a whistle-blower. Ms. O'Connor provided copies of internal documents to local media that showed the diocese did not release a full list of priests credibly accused of sexual abuse against children after it said it had and that the diocese knew of complaints from adults against Father Yetter and another priest.
"The reality of what I saw left me with no other option, because at the end of my life, I'm not going to answer to Bishop Malone, I am going to answer to God," Ms. O'Connor tells "60 Minutes," according to a press release from CBS. "I did betray [Bishop Malone], and yet I can't apologize for that, because there was a greater good to consider," she adds.
In a statement to 60 Minutes, a copy of which was provided to America by the diocese, Bishop Malone said that the diocese plans to extend to adults its protections for children, has launched a compensation program for victims, hired a former F.B.I. agent to monitor how the diocese handles abuse allegations and is cooperating with law enforcement.
Bishop Malone has repeatedly denied any wrongdoing, saying he has never mishandled a case involving minors—but he acknowledges that he has made mistakes in cases involving adults.
"People need to see, I have apologized for the mistakes I have made in how we handle allegations of clergy being involved with misconduct with an adult," Bishop Malone said in an interview on Oct. 25 with WIVB in Buffalo.
He added that he has "never ever knowingly or intentionally left a priest in ministry who I knew has abused a child, or moved him from one assignment to another. Never."
Mr. Snyder says the bishop is splitting hairs.
Though the alleged victims of Father Yetter's advances were not minors when the abuse is alleged to have taken place, in at least one instance the priest knew the accuser when he was a minor.
"To be a self-sacrificing, servant leader, wouldn't you offer your resignation to show people how hurt you are about your own actions?" Mr. Snyder asked.
In one instance, Father Yetter was accused of placing his hand on the thigh of a 25-year-old, whom the priest had brought to dinner and a movie, and leaving it there for around 30 seconds. The alleged victim complained to the diocese in 2017.
In a second instance, which allegedly occurred in 2007, Father Yetter was accused of serving wine to a 19-year-old during dinner at the church rectory and then kissing him and touching his genital area. Father Yetter admitted to the behavior when questioned by diocesan officials in 2017.
A third man, as reported earlier this month by WKBW, alleges that Father Yetter began grooming him while he was in grade school. When the young man was in college, the report says, the priest invited him for a drink in the rectory and approached him with his pants down.
Because these allegations involve only adults, the diocese said they were not required to report the priest's behavior to authorities.
Earlier this month, Mr. Snyder sent a letter explaining the situation in Buffalo to Archbishop Christophe Pierre, the pope's ambassador to the United States. Mr.Snyder included nearly 100 letters from Catholics in the diocese who expressed their anger and pain over the situation. Many of them included calls for Bishop Malone to resign.
Mr. Snyder received a letter from the Archbishop Pierre, who thanked him for forwarding the information.
"I can assure you that, even before I received your letter, events within the Diocese of Buffalo has not escaped my attention," Archbishop Pierre wrote.
Archbishop Pierre may have been referring to news earlier this month that Cardinal Sean O'Malley, the archbishop of Boston who chairs the Vatican's sex abuse commission, had forwarded materials about the Diocese of Buffalo to the nunciature in Washington.
Mr. Snyder decided to go public about his wishes for Bishop Malone to step aside earlier this summer, releasing a copy of an Aug. 23 letter he sent the bishop.
"We expect that those who fail in their leadership duties will accept responsibility and allow new leadership to emerge," Mr. Snyder wrote in the letter. "It is time for you to accept responsibility for your negligence, ask our community for forgiveness and allow a new Bishop to begin the long and painful process of healing."
Home to more than a half-million Catholics, the Diocese of Buffalo is facing an investigation by the New York attorney general's office. The United States Justice Department is investigating other Catholic dioceses, and on Friday the Catholic blog Whispers in the Loggia reported that federal law enforcement authorities has sent a letter to the United States Conference of Catholic Bishops directing all U.S. dioceses to keep historical records intact.
Earlier this week, the U.S.C.C.B. announced that U.S. bishops will gather in Chicago in January for a week-long retreat to reflect on the sex abuse crisis. The following month, heads of bishops conferences from around the world will gather in Rome to meet with Pope Francis about the ongoing crisis.
As for Mr. Snyder, he said he remains committed to the church, but he says the institution's credibility is at stake.
"I'm not telling people to leave the faith," he said. But he added, "We must set an example as an institution because if we don't fix ourselves, we lose the moral authority to turn to others and say, 'you must change,' whether it's about corporate greed, indifference to the poor, all the important social justice issues."
"We lose our moral voice when those tasked to lead fail," he said, "and that hurts the mission of the church. It hurts the people."
He said that what happens in Buffalo is a test case for how serious bishops are about ending the cover-up of abuse. Anything short of Bishop Malone's resignation, he said, will show that they have failed to grasp the gravity of the problem.
"You have evidence of a cover up," he said. "You have a bishop who admitted his own failures, but who has not done anything about them. And you have people coming forward and saying, 'We're in crisis and we need help.'"