Three Fresno-area priests — including former Merced priest — under investigation
By Yesenia Amara
Merced Sun Star
October 29, 2018

https://bit.ly/2PYl88t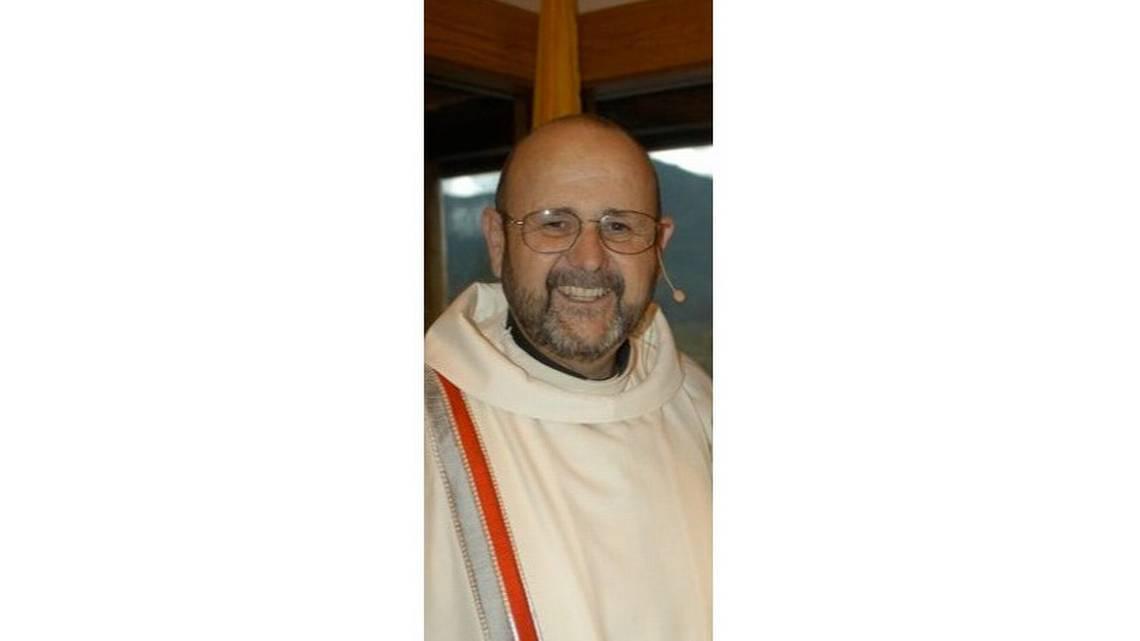 Father Jean-Michael Lastiri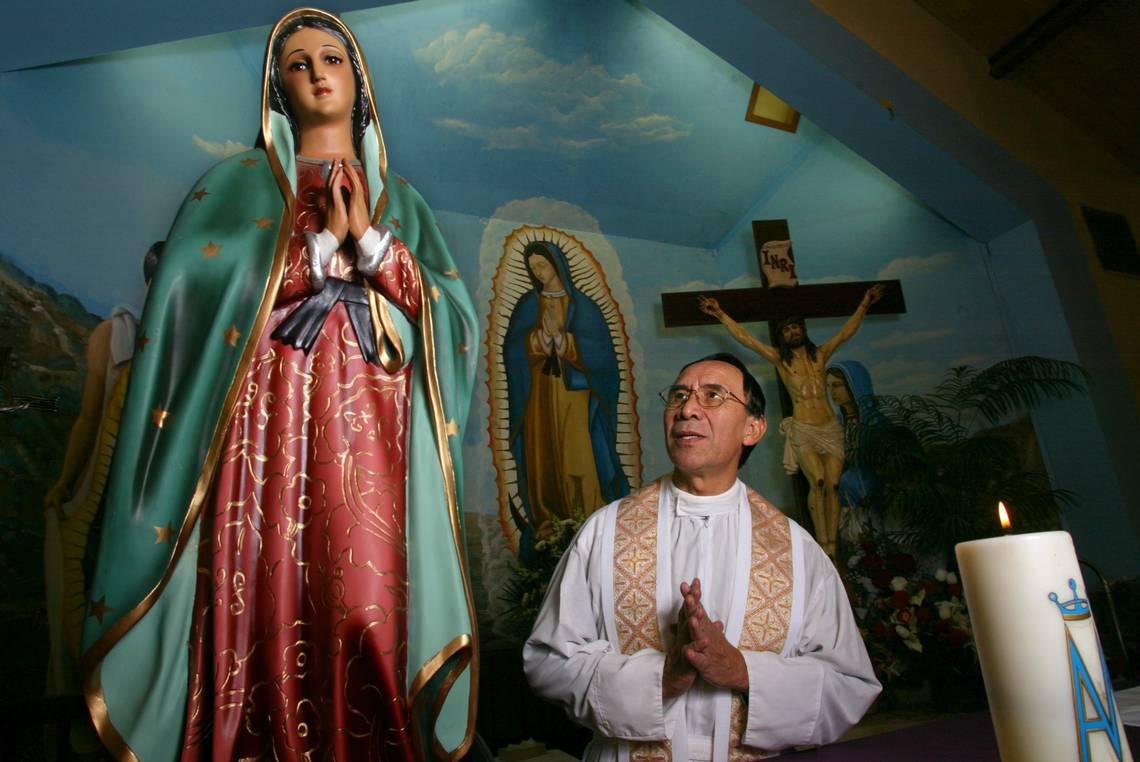 Father Gaspar Bautista prays to the Virgin of Guadalupe at Our Lady of Guadalupe Church in Mendota in this 2004 photo.
Photo by Diana Baldrica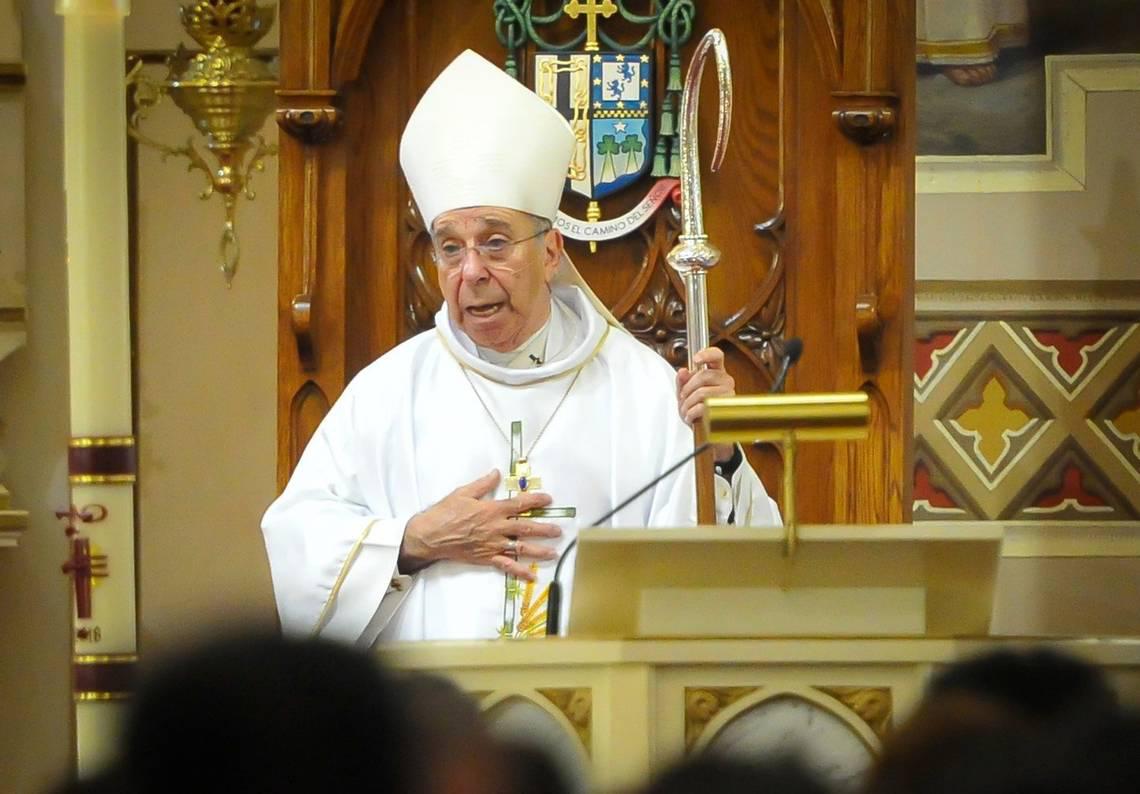 Bishop Armando Xavier Ochoa performs what could be his last Easter Mass at St. John's Cathedral Church, Sunday morning, April 1, 2018.
Photo by JOHN WALKER


[with video]



Three priests, including one with a troubled history of allegedly seeking sex partners online and another accused of inappropriate behavior with a minor, are being investigated following complaints submitted to the Roman Catholic Diocese of Fresno.

The priests are on paid administrative leave pending the outcome of their probes — although at least in one case the priest has been on leave for over two years, and the investigation hasn't been completed.

Father Jean-Michael Lastiri and Father Ricardo Magdaleno were placed on paid administrative leave on Sept. 13 and Sept. 28, respectively, said Teresa Dominguez, chancellor for the Diocese of Fresno. A request to interview Bishop Armando X. Ochoa was declined.

Contacted by phone, Lastiri first hung up on The Bee, and he didn't return a second call seeking comment."Complaints were brought to Bishop Ochoa's attention by concerned parishioners," Dominguez said of Lastiri's case. "The material that was assessed was considered to be scandalous; although, not illegal. This warranted a formal investigation that is now is process."

A third priest, Rev. Gaspar Bautista, has been on paid administrative leave since March 2016, Dominguez said.

Bautista was placed on leave after the Diocese of Fresno was alerted by the Archdiocese of Los Angeles about allegations Bautista was involved in regarding inappropriate behavior with a minor during his time in L.A.

Bautista was assigned to St. Paul in Tranquility and St. Vincent de Paul in San Joaquin in October 1999. The following year he was transferred to St. Jonh's Cathedral in Fresno, and in 2001 he was assigned Our Lady of Guadalupe in Mendota and Mission Our Lady of Lourdes in Three Rocks, where he was until being placed on leave in 2016.

The diocese earlier this month said Ochoa began talks with a review board to determine whether it will make public the names of priests who have been accused of sexual abuse. These three investigations are separate to that ongoing review.

A canonical auditor was appointed to oversee Lastiri's investigation, Dominguez said. But elements of the investigation were outsourced to ensure the necessary expertise on "internet technology" was utilized.

"The current issue of concern involved material found on a YouTube account that belonged to Fr. Lastiri," Dominguez said. "Other concerns are very dated and are still being assessed. Therefore, I cannot comment on it further."

A site called churchpurify.com, which was created by "concerned local Catholics" says it exists to "ensure the parishioners in the Diocese of Fresno are fully aware of the troubled past and current problems regarding the ministry of Rev. Father Micheal Lastiri." The site mentions the date Lastiri was placed on administrative leave.

"In 2018, Father Lastiri was discovered to have an active YouTube Channel in which he liked, subscribed, and listed as 'favorites' numerous graphic homosexual videos, music and a podcast since 2008," the site says. "When he was notified by Bishop Ochoa that parishioners were aware of the channel, material from the channel began to disappear."

A request to speak with a member of the group of concerned Catholics behind churchpurify.com went unanswered.

Lastiri was last working at Immaculate Heart of Mary Church in Hanford, where he had served since 2012.

It's not the first time Lastiri has been under public scrutiny. Concerns about Lastiri were first made public in a 2004 news report when he was removed from St. Patrick's Church in Merced following allegations he was active on a homosexual dating website. He was also alleged to have misappropriated some $60,000 in church funds.

In late 2004, then-Bishop John T. Steinbock sent Lastiri to "therapeutic facility" in Maryland called St. Luke's Institute. The institute has been treating Catholic clergy and religious men and women for over 40 years.

Susan Gibbs, spokeswoman for St. Luke's Institute, said the facility has to abide by the medical confidentiality laws, and is not able to speak on individual cases. Gibbs wasn't able to disclose what kind of treatment Lastiri underwent and how many other priests have been sent there by the Diocese of Fresno.

But the treatment programs deal with depression, burnout stress and addiction. A small part of their programs deal with child abuse. A person sent there undergoes a five-day evaluation. At the end, a recommendation is made to the individual and its diocese or community.

If the individual is involved with a minor, the institute would recommend a six month residential treatment program and the diocese can chose to send the individual and at what location.

A statement from former Bishop Steinbock, dated Sept. 9, 2004, on churchpurify.com, says he had advised Lastiri that if he successfully underwent treatment for his "compulsive behavior," he would be allowed to return to the ministry.

In June 2005, Lastiri was assigned at St. Philip's church in Bakersfield, then in August of that same year, he was given a special assignment at the diocese's Office of Ministries. On August 2006, he was given a special assignment as director of the Office of Worship and Evangelization. A few months later in December of that same year, he was placed at Our Lady of Mt. Carmel in Fresno.

In July 2008, Lastiri transferred to Our Lady of the Sierra in Oakhurst, and then in February 2012, is when he was assigned to his most current post in Hanford.

Dominguez said Lastiri's investigation will take "as long as necessary to ensure that all relevant information receives the attention required to help Bishop Ochoa make a decision on an appropriate response for the good of the faith community, as well as the needs of Fr. Lastiri."

Meanwhile, Magdaleno was placed on administrative leave following a "complaint from a concerned adult that warranted investigation," Dominguez said. She wasn't able to disclose details of the complaint lodged against him.

The investigation "does not carry with an assumption of guilt," she said.

"It is an objective process," she said.

Efforts to reach Magdaleno and Bautista were not successful.

Joseph Riofrio, a former Mendota City Council member and practicing Catholic, said Bautista was "very powerful — he was very spiritual," but he abruptly disappeared two years ago. He "was there one day and then he wasn't there another" day.

"The community doesn't know what was entailed, what the facts are," he said. "It was a big blow — a big shock to the community."

Mendota now has a priest from El Salvador, Riofrio said, who hopes the diocese will thoroughly investigate.