Bishops to focus on abuse crisis, discernment
Catholic News Service
October 30, 2018

https://www.catholicherald.com/News/National___International/Bishops_to_focus_on_abuse_crisis,_discernment/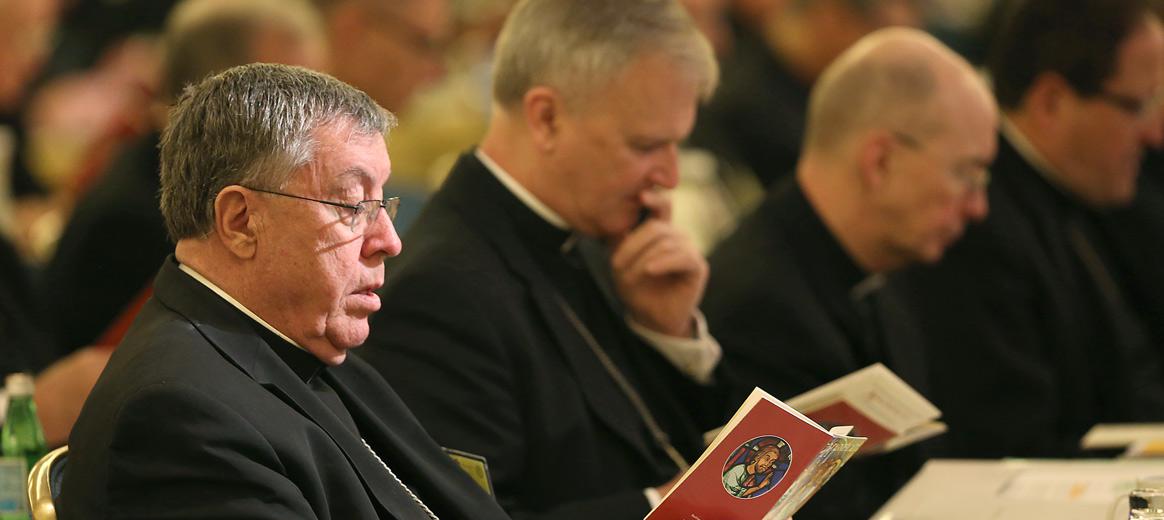 The U.S. Catholic bishops will gather in Baltimore for their annual fall meeting Nov. 12-14.
Discussion and voting on concrete measures to address the abuse crisis and a day of spiritual discernment and prayer will top the agenda for the U.S. bishops when they meet Nov. 12-14 for the fall general assembly in Baltimore.
Public sessions of the assembly also will be livestreamed, live tweeted and carried via satellite, according to an Oct. 29 news release from the U.S. Conference of Catholic Bishops.
The assembly will begin Nov. 12 with an address by Cardinal Daniel N. DiNardo of Galveston-Houston, USCCB president, as well as remarks by Archbishop Christophe Pierre, papal nuncio to the United States.
The body of bishops will then adjourn to an on-site chapel for a full day of spiritual discernment and prayer. This will be followed by a Mass celebrated at the site of the assembly that evening.
In a letter sent Oct. 27 to all U.S. bishops, Cardinal DiNardo asked them to spend seven days before the meeting, from Nov. 5 to Nov. 11, in "intensified" prayer, fasting and reparation to prepare for their general assembly in Baltimore.
In an Oct. 30 letter to parishioners, Bishop Michael F. Burbidge said he would join his fellow bishops in dedicating himself to seven days of intensified prayer and fasting.
Bishop Burbidge said the intentions for this period of prayer and sacrifice are three-fold: for the healing and support of all victims of clergy sexual abuse; for the conversion and just punishment of the perpetrators and concealers of sexual abuse; and for the strength of the bishops to be holy shepherds in protecting and leading their sheep from all harm.
"If you feel called to do so, you are welcome to join me in praying for these intentions," Bishop Burbidge wrote. "I would also be grateful for any prayers for me and my brother bishops during our General Assembly that we may follow the guidance of the Holy Spirit in responding to the tragedy of clergy sexual abuse in the church."
During their business sessions, the bishops will discuss and vote on a series of concrete measures to respond to abuse, including those approved for their agenda at the September meeting of the Administrative Committee.
Actions approved by the committee Sept. 19 and to be voted on include approving the establishment of a third-party confidential reporting system for claims of any abuse by bishops.
Committee members also instructed the bishops' Committee on Canonical Affairs and Church Governance to develop proposals for policies addressing restrictions on bishops who were removed or resigned because of allegations of abuse of minors or adults.
They also initiated the process of developing a code of conduct for bishops regarding sexual misconduct with a minor or adult or "negligence in the exercise of his office related to such cases."
The Administrative Committee consists of the officers, chairmen and regional representatives of the USCCB. The committee, which meets in March and September, is the highest authority of the USCCB outside of the full body of bishops when they meet for their fall and spring general assemblies.
In Baltimore, the bishops also will hear reports from the National Advisory Council and National Review Board.
Public sessions of the discussions and votes during the general assembly as well as portions of the day of spiritual discernment will be available via livestream at usccb.org/live.
News updates, vote totals, texts of addresses and presentations and other materials will be posted at usccb.org/meetings as soon as possible. Those wishing to follow the meeting on social media can use the hashtag #USCCB18 and follow on Twitter (@USCCB) as well as on Facebook, facebook.com/usccb, and Instagram, https://instagram.com/usccb.