Glouster Catholic Priest Charged with Sexual Battery of Minor
By Conor Morris
Athens News
October 30, 2018

https://www.athensnews.com/news/campus/glouster-catholic-priest-charged-with-sexual-battery-of-minor/article_cb074414-dd30-11e8-a632-177f2d2ce5da.html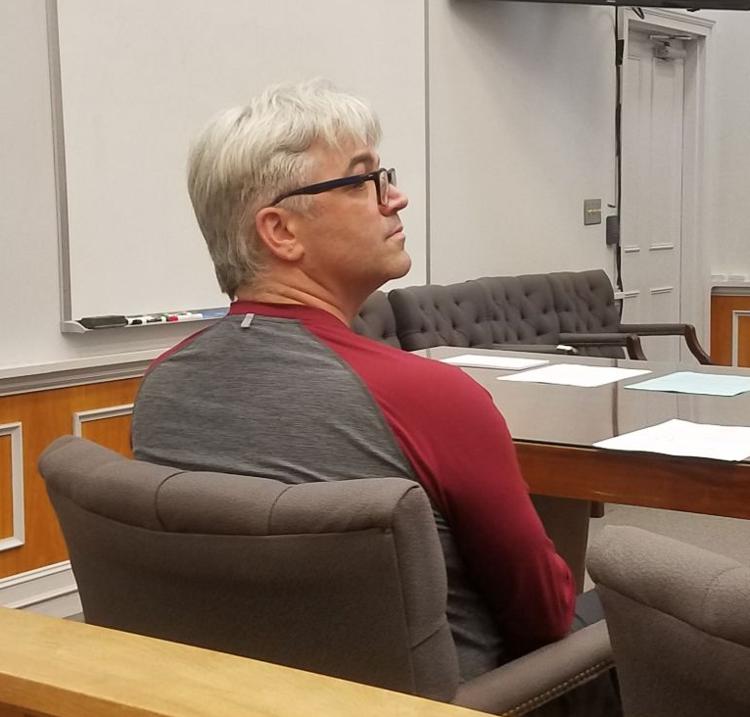 Father Henry Christopher Foxhoven, 45, a Catholic priest in the Diocese in Steubenville, was charged today (Oct. 30, 2018) in Athens County Municipal Court with eight counts of sexual battery.



Father Henry Christopher Foxhoven, 45, of Glouster, was charged with eight counts of sexual battery in Athens County Municipal Court Tuesday for alleged sexual conduct with a 17-year-old minor, who was a member of his parish in Glouster.

Foxhoven is being held in the Southeastern Ohio Regional Jail on a $1 million, cash-only bond with no 10 percent allowed.

According to a press release from the Athens County Sheriff's Office, the minor attended Holy Cross in Glouster, one of Foxhoven's two parishes (the other is St. Mary of the Hills parish in nearby Buchtel).

"The Diocese in Steubenville reported the allegations to the Athens County Sheriff's Office when they became aware of them on Oct. 27, 2018, and have continued to cooperate with the investigation," the release reads. "Foxhoven was immediately suspended from practicing all religious services and was barred from church property by Bishop (Jeffrey) Monforton of the Diocese in Steubenville."

Athens County Prosecutor Keller Blackburn said Tuesday after the court hearing that Foxhoven had "groomed" the unidentified victim for three years, and alleged that she was impregnated by Foxhoven (Blackburn said the sexual relationship didn't start until August). He said the case soon will be presented to an Athens County grand jury.

"This is a person in a position of trust," Blackburn said, adding that Foxhoven and the girl told her parents about her being pregnant last Friday. He said that Foxhoven admitted to Steubenville Diocese Bishop Monforton that he was having a sexual relationship with the girl the next day (Saturday).

Blackburn said that eight condoms with semen inside them have been recovered from Foxhoven's home, in addition to other evidence, which is located on church property in Glouster (but not directly inside the church). He said those will be tested by the Ohio Bureau of Criminal Investigation.

Blackburn said he hopes this case doesn't involved any more victims but it could. He encouraged anybody with information on Foxhoven's alleged crimes to come forward.

According to an affidavit for an arrest warrant for Foxhoven, the priest admitted to Steubenville Bishop Monforton that he had been "sexually involved with a juvenile member of his congregation and that she was now pregnant." Blackburn said that Foxhoven had admitted as much to the victim's parents. He also said that the victim was an "altar girl" at the Holy Cross church.

"The state would allege that she's been groomed and that she's in love with him and thinks that they're going to have a future together, and she's pregnant with his child," Blackburn alleged. "He used contraception, but it didn't work."

Blackburn added that Foxhoven had been pulled over by Glouster Police at least twice during traffic stops after midnight on two separate occasions; each time, the victim was with him. He said that Foxhoven was in "clear violation" of the Catholic Church's consent decree on protection of juveniles

Monforton in a release from the Steubenville Diocese said Foxhoven has been suspended from his priestly duties. Diocesan attorney Thomas Wilson "immediately filed a report with the Athens County Sheriff's Department" as soon as the church learned that Foxhoven had admitted to the relationship with the girl, the release says.

"We must remain vigilant in assisting victims of sexual abuse," Monforton said. "We will cooperate with authorities and assist in their investigation of this case.

Blackburn said that anybody with additional information on this case should contact Ryan Gillette with the Athens County Sheriff's Office at 740-593-6633.

Blackburn added that he believes the Steubenville Diocese did "everything appropriately here," and noted that they are cooperating fully with the investigation.

IN A STATEMENT, the executive director of SNAP, the Survivors Network of Those Abused by Priests, called for a far-reaching investigation into all the dioceses in Ohio.

"We're glad that the Diocese of Steubenville has removed Fr. Foxhaven from ministry, but this is only the first step towards making things right," said SNAP Executive Director Zach Hiner.

"First, Bishop Monforton should aggressively reach out to parishioners with his diocese, especially those at parishes where Fr. Foxhaven spent time, and urge anyone who may have seen, suspected or suffered abuse to come forward and make a report to authorities," Hiner continued. "Next, the Bishop should urge Ohio's Attorney General to immediately open an independent investigation into not only his diocese, but all those throughout the state, and help expose the depth of clergy sex crimes and cover-ups in Ohio.

"By openly asking for an investigation and then allowing independent law-enforcement officials to do their jobs, Bishop Monforton can show that he is as committed to both the truth and the prevention of future cases of abuse as he says he is," Hiner concluded.