Parishioners express support for priest who resigned from West Point church
By Alia Conley
World-Herald
November 05, 2018

https://bit.ly/2AOlXeW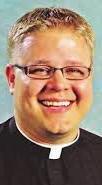 Andy Syring
Dozens of parishioners of a church in West Point, Nebraska, are voicing their support for a Catholic priest who resigned last week after the Omaha Archdiocese reviewed clergy assignments.
The Rev. Andy Syring, 41, left St. Mary's Catholic Church after Archbishop George Lucas' recent promise to "hold clergy to a higher standard of ministerial conduct."
But more than 100 people have expressed support for Syring online, some sending prayers and others asking how they can fight the "injustice."
Charissa J. Steffensmeier wrote that the West Point community is dealing with "outrage, confusion and dismay about that decision." In a letter to Lucas, Steffensmeier asks him to reconsider accepting the resignation and praised Syring's compassion, empathy, love for the church and ability to connect with parishioners of all backgrounds.
In 2014, Syring was accused of "significant boundary violations with young adults and minors" when he was associate pastor of Divine Mercy parish in Schuyler.
Syring was accused of "unwanted touching of young adults, publicly hugging and kissing minors on the cheek and inappropriate conversations with young adults and teenagers," the archdiocese said. The allegations, which Syring denied, were reported to law enforcement, but no charges were filed.
Syring was evaluated by a team of mental health experts and received months of in-depth residential care. The Archdiocese Review Board determined that Syring was able to return to priestly duty.
In 2015, he was assigned to St. Wenceslaus Catholic Church in Omaha. He had served as associate pastor at St. Mary's in West Point from 2016 until last Tuesday.
A message to Syring seeking comment was not returned Monday.
Since the announcement of Syring's resignation, about 20 people have contacted the archdiocese, with almost all of the responses being favorable toward Syring, said Deacon Tim McNeil, chancellor of the archdiocese.
"We have received very few — if any — negative responses" about Syring, McNeil said. "He was a very popular and effective priest."
No allegations of misconduct have been made against Syring since the 2014 claims, the archdiocese said.
Lucas met recently with Syring after reviewing clergy placements.
Steffensmeier wrote that the church made a "risk-averse" decision based on outside pressures.
"To watch the Church dismember itself in an alleged effort to save the rest of its body is, in this case, both untenable and a desecration of the body," she wrote. "Unlike a doctor who unnecessarily amputates, the Archdiocese has the ability, in this case, to reattach the severed limb, which has the ability to fully function and serve the body for the glory of God."
More than 100 people liked, commented or shared Steffensmeier's Facebook post.
McNeil said in an email Monday that he doesn't expect the decision to change.
"It is unlikely Archbishop Lucas would reconsider his decision to accept (Syring's) resignation now that he has made the decision to hold priests to a higher standard of conduct," McNeil wrote.
McNeil has said he doesn't know of any other pending accusations against clergy in the archdiocese.
Last week, the archdiocese removed the Rev. Donald Cleary, who was retired but still celebrating Masses at two Omaha churches. Cleary, 73, refused to contest a decades-old allegation of sexual abuse of a minor. Until the recent allegation, the archdiocese said, officials had not been made aware of any allegation of sexual misconduct against Cleary.
Another priest, the Rev. Francis Nigli, 58, was removed from ministry after two sexual abuse allegations against him, according to a World-Herald investigation.
Contact: alia.conley@owh.com