East Cobb Catholic priests respond to sexual abuse allegations
By Wendy Parker
East Cobb News
November 09, 2018

https://www.eastcobbnews.com/catholic-church-of-st-ann-priest-responds-to-sexual-abuse-allegations/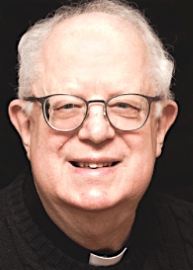 Rev. Ray Cadran
A Catholic Church of St. Ann priest has responded to his parish's membership this week after the Archdiocese of Atlanta published a list priests, deacons, seminarians and other religious workers it says have been "credibly accused" of sexual abuse of minors over many decade.
Two of those named in the report were a pastoral aide who was convicted of molesting two boys while working at St. Ann in 1999-2000, and a priest at a Canton parish who may have been at the East Cobb church on occasion in the early 1990s.
Rev. Wilton Gregory, the Atlanta Archbishop, said he was publicly identifying those on the list "in a spirit of transparency and the hope of continued healing for the survivors of abuse."
On Friday, the Rev. Raymond Cadran, the St. Ann pastor, sent a letter to members of the Roswell Road parish, expressing "my deepest sorrow and anger and hurt over the actions of any LaSalette or anyone associated with our name who has caused hurt and pain to any of God's precious children, young people and their families."
He said that "all credible claims were handled in an appropriate and timely manner."
The names on the Atlanta list go back to the founding of the archdiocese in 1956 and were compiled from "the best information available to us at this time," according to the Archdiocese.
Another name on the Archdiocese list is Father Raymond Horan, who was the founding pastor of Transfiguration Catholic Church in East Cobb. He was there from 1977-1981.
Kenneth Cassity was a pastoral aide who lived at the St. Ann rectory from Aug. 1999-July 2000. He had been considering becoming a priest with Missionaries of Our Lady of LaSalette (of which St. Ann is a part) but was dismissed in 2000. In 2002, Cadran wrote, a "credible accusation" was made against Cassity while he was working at a Catholic church in Florida.
In June 2003, he pleaded guilty to two counts of molestation stemming from the St. Ann charges. He was sentenced to three years in prison and seven more on probation.
In December 2003, the Atlanta archdiocese and the Missionaries of LaSalette settled a $10 million lawsuit filed by the parents of Cassity's molestation victims at St. Ann.
In August, the Catholic Archdiocese of Arlington, Va., acknowledged that it was told of an allegation of abuse by a minor against Cassity when he was a youth pastor at a parish there in 1992, and that law enforcement was notified.
That was the same year Richard Boucher, a priest at Our Lady of La Salette Church in Canton and who visited St. Ann on occasion, was accused of abusing a minor.
According to Cadran, Boucher "was immediately removed from all priestly and pastoral ministry by the La Salette Missionaries, as is still the case to this day. He may have had reason to be on our campus occasionally while he was in Canton for events such as a penance service."
Cadran, who has been at St. Ann since 1996 and was at the Canton parish before that, also urged church members to contact the Atlanta archdiocese hotline 1-888-437-0764 with about a credible allegation of sexual abuse against a minor by a priest or religious worker.
U.S. Catholic bishops will be meeting in Baltimore next week to consider actions on how to respond to allegations of abuse.
"With you, I pray that the bishops gathered may find the strength and wisdom to create the way forward with their decisions and truly take the bold action necessary to heal the Church," Cadran wrote in his letter.
UPDATED, SUNDAY, 1:15 P.M. Earlier today Father Fernando Molina-Restrepo, the pastor at Transfiguration, also posted a letter to his congregation regarding Horan, who later served at other churches in metro Atlanta and Georgia.
According to the Atlanta Archdiocese, Horan was removed from the ministry in 1992. He died last year at the age of 74.
"It's obviously painful to see this news and recognize that enough evidence had been shown" for Horan's removal, Molina-Restrepo wrote:
"Important now is that we, as a parish family, continue to pray for all victims of child sexual abuse. The Archdiocese of Atlanta is seeking to be transparent and giving assistance to anyone who may have been harmed. The Archdiocese of Atlanta, as the Archbishop has said numerous times, is always ready to assist victims with professional help and with whatever is needed for their healing.

"Here at Transfiguration, please know that we, as your parish clergy, are always willing to find a time to sit down and visit with any of you who may be struggling with this information or need advice, counsel or referral."