Syracuse priest named as child sex abuser by Buffalo diocese
By Julie Mcmahon
syracuse.com
November 12, 2018

https://www.syracuse.com/news/index.ssf/2018/11/syracuse_priest_named_as_child_sex_abuser_by_buffalo_diocese.html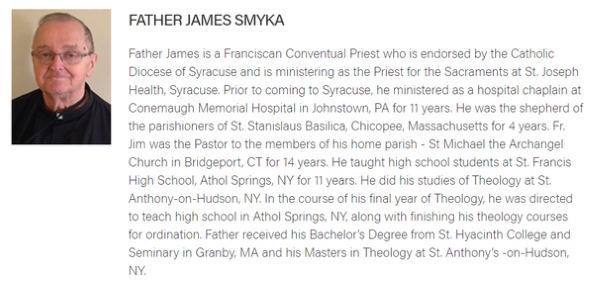 A screenshot of the St. Joseph's Hospital website shows a photograph of Rev. James Smyka along with a short biography. Smyka was identified as a child sex abuser by the Diocese of Buffalo.
A Syracuse priest has been named by the Catholic Diocese of Buffalo as a clergyman with substantiated allegations of child sex abuse against him.
The Rev. James Smyka, 74, was in residence at Assumption of Blessed Virgin Mary Church on Syracuse's North Side until recently.
He was listed on the Diocese of Syracuse website as a member of the clergy until today. He was also listed as a chaplain at St. Joseph's Hospital. A spokesman for St. Joe's said Smyka had not worked at the hospital since Oct. 8.
The Buffalo diocese identified Smyka one week ago as a priest with "substantiated claims of sexual abuse of a minor."
The Buffalo diocese has not released any more information about Smyka. It is not known when Smyka's abuse is alleged to have occurred or how many victims he allegedly abused. A spokeswoman for the Buffalo diocese did not respond to requests for comment.
A woman who answered the door at the friary at Assumption Church on North Salina Street in Syracuse said Smyka was no longer living there.
Another woman at the church declined to answer questions from a reporter. She said she had "no info" and referred questions to an administrator for the Order of Friars based in Maryland.
As a Franciscan friar, Smyka was not directly employed by the Syracuse diocese. The Franciscan order is responsible for Assumption church.
As a Catholic priest working in Syracuse, Smyka was "granted faculties," or given authority to perform certain duties by the diocese.
Danielle Cummings, chancellor for the Syracuse diocese, said Smyka is no longer at Assumption Church. She said the diocese has not received any allegations of abuse by Smyka during his time in Syracuse.
Smyka was authorized to work by the diocese from November 2014 to October 2018, Cummings said. The diocese was not aware of any allegations at the time, she said.
The diocese was informed Smyka was leaving Assumption in October, but no mention of abuse allegations were made, she said.
"There was no indication that he would be leaving due to any allegations of abuse," Cummings said.
Cummings said the diocese was removing Smyka from its website after a reporter brought the Buffalo list to her attention.
She also referred questions about the abuse to the Franciscan order. A secretary for the order refused to comment.
Smyka taught at St. Francis High School in Hamburg, outside of Buffalo, according to a report by WKBW-TV in Buffalo.
He is among 110 priests with substantiated allegations of child sex abuse against them named by the Buffalo diocese this year. The diocese released an updated list Nov. 5 after a report by "60 Minutes" aired on the whistleblower who had leaked thousands of documents detailing how the diocese had handled sex abuse cases.
Syracuse Bishop Robert Cunningham held high-level positions with the Buffalo diocese for 30 years.
Smyka taught at St. Francis High School outside Buffalo for 11 years after he completed his studies in theology, according to a biography on the St. Joe's website.
He since spent 11 years in Johnstown, Penn., four years in Chicopee, Mass., and 14 years in Bridgeport, Conn. before coming to Syracuse, according to the St. Joe's biography.
The St. Joe's spokesman said he worked as an independent contractor at the hospital from Oct. 26, 2014 until this year.
Jamie Arnold, the St. Joe's spokesman, said in a statement that Smyka was not an employee of the hospital, but he performed Mass and presented the sacraments, such as anointing of the sick, "until his recent retirement."
"We have a zero tolerance policy for abusive behavior of any kind, and are deeply saddened at the continuing news of sexual abuse by Catholic clergy and the devastation it has brought so many lives," the statement said.
Contact: jmcmahon@syracuse.com