Diocese probes another claim of sexual abuse
By Justin Dennis
Vindicator
November 12, 2018

http://www.vindy.com/news/2018/nov/12/diocese-probes-another-claim-sexual-abuse/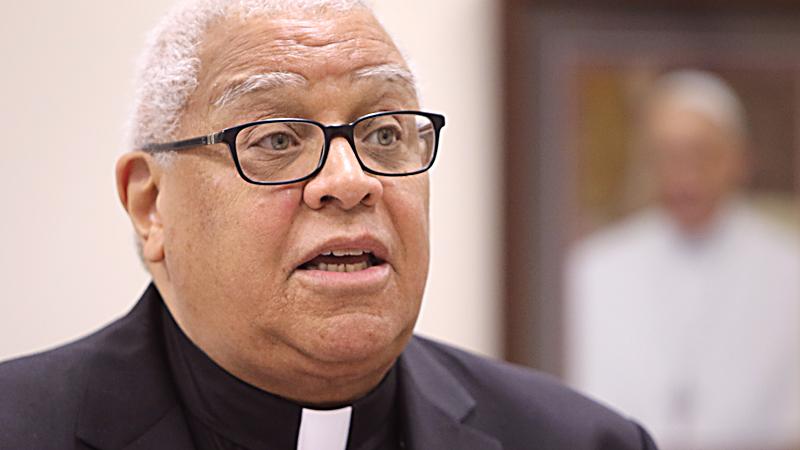 The Catholic Diocese of Youngstown has another priest in Vienna under investigation for alleged sexual impropriety with a minor.
A month before the Catholic Diocese of Youngstown named 34 clergymen associated with the diocese who have been credibly accused of sexually abusing a minor, it received one new allegation that is now under investigation.
The diocese last week also amended that list of accused to include one more name: One of the former friar's accusers, who traveled with him as an altar boy in the mid-1980s, said the man forced himself on him when he was a pre-teen in St. Aloysius Parish in East Liverpool.
Simultaneously, a former Youngstown diocese priest, John F. Warner of Louisville, said he has worked to clear his name after the diocese's Oct. 30 release, which exposed another disgraced priest with the exact same name.
PASTOR ON LEAVE
The diocese announced Monday it placed the Rev. Denis G. Bouchard, pastor of Queen of the Holy Rosary Parish in Vienna, on administrative leave while it investigates a sex-abuse allegation made against the priest.
The report was filed Sept. 26, according to Delphine Baldwin-Casey, the diocese's victim-assistance coordinator. The accuser, who is now an adult, was between age 9 and 11 when the alleged abuse occurred, she said.
The diocese named the Rev. Carlos Casavantes as administrator of the parish in Father Bouchard's absence. Father Casavantes couldn't immediately be reached to comment Monday.
The Diocesan Review Board recommended Bishop George Murry launch an investigation to determine the claim's credibility, according to a Monday news release. The diocese has reported the claim to civil authorities, including Mahoning County Children Services.
Judy Jones, of the advocacy group Survivors Network of Those Abused By Priests, or SNAP, on Monday urged alleged victims of church sex abuse to tell their stories and help protect others.
"Hopefully, anyone who may have knowledge or may have been harmed by Denis G. Bouchard will find the courage to come forward and contact law enforcement, no matter how long ago it happened," she said. "The church officials are not the proper officials to be investigating child-sex crimes."
NEW NAME ADDED
Last week, the diocese expanded the list of credibly accused clergy it released last month to include one new name: the Rev. Jose Vazques, formerly of Canton's St. Joseph and Boardman's St. Charles parishes.
Vazques' exclusion from the initial list was an accidental "oversight," diocese attorney Bob Fulton said. The diocese corrected the error after receiving a complaint from relatives of one of Vazques' accusers, Monsignor John Zuraw said last week.
The diocese also corroborated the identity of another accuser, 43-year-old Scott Cunningham, a former Columbiana County resident, who filed his complaint in 2007 nearly two decades later. He specifically asked to have his name published.
"I've dealt with anxiety pretty much my whole life because of what I went through – being a pre-teen and having to hide that for so long," Cunningham said.
He told The Vindicator he was one of two altar boys Vazques "hand-picked" to travel and perform Masses while he trained to be deacon at St. Aloysius Parish in the mid-1980s.
Cunningham said he was 11 or 12 years old when he spent one summer night in the parish rectory. He said while speaking with Vazques, the man started asking sexual questions, then pushed him down on the bed and molested him.
Cunningham said he was terrified and started to fight back, but it wasn't until he threatened to tell his father – a member of the church's financial board – that Vazques stopped his advances, he said.
"This guy knew exactly what he was doing. It was very predatory in what he did," Cunningham said.
WARNER WRONGED
Former diocese priest John F. Warner, of Louisville, said the diocese didn't do enough to clarify the names of accused priests released Oct. 30. The list names a different diocese priest John F. Warner, of Girard, who was ordained in 1970 and resigned in 2011 after allegations arose of his sexual misconduct with a minor more than 30 years prior.
The John F. Warner who spoke to The Vindicator last week was ordained in 1972 and served at Trumbull and Stark county parishes before resigning in 1978 to marry. He "is in complete compliance with the Child Protection Policy" of the Youngstown diocese, according to a diocese release.
"I think my first feeling, of course, is feeling very vulnerable to misjudgment," Warner told The Vindicator. "I have no way of knowing how any people read it and thought it was me."
He said he notified the school district where he works as a substitute teacher and clarified the report. The clarification was even announced during a service at his parish, Sacred Heart of Mary in Louisville.
Monsignor Zuraw said last week the diocese spoke with Warner and apologized.
NATIONAL FOCUS
A SNAP news release issued ahead of Monday's U.S. Conference of Catholic Bishops meeting stated more regulations will do little to affect real change in the Catholic Church.
"[The diocese] can pledge to stop lobbying against statutes of limitation reform and instead support new laws and policies that will allow survivors to have their day in court. Additionally, they should actively invite outside investigations by attorneys general and allow unfettered access to documents, files, computers, and properties," reads the Sunday release.
Boston attorney Mitchell Garabedian, who has represented church sex-abuse victims across the country, said in a statement last month an independent investigation of the Youngstown diocese is "long overdue." He also alleged a cover-up by the diocese over the years.
Fulton, who's served as the diocese attorney for more than 40 years, said Garabedian's claims of a cover-up are "absolutely not true."
"I think he believes that every diocese is complicit in covering up events like this. And maybe some are," he said. "I know this diocese is not complicit in this at all. ..."[Bishop Murry is] being totally open and transparent, and I hope it promotes healing throughout the whole church. I hope the victims feel that way as well."
Contact: jdennis@vindy.com