As bishops meet on sex abuse, Vienna priest placed on leave
By Bob Coupland
Tribune Chronicle
November 13, 2018

http://www.tribtoday.com/news/local-news/2018/11/vienna-priest-placed-on-administrative-leave/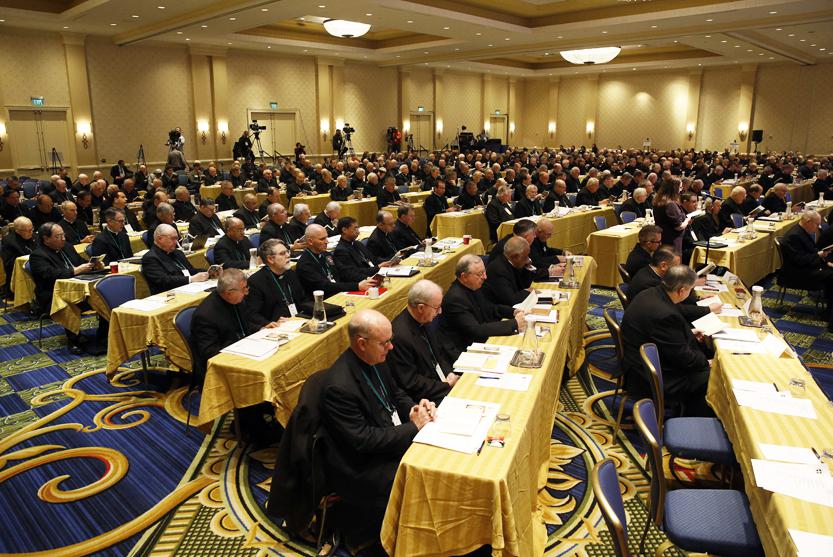 AP Members of the United States Conference of Catholic Bishops gather for the USCCB's annual fall meeting Monday in Baltimore.
Diocese investigates new allegation of inappropriate behavior with a minor
A priest who serves a parish in Vienna has been placed on administrative leave while an investigation takes place on an allegation of inappropriate behavior with a minor.
The Rev. John Jerek, vicar for clergy with the Catholic Diocese of Youngstown, said in a news release Monday the Diocese received an allegation against the Rev. Denis G. Bouchard, pastor of Queen of the Holy Rosary Parish.
Jerek said the Diocesan Review Board recommended to Youngstown Bishop George V. Murry that further investigation be done to determine its credibility and substantiation. The board includes a psychologist, representatives of the Trumbull and Mahoning County Children Services Board, attorneys, medical doctors, the dean of the college of health and human services at Youngstown State University, a Lutheran pastor, a Catholic priest and a parent.
Jerek said it is diocesan policy to place Bouchard on leave while the investigation takes place. The Rev. Carlos Casavantes has been appointed administrator of Queen of the Holy Rosary Parish.
Queen of the Holy Rosary Parish is staffed by the Priestly Fraternity of St. Peter, which celebrates the liturgy in the "Extraordinary Form of the Roman Rite used before the reforms of the Second Vatican Council," according to its website. The Vienna location also has a school, St. Joseph the Protector Learning Center.
Jerek said because this is an ongoing investigation, additional comments cannot be made at this time.
The investigation comes as bishops from all over the country gather for the U.S. Conference of Catholic Bishops. The conference was discussing various topics, including ways to stop sexual abuse by clergy members.
Last month, the Diocese of Youngstown released a list of 31 priests who have been credibly accused of sexual abuse of a minor in the diocese's 75-year history. Some of the priests are deceased.
The diocese defined a "credible accusation" as one that appears more likely true than not after a thorough investigation and review of available information, according to the Diocesan Review Board. The bishop is asking anyone who has been abused to come forward and speak with the diocese victim assistance coordinator, retired Youngstown police Sgt. Delphine Baldwin-Casey, at 330-718-1388.
Baldwin-Casey said Monday although she cannot comment on any specifics of any case, the case involving Bouchard was brought to her attention on Sept. 26, a month before the list of priests was released but a few weeks after a Sept. 4 initial press conference where Murry said a list of names would be compiled.
"The allegation came to me on Sept. 26 and was being investigated before the list of names was released. After a review, there were 'red flags' to proceed with an investigation," Baldwin-Casey said.
She said she has received a few phone calls following the release of the names about other incidents, which are also being reviewed to see if they are credible.
Baldwin-Casey said if an investigation is conducted and later an accusation is deemed credible, the prosecutor's office may be contacted about any criminal charges.
She said the victim making the allegations regarding Bouchard was a minor at the time of the alleged incident, but is now an adult. Baldwin-Casey said when someone is an adult and an allegation is found credible, the victim is consulted on whether they want to proceed with charges.
Murry said whenever there is an allegation of sexual abuse involving clergy or parish employees, it is investigated and directed to civil authorities, such as children services.
"If someone makes an allegation, we will investigate. People need to understand it takes time to do an investigation," Murry said.
The Diocese of Youngstown works with a private investigation firm, which consists of former FBI agents.
Contact: bcoupland@tribtoday.com