Michigan Catholic Diocese Publishes List of Priests Accused of Sexual Abuse
By Justin P. Hicks
Michigan.Live.com
November 15, 2018

https://www.mlive.com/news/grand-rapids/index.ssf/2018/11/catholic_diocese_of_gaylord_li.html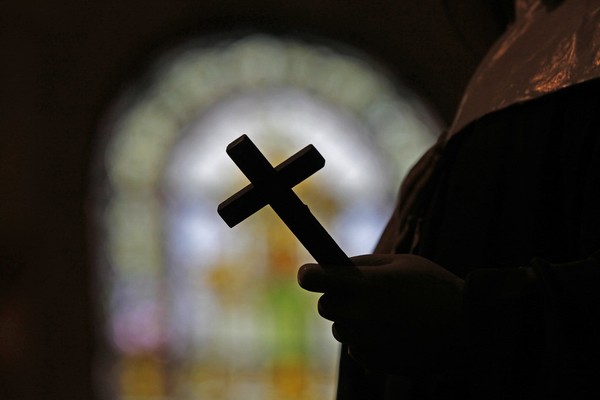 The Catholic Diocese of Gaylord published a list on its website of clergy who have had credible allegations of sexual misconduct involving a minor made against them, dating back decades. This is a 2012 file photo from inside a Catholic Church in New Orleans. (File photo | AP Photo/Gerald Herbert)



The Catholic Diocese of Gaylord has created an online list of priests and deacons who have been "credibly accused" of sexual abuse of a minor dating back to 1971.

As of Thursday, Nov. 15, the list featured 10 clergy. Eight of the priests are deceased. The two living priests -- Ronald Gronowski and James Holtz -- have been "permanently removed from public ministry."

The release of the list comes amid a state investigation of sexual abuse by priests being led by the Michigan attorney general's office. In August 2018, the state agency began investigating the handling of allegations dating back to 1950.

The diocese said it has previously released information about the allegations of sexual abuse of minors involving priests or deacons, but chose to publish and maintain the list because it "may be helpful to the healing process for victim-survivors," and to continue efforts for increased transparency.

A "credible and substantiated allegation," as used by the diocese, is an accusation that, after an investigation and review of available information, appears more likely true than not and has been accepted as credible by the bishop, according to the diocese.

The diocese says the most recent credible incident of sexual abuse of a minor involving clergy in the Diocese of Gaylord is alleged to have occurred three decades ago.

Similar state investigations are underway in Pennsylvania, New York, New Jersey, New Mexico, Missouri, Illinois, Nebraska, and Florida.

The list

Patrick Barrett -- Permanently removed from public ministry in 2002. Died in 2006.

Ronald Gronowski -- Permanently removed from public ministry in 2002.

Lionel Harnish -- Removed from ministry 1986. Died in 2007.

James Holtz -- Permanently removed from public ministry in 2002.

Benedict Marciulionis -- Removed from ministry in 1981. Died in 2000.

Raymond Pilarski -- Permanently removed from public ministry in 2006. Died in 2017.

Terrence Raymond -- Left priesthood in 1985. Died in 1986.

Robert Gordon Smith -- Died in 1990.

Laurus Rhode -- Removed from diocese and returned to Order of Friars Minor (OFM) religious order in 1993. Died in 1995.

Leo Olschaysken -- Removed from diocese and returned to O. Praem religious order in 1974. Deceased.

Gronowski resigned from churches in Lake City and Manton in 2002 because of a 1995 allegation of sexual misconduct during the 1970s, according to a report by the Midland Daily News.

"I cannot express how profoundly sorry I am for any anguish this person has suffered from my actions," Gronowski said in a letter to parishioners announcing his resignation, according to the report. "Nor can words share the depth of my sadness and grief for any embarrassment and pain caused to my own family, my brother priests, the diocese and our beloved Catholic Church."

Holtz resigned as pastor of the parishes of St. Mary of the Woods in Kalkaska and St. Aloysius in Fife Lake in 2002, according to a report by the Traverse City Record Eagle. He was accused of sexual abuse of a minor in the early 1980s.

Since 2002, the Gaylord diocese said it has fully implemented the Charter for the Protection of Children and Young People and Essential Norms established by the United Stated Conference of Catholic Bishops. Included in the charter are things like mandatory background checks for employees and volunteers who work with minors, as well as training for adults and children to help identify warning signs, maintain appropriate boundaries and what to do should abuse be suspected.

An independent annual audit is completed each year which evaluates the diocese's compliance with the charter. The diocese said it has been found in compliance every year since 2002 when the charter was established.

In 2017, a 44-year-old priest within the diocese was found not guilty of first- and third-degree criminal sexual conduct. He spent five months in jail after being accused of sexual assault against a fellow priest.

The Diocese of Gaylord includes the 21 most northern counties of the Lower Peninsula. The area includes 75 parishes and nearly 54,000 Catholics.

To report allegations of sexual abuse of a minor by clergy -- past or current -- individuals are encouraged to contact U.S. Conference of Catholic Bishops Victim Assistance Coordinator Larry LaCross at 989-705-9010.

In Michigan many professionals, including clergy, teachers, doctors and counselors, are mandated reporters. These individuals are required by law to make an oral report immediately to the Michigan Department of Health and Human Services (MDHHS) if they have reasonable cause to suspect a child is being neglected or abused in any way.

Further, the Diocese of Gaylord said in its online post that it encourages anyone who suspects a child is being abused or neglected to report the matter to local authorities. The MDHHS maintains a 24-hour statewide reporting hotline at 855-444-3911.