Diocese Sex-Abuse List Includes Priest At Center Of 2006 Lawsuit, Plaintiff Speaks Out
By Jim Hagerty
Rock River Times
November 19, 2018

http://rockrivertimes.com/2018/11/16/diocese-sex-abuse-list-includes-priest-at-center-of-2006-lawsuit-plaintiff-speaks-out/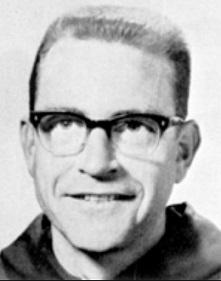 Ted Feely
A former Rockford priest at the center of chilling allegations and a 2006 lawsuit appears on a list of 15 priests accused of sexual abuse.
Theodore "Ted" Feely, who Rockford resident Donald Bondick claimed in a five-count lawsuit molested him and other boys, is one of the 10 men on the list released by the Diocese of Rockford Wednesday that have since died.
The list is part of a letter by Bishop David Malloy​ and includes six priests, one deacon and eight priests/brothers. The accusations range from 1925 to 1991.
According the 2006 lawsuit, Feely raped Bondick in 1969, when Bondick was 13.
"Feely repeatedly molested Plaintiff to develop various psychological coping mechanisms and symptoms of psychological distress, including depression, repression and dissociation," the complaint reads. "As a result, Plaintiff was under a disability and has only recently been able to link his severe psychological and emotional problems with the acts perpetrated by Feely."
Bondick's lawyers claimed the Diocese failed to take any action regarding the abuse, which the suit alleged was consistent with a decades-long practice of failing to respond to credible allegations."
"On numerous occasions since at least 1960 the Defendants received credible allegations of sexual abuse but failed to take the actions necessary to properly investigate the allegations," the suit continued. "On information and belief, the Defendants engaged in a pattern and practice of pedophilic behavior, to protect its reputation and avoid the scandal that would result if parishioners and the public at large were aware of the incidents of pedophilia in the church community."
The Diocese responded to the lawsuit in a Feb. 24, 2006, statement: "We steadfastly believe that lawsuits should be resolved in a court of law, so we have no intention of attempting to try this case in the media. However, the allegations in this complaint are so sensationalized, harassing and irrelevant, justice demands that we respond.
"First, all charges and characterizations regarding the diocese and its officials in this complaint are false.
"Sexual abuse of minors is a grave sin and heinous crime. Victims should be comforted and assisted in their efforts to achieve healing, perpetrators should be severely punished, and the public should be protected from them.
"The diocese has consistently acted in accord with these principles, and we will continue to do so in the future. The complaint filed against the diocese is based on a number of assumptions that are false. In response to these assumptions, we note specifically that:
"Franciscan Father Theodore Feely was not a diocesan priest, did not work for the diocese, and was never under the direction of the diocese. He was a member of the Franciscan order and not a priest of this diocese.
"The diocese had absolutely no knowledge of alleged abuse by Franciscan Father Theodore Feely until 2002. At that point, the allegations were over 30 years old and Feely had been dead for a decade. Nevertheless, the diocese immediately notified officials of the St. Bonaventure Province of the Conventual Franciscans, who had jurisdiction over Feely and St. Anthony Parish. Soon thereafter, the Franciscans notified parishioners of St. Anthony Parish of the allegations of a cover-up, the record shows that we were forthcoming to our members and to the public regarding this case."
Bondick is one of two men who accused Feely of sexual abuse. He recounted what happened to him in a 2005 TRRT series, under the name "Thomas White" because was not ready to reveal his identity.
Bondick said the abuse started during a four-day trip to Wisconsin Dells. Feely got permission from the boy's mother to take him along. Before they even arrived at their hotel, Bondick said the priest offered him a cigarettes. As the night progressed, Feely fed him liquor and beer. Bondick said he woke in the middle of the night to Feely choking him. The boy was then sodomized.
On the way home, Bondick said Feely warned that if he told his parents what happened, they wouldn't believe him. Confused, he attempted to find refuge the church and told another priest about his weekend with the man some boys called "Creepy Feely."
"I was very direct and tired to use clinical terms," Bondick said. "I just said, 'Father Feely put his erect penis in my anus while he choked me.'"
The priest's reaction was not what Bondick expected.
"He pulled me out of the confessional by my hair, called me evil, then pushed me down the stairs," Bondick said. "I remember sitting at the bottom; I told him if he ever touched me again I'd kill him."
Ted Feely's parish history:
1958—Ordained;
1959-1961—St. Thomas Church, Arlington, Calif.;
1962—St. Paul the Apostle, Pismo Beach, Calif.;
1963—St. Bronislava, Chicago;
1964-1968—Queen of Angels, Riverside, Calif.;
1969-1973—St. Anthony's of Padua Church, Rockford;
1974-1975—Our Lady of Guadalupe, Riverside, Calif.;
1976—St. Thomas, Riverside, Calif.;
1977-1978—Queen of Angels, Riverside, Calif.;
1979-1980—St. John of God, Norwalk, Calif.;
1982—St. George, Stockton, Calif.;
1983-1988—Queen of Angels, Riverside, Calif.; and
1989-1991—St. Thomas Aquinas Cathedral, Reno, Nevada.
In Wednesday's letter, Malloy said faithful Catholics "have experienced hurt and grief and indignation, the natural consequences of the horrendous sexual abuse scandal plaguing the Catholic Church."
Following are the names of the accused priests, followed by their ordination year.
Priests
Mark A Campobello, 1991
Harlan B. Clapsaddle, 1977
Thomas Considine, 1966; Died in 1988
John C. Holdren, 1971; Died in 2018
William I. Joffe, 1957; Died in 2008
Joseph M. Tully, 1925; Died in 1982
Deacons
Michael Frazier, 1982
Priests/Brothers
James Campbell, 1972; Died in 2007
Theodore Feely, 1958; Died in 1991
Walter E. Johnson, 1953; Died in 2018
Augustine K. Jones, 1953; Died in 2007
Peter D. Kohler, 1968; Died in 2014
Richard Kuhl, 1954; Died in 2009
Joseph M. Lessard, 1980
William D. Virtue, 1975
Malloy said the names are part of a working list that has been published in The Observer Catholic newspaper and reported by other media outlets. Some priests are left off if their investigations are pending.
"In some cases, names of clergy not previously disclosed appear on this list, and that is because the allegations in their regard were reviewed in the process of compiling this list and were judged to be substantiated," the bishop said.
Bondick said has no reason to believe Malloy and that the list is egregiously incomplete. And he doesn't mean there's a few names missing. He says investigations not withstanding, the number should be in the hundreds, if not more.
"We are talking about almost 100 years and a large Diocese," he said. "I'd say the number could be at least 1,000. But it's not.Because it's their practice to protect these people and the church."
Since making his allegations public, Bondick says he has met more than 200 people who say they were abused by local priests, including Ted Feely, a man he was a split second from killing three years after the trip to the Dells. It is a day he rarely spoke about before undergoing a decade of intense psychotherapy. It was the day 16-year-old Donald Bondick looked through the iron sights of a 12-gauge shotgun and dialed in between Ted Feely's shoulder blades.
High on heroin, Bondick drove his 1973 AMC Javelin to Feely's church and strategically positioned himself for the kill. He knew when the priest would arrive. He stalked the man for months and had the attacked planned. He'd park where he had a clean shot, blast a deer slug into Feely's back from about 40 yards, then drive off into the night.
When Feely arrived, he pulled his blue Dodge Dart into the rectory garage and exited the car to close the overhead door, unaware he was moments from meeting the God he claimed to serve. But that meeting would have to wait another 18 years.
"I had the bead on him," Bondick said. "But I couldn't do it. I said to myself, 'He doesn't deserve this. He doesn't deserve to get it in the back. He deserves to see it coming.'"
Bondick had bouts with drugs and alcohol for the next 17 years, self medicating and stuffing memories of what happened at the hands of a man he trusted as much as his own father. That's the way it was in those days. To parishioners, priests were not only "men of God," they were the next best thing. Donald Bondick's family was no exception. Ted Feely drank beer and watched football with his dad and often had dinner with them.
Bondick's outlook is different today. Since getting sober 30 years ago, he's been vocal about the way the church handles allegations of sexual abuse by priests. Sometimes he is received with open arms, other times he's shunned, ridiculed and told to "get over it," the last thing he says anyone should say to a survivor.
He says he can count on one hand, one finger to be exact, the number of church officials who showed him compassion for what he's gone through for nearly 50 years. He's also come to terms with what he says he's come to know about the Catholic Church.
"It's a cult," he said. "And these men are pimps, nothing more. They sell their soul when they become priests."
Bondick's lawsuit was eventually dismissed because of statutes of limitations, so there were no monetary damages awarded. The church, however, paid for his 11 years of therapy.
"I made the trip downtown Chicago twice a week," he said.
Bondick retired from the United States Postal Service in 2003 and is now writing a book about his life.