Priest sentenced to 12 years in prison for three counts of sexual battery
By Ellen Wagner And Logan Moore
Athens Post
November 27, 2018

https://bit.ly/2KNP2e1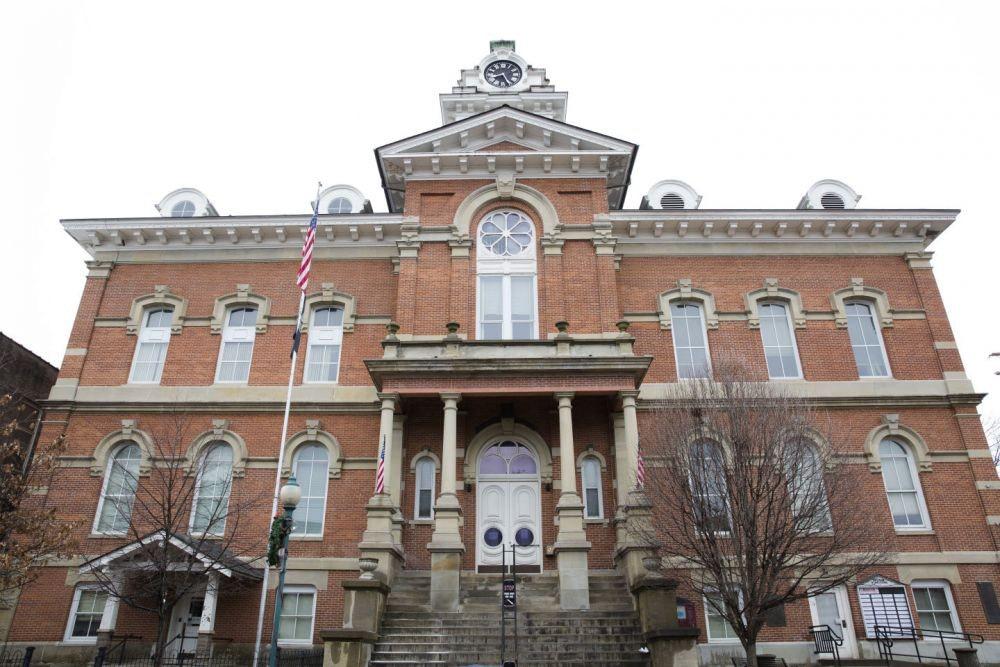 The exterior of the Athens County Courthouse, 8 E. Washington St.
Photo by Alex Driehaus
Henry Christopher Foxhoven was sentenced Tuesday to 12 years in the State Penal System for three counts of sexual battery and will be registered as a sex offender for life.
Foxhoven, 45, of Glouster, was a priest at the Holy Cross Catholic Church in Glouster, a part of the Diocese of Steubenville. He pleaded guilty to three charges for engaging in sexual conduct with a minor, a parishioner of the church, in the church rectory where he lived.
Each count was four years in prison, totaling a sentence of 12 years. That was a part of an agreement that other charges, such as child pornography or criminal tools, would not be brought against him. If another victim, however, comes forward, he could be charged again.
As a part of his agreement, he is not allowed to apply or accept any early release. After his release, he has five years of mandatory post-release control and has to register as a sex offender, requiring him to report to a sheriff's office every 90 days for life.
Athens County Prosecutor Keller Blackburn said he thinks it was important to resolve the case for the healing of the victim and 12 years is a significant sentence.
"The longer this went on, I feel like the more blame she was going to feel and the more pressure, maybe even perhaps from her mother, and so for her healing I think it is important to resolve this," he said.
Foxhoven signed a waiver of indictment to agree pleading guilty to the charges and another to register him as a sex offender for life. He waived his rights to have a trial by a grand jury.
Each count of sexual battery was for incidents that occurred in August, September and October of 2018. In the last occurrence, the victim became pregnant.
The trial comes almost a month after the Diocese of Steubenville of the issue.
Ryan Gillette, a detective in the Athens County Sheriff's Office, ordered a search warrant of Foxhoven's residence on Oct. 29. Upon entering, authorities found several used condoms and a pregnancy test with a positive indication.
Andrew Stevenson, defense attorney, said a large number of people reached out to him to share their thoughts and opinions about Foxhoven. The church congregation said Foxhoven was a "very kind" and "exceptionally caring" person. He was known to be there for families and pray with people when they needed it, Stevenson said.
"His involvement with the family and the juvenile was out of the same caring that he showed to all members of the congregation," Stevenson said. "They were a family in need of help and support."
Members of the church also expressed the sentiment that they had noticed a change in Foxhoven. He seemed to become more withdrawn, living in an isolated rural area, and people had concerns for his mental health.
Stevenson said Foxhoven's personal choices were "misguided, misinformed and clearly inappropriate." It was also why they decided to resolve the case Tuesday.
There are, however, parishioners who disagree that Foxhoven is kind and caring, Blackburn said. After it was reported, multiple parishioners called and said they thought it was unusual Foxhoven and the victim were alone together. People who called said they would have said something if they had known.
Foxhoven did not want to make a statement at the trial.
The victim, now 17, is believed to have engaged in sexual conduct with Foxhoven when she was 16. However, their relationship started before then, Blackburn said.
In November 2017, Foxhoven was seen at a wedding reception with the victim. A member of the Diocese of Cincinnati was at the wedding reception and reported it.
The victim's mother said she gave her daughter permission to go to the wedding reception with Foxhoven. She recalled the day of the wedding reception, saying she messaged both Foxhoven and her daughter during the day.
She messaged Foxhoven and said her daughter hadn't eaten yet and "forced him" to make sure she ate. Later, her daughter messaged her mother saying that some people at the reception were saying "weird things."
The mother said her daughter was drinking the blood of Christ, which is consecrated wine.
"They seeing her hold the blood of Christ, and they thought it was alcohol so they was kind of worried about it," the victim's mother said.
Blackburn said the mother was led to believe the incident at the wedding reception had something to do with alcohol when it did not.
Blackburn said that incident is an example of how the diocese failed the victim. The diocese suspended Foxhoven for a week and ordered him to go to counseling. There was no follow up on the incident, and no one at Holy Cross was told about his suspension for inappropriate contact with a juvenile.
There is a decree that priests are not allowed to be alone with teenagers, which he violated. Blackburn also spoke about other incidents that occurred that violated this decree.
In February, Foxhoven wrote in his diary that he was thinking about breaking his celibacy with the church.
"No one knew it was a problem for him to be alone with this minor child," Blackburn said. "You heard the things the victim said he did to her. He was a lifeline to her."
There was another incident when the victim's mother took her daughter with her to buy drugs, and they were both texting Foxhoven. Blackburn said he should have called child services or anyone to protect the minor but didn't.
Instead, he continued the relationship with the victim. He was alone in the rectory with her after RCIA, took her to the movies, took her to Washington, D.C. and bought clothes for her online.
In the summer prior to sexual activity between Foxhoven and the victim, he signed a letter saying he did not have any wrongdoing involving juveniles and that was not true.
"All for a child who needed help," Blackburn said. "His role was to help her, and he satisfied himself instead. This child has been failed on many levels."
The victim said she hopes her testimony "opened hearts" as she "poured out hers." She said it was not her intention to hurt the church community and thanked her parents for the support despite the situation.
The victim also apologized for what her and Foxhoven did and thanked him for helping her family.
"We're human and make mistakes all the time," the victim said. "If everyone was perfect, then Jesus would not have to die on the cross for us."
She did not want Foxhoven to go to prison. The victim said she wants him to be safe and doesn't want him to get hurt.
"I know it would kill me not being able to see him, but I want him to be safe," the victim said.
The victim's mother made similar statements and shared more about the family's relationship with Foxhoven.
She said that on Oct. 19 he told her what happened between him and her daughter. She considered Foxhoven had grown up in a sheltered life, unlike her who was raised around people.
"I felt bad for him, and I'm going to be honest with you — he didn't groom her," the victim's mother said.
The victim's mother said the family's relationship with Foxhoven started when she saw him alone at the movies multiple times and noticed members of the church only spoke to him at church.
She then decided to reach out to Foxhoven and welcome him into the family. She called Foxhoven her "little brother" and said they would laugh because she is small compared to him.
"I hate seeing him in that orange suit," the victim's mother said. "They might have done something, but I lost a good friend, a man who helped my family."
She acknowledged what happened between Foxhoven and her daughter was wrong and she would have stopped it if she had known what was happening. After being told about the relationship, the victim's mother was able to forgive him and encouraged Foxhoven to tell his mother what happened after about a month.
The victim's mother said he should not go to prison and believes he should go to counseling every day, like her daughter is.
"I hope you can forgive him too because I didn't just lose a priest. I lost a friend, a little brother," the victim's mother said as she began to cry. "Please don't take him away. I didn't mean for all of this. I got a baby to raise now. … Please don't send him to prison."
Contact: lm849615@ohio.edu, ew047615@ohio.edu