Authorities search Archdiocese of Galveston-Houston for records relating to accused Conroe priest
By Samantha Ketterer
HoustChronicle
November 28, 2018

https://www.houstonchronicle.com/news/houston-texas/houston/article/Authorities-raid-Archdiocese-of-Galveston-Houston-13427999.php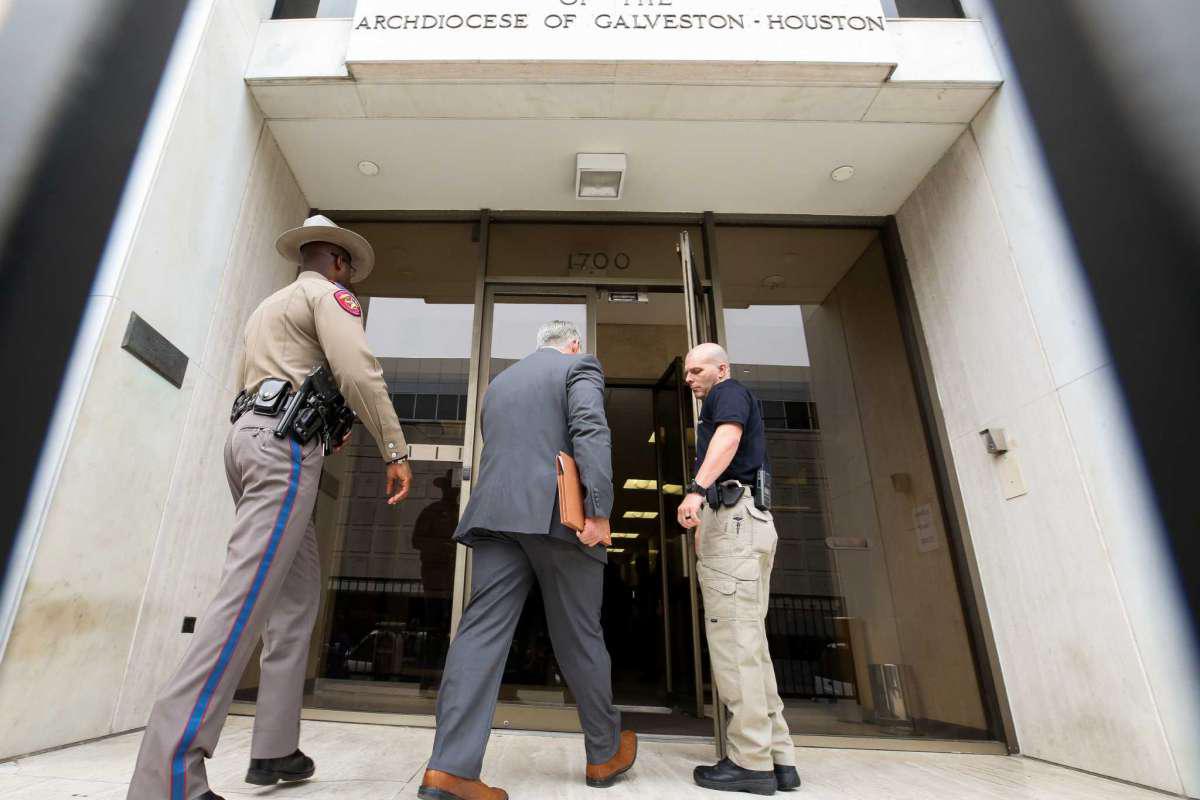 Authorities, including the Conroe Police Department, the Texas Rangers, and the Montgomery County District Attormey's office, conducted a search warrant of the Chancery of the Archdiocese of Galveston-Houston Wednesday, Nov. 28, 2018, in Houston. This is the fourth search executed in a joint law enforcement investigation of Father Manual ...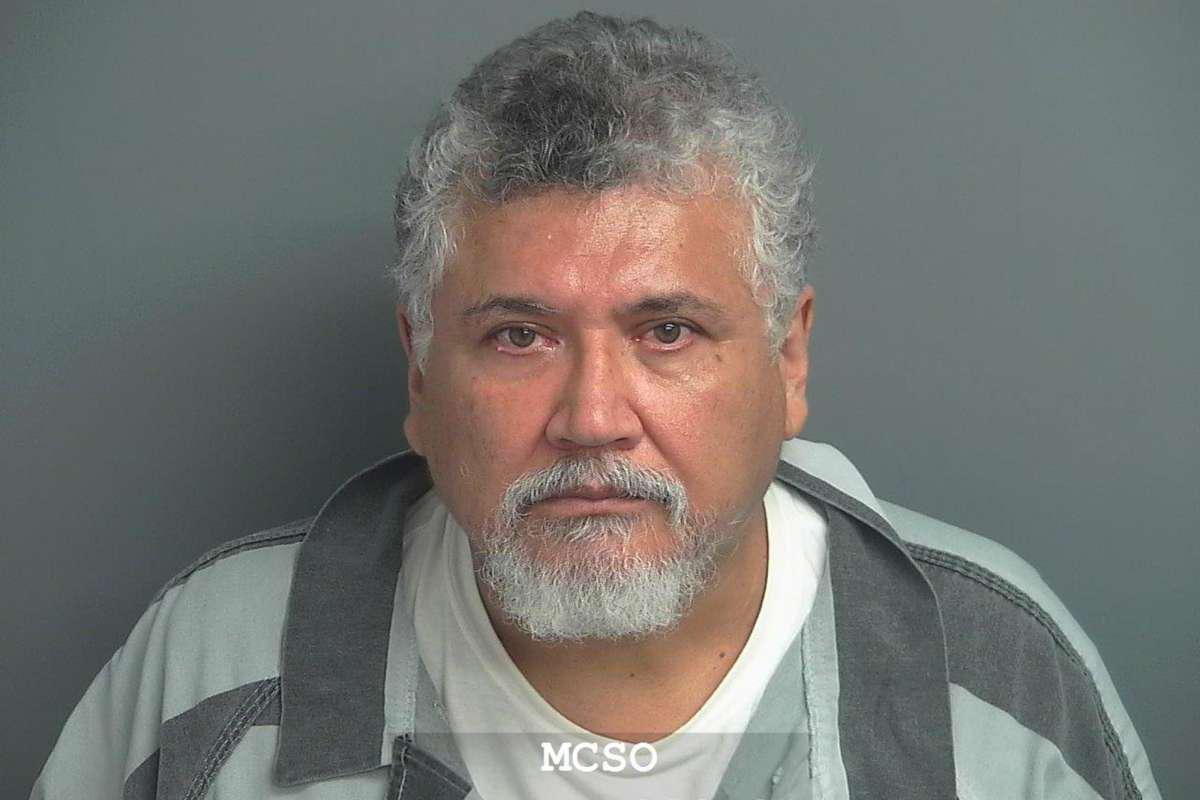 This undated photo provided by the Montgomery County Sheriff's Office shows Father Manuel LaRosa-Lopez. LaRosa-Lopez, was arrested Tuesday, Sept. 11, 2018, by police in Conroe, Texas and is accused of fondling two people when they were teenagers and he was a priest at Sacred Heart Catholic Church in Conroe. He is charged with four counts of ...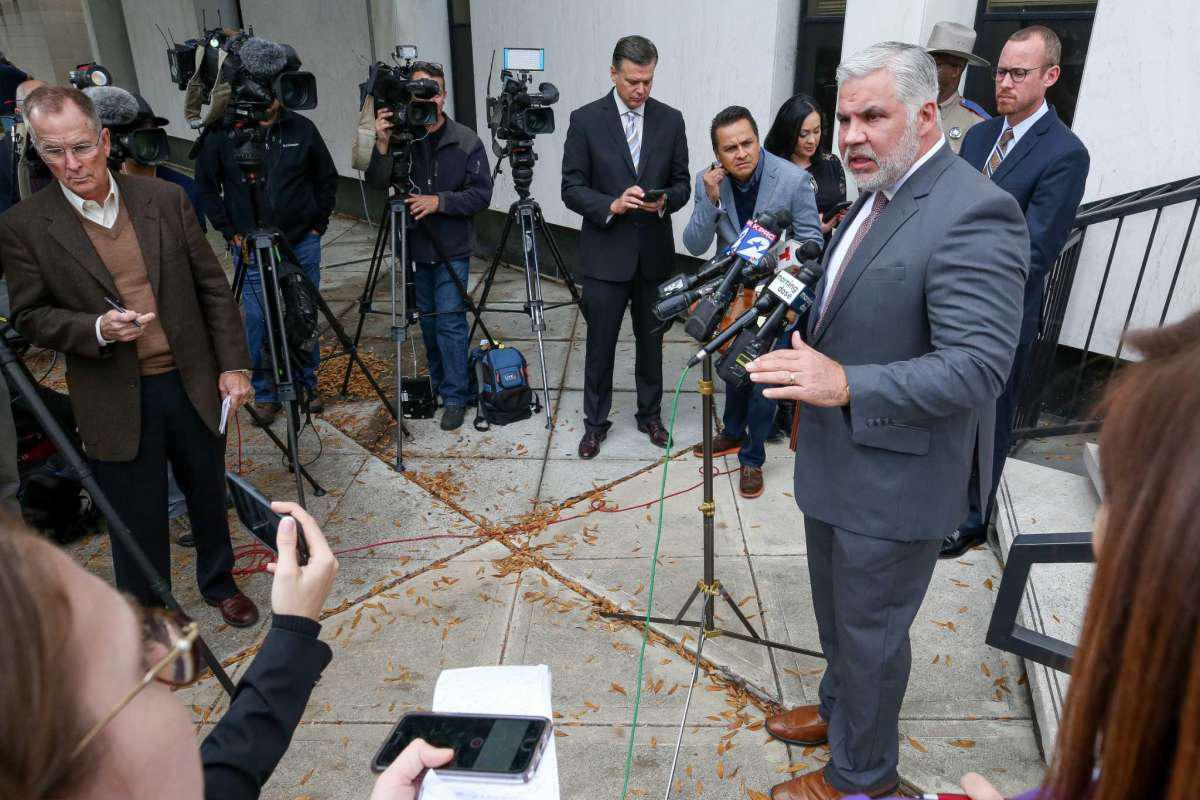 Montgomery County District Attorney Breet Ligon talks to reporters outside the Chancery of the Archdiocese of Galveston-Houston Wednesday, Nov. 28, 2018, in Houston. Authorities conducted a search warrant of the building.
Dozens of state and local law enforcement swarmed the Archdiocese of Galveston-Houston's downtown office Wednesday to seize records related to Father Manuel La Rosa-Lopez, the priest accused of sexually abusing at least two children who attended a Conroe church.
Montgomery County District Attorney Brett Ligon said the surprise search was aimed at a trove of employment and disciplinary records related to La Rosa-Lopez and his time at the Sacred Heart Catholic Church in Conroe.
If evidence of additional victims or accused priests were found outside Montgomery County, the Texas Rangers were there to seize it, Ligon said. They came armed with a search warrant at the nation's fifth largest diocese.
A set of confidential documents kept by each diocese, known as "secret archives" in Canon law, was among the records sought.
"I am a lay Catholic myself, but today I stand here as a district attorney of Montgomery County," Ligon said. "This is not a search warrant against the Catholic Church, but this search warrant is to review files that belonged to a defendant."
The morning search came as Cardinal Daniel DiNardo — who is currently serving as president of the U.S. Conference of Catholic Bishops — pledged a new era of transparency in the investigation of priest abuse allegations dating as far back as the 1950s.
"This archdiocese takes every allegation of wrongdoing brought to our attention seriously and is fully cooperating — and will cooperate — with any and all investigations related to the clergy abuse of minors," DiNardo wrote in an opinion column in Tuesday's Houston Chronicle. "We recognize the only way to resolve the abuse crisis and restore trust with the faithful is to address any and all accusations of abuse squarely and transparently."
The search on San Jacinto Street began around 9:30 a.m. and continued through the afternoon, with at least two boxes of evidence carried out.
Standing outside the church as about 60 law enforcement officials — including unspecified federal agents — searched inside, Ligon expressed trust in DiNardo's vow of transparency but said his confidence has limits, even as the archdiocese prepares to release the names of priests deemed to have been credibly accused.
Ligon told reporters that "the Catholic Church has cooperated to a degree."
"Even if DiNardo is cooperative, the people working for him may not," Ligon said. "He can be transparent all he wants, but what he doesn't know, he doesn't know. I'm born suspicious as hell. I assume people are going to lie to me and not tell the truth."
Archdiocese spokesman Jonah Dycus acknowledged the search warrant and the ongoing investigation in a statement Wednesday.
"The Archdiocese of Galveston-Houston continues to cooperate, as we have since the outset, with this process," according to the statement. "In fact, consistent with Cardinal DiNardo's pledge of full cooperation, the information being sought was already being compiled."
Michael Norris, who leads the Houston chapter of the Survivors Network of those Abused by Priests, lauded the search.
"All too often, police and prosecutors pursue child molesting clerics but ignore the church supervisors and co-workers who hide their crimes," Norris said in a statement.
Previous allegations
The search warrant was the fourth one issued in La Rosa-Lopez's case after Montgomery County authorities previously searched the Conroe church, the Shalom Treatment Center in Splendora and the St. John Fisher Catholic Church in Richmond where La Rosa-Lopez was most recently assigned.
"If there's something to cover up, I'm sure I'll find it," Ligon said. "If it leads to the Vatican, I'll be headed to Rome."
The arrest of La Rosa-Lopez on Sept. 11 marked the fourth time a Houston area clergy member is known to have been arrested for an alleged sex abuse crime in nearly four decades. He was charged with four counts of indecency with a child involving a boy and girl who attended the Sacred Heart Catholic Church. The alleged abuse spanned three years starting in 1998.
Ligon declined to comment on the status of a third claim against La Rosa-Lopez. Another accuser came forward in October to say he was molested by La Rosa-Lopez, then a seminarian, in the early 1990s at a Houston church. The priest has not been charged in connection to that claim, but the Schiffer Hicks Johnson law firm representing the accuser confirmed Wednesday that the Texas Rangers interviewed him on Oct. 31.
Up until September, only three priests — out of more than 20 who have faced molestation claims in the Houston area — were known to have been jailed because of those charges.
The last priest arrested was Fernando Noe Guzman, who was charged in 1990 after a failed $11 million civil lawsuit revealed a social worker caught him molesting a 14-year-old Navasota girl who attended his church. Before that, in 1986, a Houston police officer arrested an Oblates priest Donald Stavinoha — assigned to the Immaculate Heart of Mary Church — after finding him performing a sex act on a teenage boy inside a church-owned van.
The first known priest in the Houston area arrested was Carlos Guerra, who was charged in 1984 with sexually abusing a 14-year-old boy who aspired to join the St. Cyril of Alexandria Catholic Church.
Guzman and Stavinoha were convicted. Charges against Guerra were dropped after a new law required corroboration of the accuser's testimony after an interval of six months.
Lists of 'credibly accused'
The priests may be included on a list of credibly accused priests being compiled by the archdiocese and others across Texas in the wake of a damning grand jury report in Pennsylvania.
More than 70 dioceses nationwide have announced similar plans to compile lists of pedophile priests, as have each of the 15 Catholic Dioceses in Texas. Some churches have sought the help of former law enforcement officers, lawyers and judges to lead their audits, with the lists expected to be published by Jan. 31.
Over the years, DiNardo's predecessor, retired Bishop Joseph Fiorenza, has dropped hints to the number of accused in the religious jurisdiction.
During the high-profile civil case against Guzman, Fiorenza testified that he was aware of five priests, including Guzman, who had been accused of sexual misconduct since his appointment in December 1984. Guzman was sued by a former bookkeeper at Our Lady of Fatima, who claimed he forced her into a sexual relationship.
The bookkeeper lost her case in court, but allegations surfaced that Guzman had molested the teen the year before he was transferred to her Galena Park church.
In 2004, Fiorenza raised the total of credibly accused to 22 priests and four deacons after participating in the John Jay Report, a survey commissioned by the U.S. Conference of Catholic Bishops.
The tally only accounted for allegations deemed credible after internal investigations. The bishop did not disclose how many unsubstantiated allegations the diocese had received or whether he was excluding religious order priests.
The Chronicle found nearly 20 clergy members publicly accused of child abuse, either through news accounts or court records, suggesting that additional allegations have remained private. At least 10 more clergy members accused elsewhere have been in the Houston area, according to the Bishop Accountability watchdog site. The tally includes religious order priests assigned to parishes in the Archdiocese of Galveston-Houston.
Two other priests, Terence Brinkman and John Keller, were accused of sex abuse but were found by the church not to be credibly accused. Court records show a 2010 civil suit lodged against Brinkman, a pastor at the St. John the Evangelist in Baytown, was dismissed that same year. As for Keller, Fiorenza, acting on the advice of a church review board, concluded in 2003 that he "had not engaged in an act of sexual abuse and that he should remain in ministry."