Third Lawsuit This Month Accuses Ex-priest in Las Cruces of Abusing Altar Boy
By Diana M Alba-Soular
Las Cruces Sun-News
November 29, 2018

https://www.lcsun-news.com/story/news/local/2018/11/29/catholic-priest-sexual-abuse-arnold-finochietto-altar-boy-las-cruces-diocese-el-paso/2132505002/

The Catholic Church is facing another lawsuit, this time over a priest allegedly sexually abusing a boy in Las Cruces in the 1960s.

The lawsuit accuses a different, now-deceased priest — Father Arnold Finochietto, who served at Our Lady of Health Parish in central Las Cruces — of sexually abusing the victim, identified in court records as John Doe "89." It's the third lawsuit filed this month in connection to alleged abuse of children by priests historically in Las Cruces.

Finochietto served as manager of the parish, which then was organized under the Catholic Diocese of El Paso.

John Doe "89" alleges Fionchietto sexually abused him, from age 6 to 10, on a near daily basis while he served as an altar boy for Our Lady of Health, according to court records.

The civil complaint, filed Nov. 16 in 3rd Judicial District Court in Las Cruces, alleges Fionchietto asked for John Doe "89" to be removed from Catechism classes during the school day and taken to the priest's home at the rectory. Other people at the parish took the boy to the rectory "at Father Arnold's request."

"Most of the sexual abuse occurred at the church on a couch behind the altar area or in the rectory about a block from the Church, and consisted of the altar boy plaintiff being 'trained' to fondle, masturbate and provide oral sex to his priest, and to allow the priest to fondle, masturbate and provide oral sex to the boy,'" court records state.

Recent realization

Decades later, John Doe "89" is in psychological therapy and has just begun realizing "the connections between the childhood sexual abuse and the harms he suffered over his adult life," the complaint states.

"Even if it occurred only several times per week, sexual abuse to Plaintiff (the victim) occurred around 500 times," write attorneys Brad D. Hall, Levi Monagle and Jose Coronado, who are representing the now-adult victim.

Attorneys for the victim alleged the church enabled the abuse by maintaining a policy of secrecy regarding priests' abuses and by teaching "vulnerable parishioners, especially altar boys, to put complete trust in priests and believe that priests had divine power and authority over them and their souls."

The new complaint is leveled against the Diocese of El Paso. Las Cruces formed its own diocese in 1982 and so isn't expressly named in the lawsuit.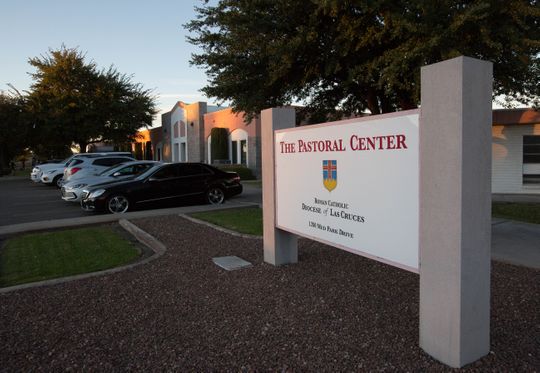 The Pastoral Center of the Las Cruces Diocese. (Photo: Josh Bachman/Sun-News)



Not on the list

Finochietto was not among the 28 former clergy in the Catholic Diocese of Las Cruces — or its predecessor organizations, the Diocese of El Paso and the Archdiocese of Santa Fe — who church officials identified on Nov. 8 as having been "credibly accused" of sexually abusing children from the 1950s to the year 2000.

The Diocese of El Paso hadn't yet received formal notice of the new lawsuit, said

Patricia Lopez Fierro, chancellor and director of human resources for the El Paso diocese. Fierro said the notice may have been filed with Las Cruces church officials.

Las Cruces diocesan officials say they don't have much information about Finochietto in their own files, besides churches to which he was assigned, the dates of his tenure and the year of his death. There's no complaint of sexual abuse in the Las Cruces files, they said.

"Because this priest served in the area prior to the advent of the Diocese of Las Cruces in 1982, we have very little information on him," said Deacon Jim Winder, vice chancellor of the Catholic Diocese of Las Cruces. "What we do know is that he served in Silver City between 1959-1960, San Isidro Parish in Garfield from 1960-1964 and Our Lady of Health from 1964-1975. He retired in 1981 and died in 1999."

Winder has said that an accusation that's made publicly, even if in the form of a lawsuit, isn't alone enough to result in a clergy member being placed on the diocese's list of credibly accused. There were three criteria the church used to develop the list:

if a clergy member appeared on a list of "credibly accused" from another Catholic diocese and also served in Las Cruces;

if an allegation of sexual abuse resulted in a substantial lawsuit settlement or jury verdict in favor of the accuser; or

if there were direct, credible complaints of sexual abuse in a clergy person's personnel file

Diocesan officials have said the list could grow, as more claims of abuse come to light.

As for the most-recent lawsuit, "if it's true, then these people certainly deserve compensation, and we need to do anything we can to help them," Winder said.

"The thing is, we don't know if it's true," he said. "It has to be vetted somewhat."

Recent lawsuits

The new lawsuit was filed in state court just days after two others that accuse a second priest, Father Joaquin Resma, of sexually abusing two girls while serving at Our Lady of Health in the late 1970s and early 1980s. Attorneys representing the victims have said they expect the church's list of credibly accused priests to grow as a result of the litigation.

MORE: Fugitive New Mexico priest pleads not guilty to sex abuse

In early September, New Mexico Attorney General Balderas announced his office was seeking personnel files from Catholic dioceses throughout New Mexico, including Las Cruces, to search for evidence of sexual abuse by priests. The announcement came on the heels of an unveiling of the results of a similar investigation conducted by Pennsylvania law enforcement in that state.

Diana Alba Soular may be reached at 575-541-5443, dalba@lcsun-news.com