Advocates for abuse victims applaud Paquin verdict
By Mike Labella
Eagle Tribune
November 30, 2018

https://www.eagletribune.com/news/haverhill/advocates-for-abuse-victims-applaud-paquin-verdict/article_5b2bcd22-a371-5591-8dd4-e1d6b6572202.html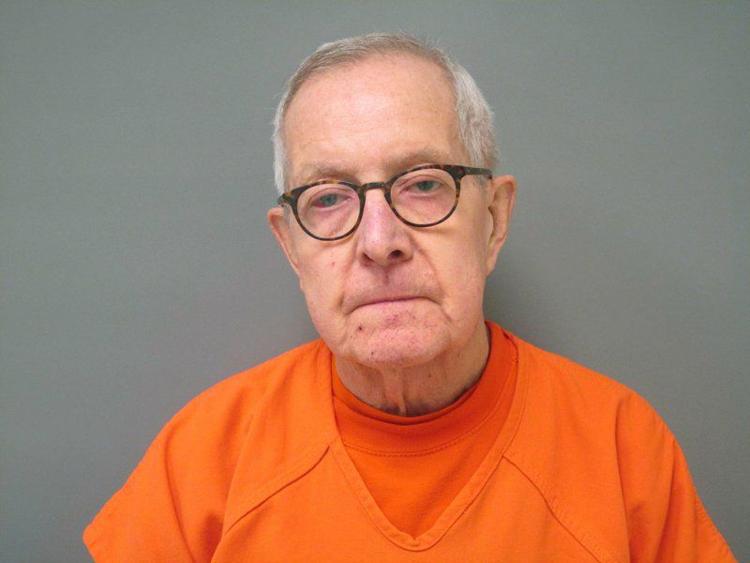 Defrocked Haverhill priest Ronald Paquin is seen in this booking photo provided by the York County Jail in Alfred, Maine, on Feb. 16, 2017. On Thursday, Paquin was found guilty of sexually abusing a boy from his Haverhill parish during trips to Maine in the 1980s.
The conviction of former Catholic priest Ronald Paquin on Thursday on charges he sexually abused a boy from his Haverhill parish during trips to Maine in the 1980s is being lauded as a victory for all victims of clergy sexual abuse.
Paquin, 76, was convicted of 11 of 24 counts of gross sexual misconduct. He was found not guilty of similar charges related to a second boy.
Paquin was convicted by a jury in York County, Maine, after a three-day trial that featured sometimes graphic testimony from his two accusers, now grown men. The charges covered the period between 1985 and 1988.
Paquin served at St. John the Baptist Church in Haverhill from 1981 to 1990, and St. Monica Church in Methuen from 1974 to 1980.
Attorney Mitchell Garabedian has represented thousands of clergy abuse victims both here and in other countries, including 25 victims of Paquin.
"Congratulations to the brave clergy sexual abuse victims who testified at his recent trial," Garabedian said Friday. "It takes courage for a clergy sexual abuse victim to testify no matter the outcome.
"The criminality of Father Ronald Paquin can only be matched by the criminality of his supervisors in practicing the cover up of the wholesale sexual abuse of children," Garabedian added. "Hopefully, the conviction will help victims try to heal and will make the world a safer place for children."
One of Paquin's victims is Keith Townsend, 44, of Seabrook, New Hampshire, who has publicly identified himself as the victim who first reported Paquin to Maine authorities. In the courtroom Thursday, he wiped tears from his face when he heard the verdict that vindicated him. Outside the courtroom, he remembered the way "guilty" rang out in the courtroom repeatedly as the clerk polled the jury.
"It's a fitting end," Townsend said. "The more the defendant kept hearing it, the more it drove it home. Having him sit there and hear it over and over and over, that's justice."
Both men said Paquin befriended them when they were young altar boys in their Haverhill parish. They said he took them out for meals and on trips, including to a motel and campground in Kennebunkport where Paquin had a camping trailer. The former priest gave them alcohol like beer and wine coolers, they told the jury, and he let them drive his car without a license.
Garabedian said victims of clergy abuse continue to come forward, including a Haverhill man who recently contacted him to say that as a child, he was abused by Paquin at St. John the Baptist in Haverhill.
"There is no end in sight given the cover up by supervisors, giving Paquin the ability to abuse whenever and wherever he wanted," Garabedian said. "There are countless clergy victims of Paquin who have not come forward, based on my years of experience representing victims of clergy abuse."
Paquin pleaded guilty in 2003 in Massachusetts to raping and molesting an altar boy in Haverhill as many as 50 times from 1989 to 1992, beginning when the victim was 12. He was defrocked in 2004 and imprisoned until 2015, when specialists said he no longer met the criteria to be considered sexually dangerous.
Less than two years later, he was indicted on 29 counts of gross sexual misconduct in York County, Maine.
Robert Hoatson, co-founder and president of the New Jersey-based Road to Recovery Inc., told The Eagle-Tribune that Thursday's verdict is a "testament to the courage of all of the Paquin victims who have come forward throughout Massachusetts and Maine."
"I congratulate the York County judicial system for following up on these charges and holding him (Paquin) accountable wherever he abused, including the state of Maine," Hoatson said. "I do feel badly the second victim possibly will not get the justice he probably deserves, but he should not back down, knowing there are people who believe him and believe his allegations are probably accurate."
Hoatson said the prosecution of Paquin in Maine proves there should never be a statute of limitations on what he referred to as "murder of the soul," which he said is what mental health professionals call child victims of abuse.
"Almost all of the victims we work with have not been able to bring their claims to court because of antiquated statute of limitations laws," Hoatson said. "What usually happens in these cases is that the priest who is accused of child abuse, rarely if ever admits to it. If there weren't these crazy statutes, priests would be going to prison all the time."
Hoatson, a victim of clergy sexual abuse when he was a child and who went on to serve as a Catholic priest for 14 years, said that since his organization was formed in 2003, it has provided a range of support services to more than 5,000 victims of clergy sexual abuse and their families.
Hoatson said he is aware of some of Paquin's victims, but has not directly worked with them.
"Because of the trial in Maine, there are rumors in the Haverhill area that more victims may be coming forward," Hoatson said.
Kristen Merrill, 53, of Londonderry, came forward in 2010 to say the Rev. Paul Finegan sexually abused her as a teenager in the late 1970s while she worked part-time at St. Michael's Parish in North Andover.
Merrill said the abuse never went beyond kissing and fondling. But she said it occurred at least a dozen times while she was in the seventh and eighth grade at North Andover Middle School.
Finegan was accused of having abused two teenage girls and several boys. He was removed from his parish in Randolph in 2002 and defrocked in 2006.
Merrill told The Eagle-Tribune on Friday that she was elated to learn of Paquin's conviction.
"It's a win, it's huge," she said. "I was jumping up and down and was so happy with the outcome of the trial I posted a comment on Facebook on how finally justice has been served.
Merrill called Townsend and others who come forward to tell their stories of being abused by clergy "heroes."
"All the children that Paquin abused, thank God they are as strong as they are to come forward," she said. "They are heroes as far as I'm concerned. Just walking into a police station and telling your story is very difficult and by coming forward, if it could change one other person and have them go and tell their story about being abused, it makes it so worth it."
Portions of this story first appeared in the Portland Press Herald. Used with permission.
Contact: mlabella@eagletribune.com