Archdiocese of Santa Fe Files Bankruptcy Petition
By Colleen Heild
Albuquerque Journal
December 4, 2018

https://www.abqjournal.com/1253402/sf-archdiocese-files-bankruptcy-petition-ex-filing-aims-to-ensure-fair-settlement-of-sexual-abuse-survivors-claims.html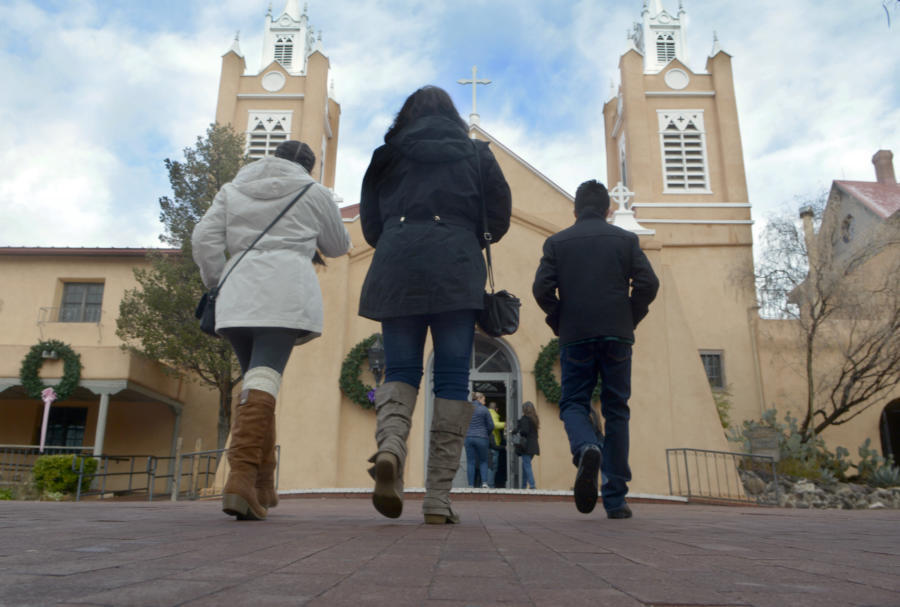 Parishioners walk into San Felipe de Neri Church in Old Town for Mass on Sunday. The Archdiocese of Santa Fe has filed for Chapter 11 bankruptcy. (Greg Sorber/Albuquerque Journal)



The Archdiocese of Santa Fe, as expected, filed for Chapter 11 bankruptcy protection Monday under the weight of civil litigation alleging decades of clergy sexual abuse of children and the failure of church officials to prevent such abuse.

The filing comes after the archdiocese has settled nearly 300 claims of child sexual abuse by Catholic clergy, according to the Santa Fe Archdiocese in a recent website posting. The number of pending sex abuse cases listed in the filing is 36.

The archdiocese's petition for reorganization shows:

• An estimated $3.7 million in liabilities, although elsewhere in the petition the total estimated liability is from $10 million to $50 million.

• Creditors with the 20 largest unsecured claims are clergy sex abuse claimaints who are listed according to their initials, and their lawyers in Santa Fe and Albuquerque; the petition estimates each claim at $100,000.

• The total of all archdiocese assets was listed as $49 million, including real estate with an estimated value of $31.5 million.

• More than $57 million in property is being held in trust for the dozens of parishes in the archdiocese; more than $34 million in property transfers to parishes occurred in the past two years.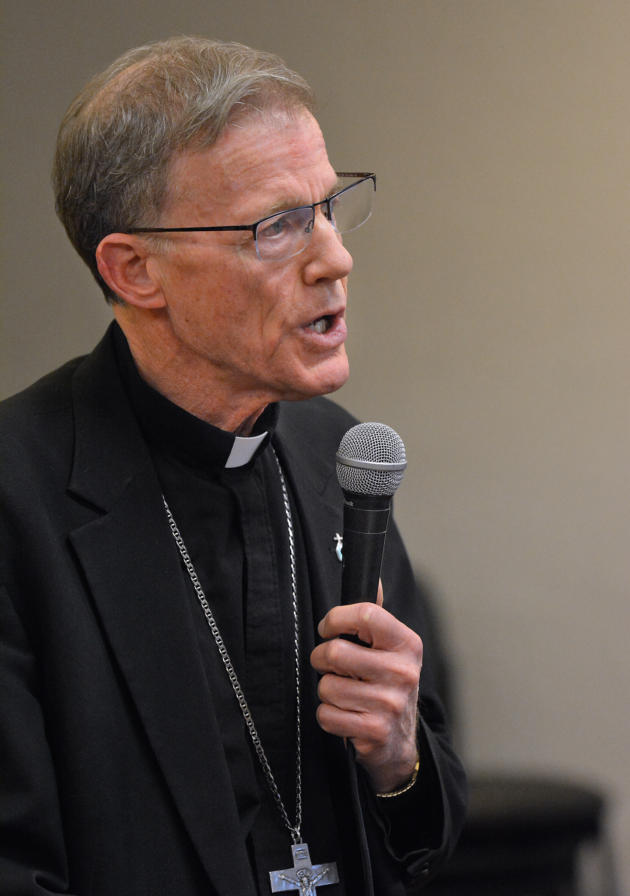 Archbishop of Santa Fe John C. Wester announced the decision to file for Chapter 11 bankruptcy last Thursday in Albuquerque. (Jim Thompson/Albuquerque Journal)



Archbishop John C. Wester said he decided to file for reorganization to ensure that all claims of child abuse survivors, including those who come forward in the future, can be settled "fairly and equitably."

Though insurance carriers paid "a substantial portion" of the abuse claims, "the resources of the Archdiocese have been diminished," the archdiocese said in a website posting titled "frequently asked questions about reorganization." The document also was made available to parishioners after Catholic Masses last weekend.

The archdiocese, the largest diocese in New Mexico, is the second of the state's three Catholic dioceses to file for Chapter 11 bankruptcy reorganization. The Gallup diocese emerged from Chapter 11 bankruptcy nearly two years ago, paying out more than $17 million to claimants.

New Mexico has been described by survivors' attorneys as the "epicenter" of priest clergy abuse, in part because a religious order called Servants of the Paraclete operated a center decades ago to treat pedophile priests sent from around the country. Some of those priests were released into New Mexico Catholic parishes and schools.

Civil litigation against the archdiocese proliferated in the 1990s in New Mexico and has continued in recent years, with more than 100 cases alleging clergy abuse filed by one Albuquerque law firm alone since 2011.

About 20 Catholic dioceses and religious orders nationwide have filed for bankruptcy, citing the financial drain.

According to the posting by the Archdiocese of Santa Fe, the bankruptcy filing effectively halts the progress of active civil cases, which are expected to be consolidated into the bankruptcy action.

While the civil lawsuits will not move forward, sexual abuse claimants will continue to be represented by attorneys in the bankruptcy action. They will also have the opportunity to have a committee appointed, usually of five to seven abuse survivors, that will be a representative group able to hire expert bankruptcy attorneys to represent the broader group of all sexual abuse claimants, according to posting on the website of the archdiocese.

Those who believe they have a claim for clergy sexual abuse against the archdiocese, but haven't yet filed or notified the archdiocese, will be able to file a claim with the bankruptcy court, confidentially if they wish, during a designated period that is usually four to six months after Monday's filing. After that, it is likely a mediation process will begin to resolve all claims.

Valid abuse claims that are filed after the bankruptcy "will be treated equitably, and in the same manner as those claims that have already been filed," the archdiocese's posting stated.

A fund to pay future claims that arise is expected to be set up as the bankruptcy case progresses. Though the Gallup Diocese bankruptcy took 30 months before closure and claims paid, the Santa Fe Archdiocese case could be concluded in as little as a year, said Ford Elsaesser, an Idaho attorney hired by the archdiocese.

The archdiocese says the filing will allow for the continued operation of its "mission."

The "real property" estimate of $31.5 million in the filing is listed separately from the more than $57 million worth of property held in trust by the archdiocese for dozens of parishes. Transfers of property to parishes in the past two years totalled more than $34 million.

The Archdiocese of Santa Fe incorporated most of its parishes from November 2012 through April 2013, according to records filed with the New Mexico Secretary of State. That move was interpreted by some claimant lawyers as a way to shield individual parishes from the liability of the archdiocese in sex abuse cases.

Wester's predecessor, Archbishop Michael Sheehan, said in 2012 that the incorporations were filed because of the "canonical uniqueness of each parish."

According to the petition, the gross business income of the Archdiocese of Santa Fe over the past 12 months has been more than $12 million. But the future monthly business expenses of $981,142 were estimated to exceed an average gross monthly income of $839,082 by $142,060 a month.

The archdiocese will pay for the cost of the bankruptcy action, "which effectively means that the more economical the Chapter 11 process can be, the more funds will be available for financial compensation for abuse survivors," stated the Archdiocese posting.

"It is the stated goal of the Archbishop in this case to do everything possible to minimize the administrative expense of a bankruptcy, and experience has taught us that the best way to accomplish that goal is to stay at the mediation table as long as it takes to reach a consensual deal amongst all the parties."