American Priest Is Accused of Molesting Boys in the Philippines
By Jason Gutierrez
New York Times
December 6, 2018

https://www.nytimes.com/2018/12/06/world/asia/american-priest-molest-boys-philippines.html

An elderly American priest has been arrested by United States Homeland Security agents on charges that he sexually assaulted at least seven Filipino altar boys in the rural central Philippines, where he has ministered for decades.

The suspect, Rev. Kenneth Bernard Hendricks, 77, was arrested Wednesday in the town of Naval, an impoverished community in Biliran Province, said Dana Krizia Sandoval, a spokeswoman for the immigration bureau of the Philippines.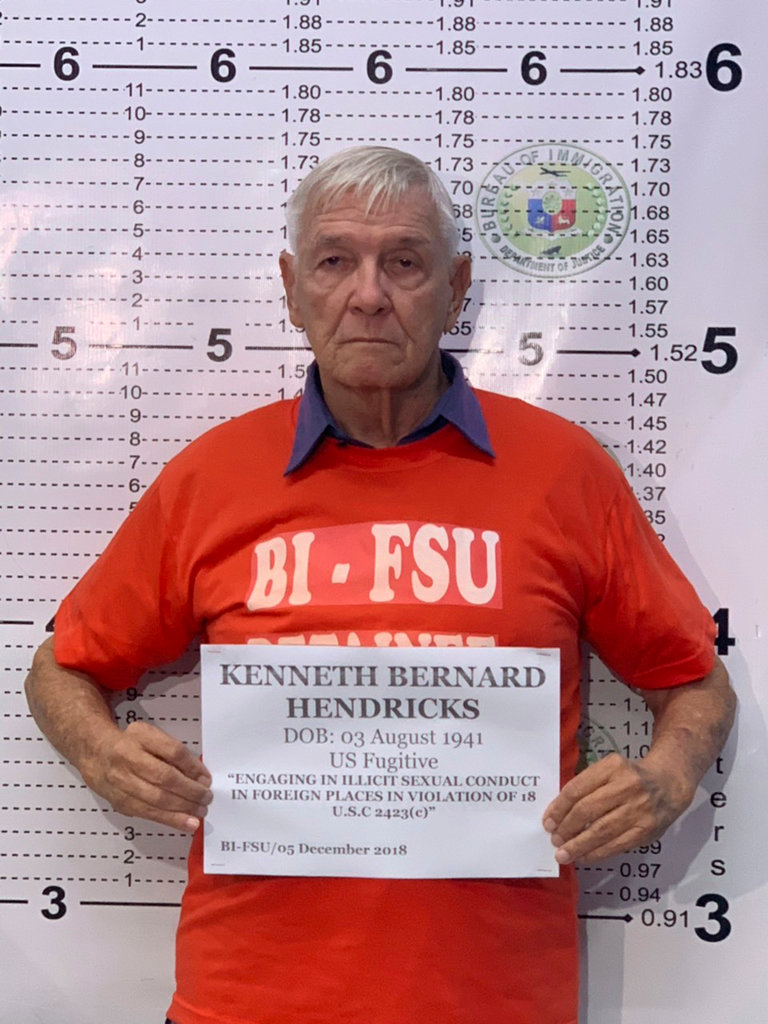 Rev. Kenneth Bernard Hendricks, 77, has been living in the Philippines for 37 years, mostly in the same rural area.



"We received information from U.S. authorities regarding the alleged sexual exploitation of multiple minor Filipino boys by Hendricks," Ms. Sandoval said. "Several of his victims have come forward with their statements."

Ms. Sandoval said "at least seven children have come forward, but our sources estimate at least 50 cases have been unreported."

Operatives from the immigration bureau's Fugitive Search Unit joined with the national police and Homeland Security agents in making the arrest, which shocked residents in the community of 50,000.

"Hendricks allegedly sexually assaulted a number of boys living in his residence," Ms. Sandoval said, adding that the priest allegedly told the boys that he would be imprisoned if the authorities learned of his behavior.

"It is shocking and appalling," she added. "I am horrified reading the charges against him. We will not allow sexual predators to prey on our children."

The priest allegedly ordered the boys to take baths with him and molested them either one on one or with other boys, she said.

The priest was the subject of an arrest warrant issued by a court in Ohio, Ms. Sandoval added.

Mr. Hendricks has been living in the Philippines for 37 years, mostly in the same area, working first as a Franciscan brother before he was ordained into the priesthood, according to people who knew him.

"The allegations came as a surprise," said Rolando Borrinaga, a local historian, who once worked as an altar boy and knew the priest. "I was saddened because all the time that I have known him he has been a good friend and priest."

The Catholic Bishops' Conference of the Philippines said it was aware of the arrest, but it has not issued a statement. But the arrest of Mr. Hendricks could be used by President Rodrigo Duterte as ammunition against the church.

Mr. Duterte, who says he was molested by a priest when he was a child, seized on the arrest Wednesday to resume his frequent attacks on the church. He asserted that such abuses were common in the religion.

"The most hypocritical institution in the entire Philippines is the Catholic Church and the pope knows that," he told labor officials during a speech at the presidential palace in the capital, Manila, in which he assailed local bishops.

The Philippines is predominantly Catholic and the church retains strong influence in the country. It has led anti-Duterte protests calling for a halt to his war on drugs, which has left thousands dead.

Mr. Duterte's attacks on the church come as priests in the country have come under at times violent attacks. At least three Catholic priests have been killed by unknown gunmen since early this year after having spoken out against extrajudicial killings carried out in the name of the drug war.

The country's Commission on Human Rights warned on Thursday that the president's statements "could embolden the violence against priests and other religious persons."