Five Things We Know about Priest Kenneth Hendricks Accused of Molesting Altar Boys in the Philippines
By Cameron Knight
Cincinnati Enquirer
December 6, 2018

https://www.cincinnati.com/story/news/crime/crime-and-courts/2018/12/06/philippines-priest-kenneth-hendricks-cincinnati-abuse/2224465002/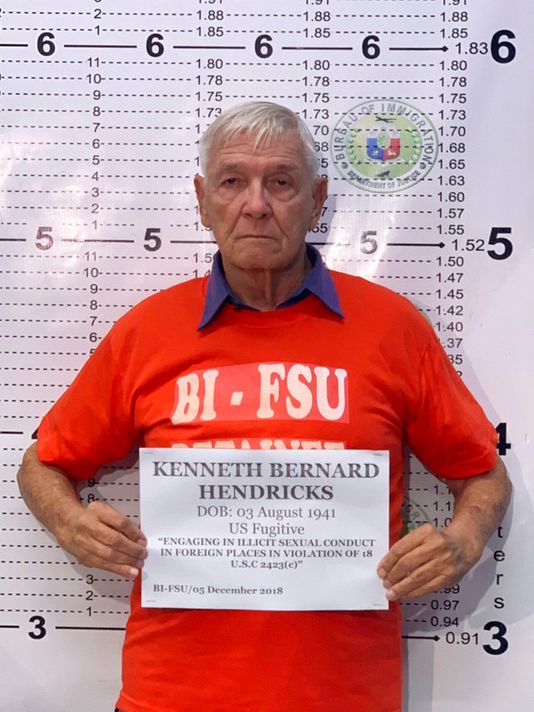 In this Dec. 5, 2018, photo released by the Bureau of Immigration Public Information Office, American Roman Catholic priest Rev. Kenneth Bernard Hendricks poses for his mugshot at the Bureau of Immigration in Manila. Philippine immigration authorities say they have arrested Hendricks accused of sexually assaulting altar boys in a church in Naval town in the island province of Biliran, in a case one official described as "shocking and appalling." (Bureau of Immigration PIO via AP)



In 1966, Hendricks was the assistant director of the Over-the-Rhine Youth Club, an organization operated by the Fransicians, according to Enquirer archives.

He was assistant under Father Caesar Mengelkamp.

Among its activities, the club put on boxing demonstrations.

There are allegedly seven victims

Hendricks is accused of abusing seven victims, who served mostly as altar boys in Naval. He faces 50 counts of molestation in his residence in a case that's "both shocking and appalling," said Dana Sandoval, spokeswoman for Philippine Bureau of Immigration.

"The victims were in his house and the abuses were committed while he was taking a bath with each of them," Sandoval said by telephone. U.S. authorities provided information about the alleged sexual assaults to the Philippine government, she said.

The Phillippine President has repeatedly attacked the Catholic church

Philippine President Rodrigo Duterte has said he himself along with other students were sexually molested by an American priest in their high school days.

In speeches Wednesday, Duterte claimed almost 90 percent of Catholic priests were homosexual and also admonished Catholics to "kill your bishops, they are useless fools. All they do is criticize."

A Catholic priest and Duterte critic, Amado Picardal, said the president's remarks on the church may be aimed at diverting public attention from his widely criticized deadly war on drugs.

The Associated Press contributed to this report.