Priests accused of abuse formerly pastored in Boone
By Anna Oakes
Watauga Democrat
January 23, 2019

https://bit.ly/2sGMhmm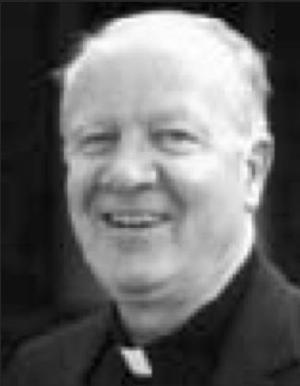 H. Cornell Bradley
The Maryland Province Jesuits and Diocese of Charlotte have said that two Catholic priests who pastored Boone's St. Elizabeth of the Hill Country in the 1990s are "credibly" accused of sexually abusing minors.
H. Cornell Bradley, who now is 80, is among a list of priests named last month by the Maryland Province Jesuits. Bradley had "multiple allegations of sexual abuse" against him in Ocean City, Md., and Washington, D.C., in the 1970s and 1980s, according to the province, a Roman Catholic order of 17,000 priests and brothers.
"Today, the Maryland Province of the Society of Jesus is releasing the names of Jesuits from our province, and other Jesuits who have served the province, who have been credibly accused of sexual abuse of minors since 1950," said Father Robert Hussey, provincial superior of the Maryland Province, in a statement Dec. 17.
"We are deeply sorry for the harm we have caused to victims and their families. We also apologize for participating in the harm that abuse has done to our church, a church that we love and that preaches God's care for all, especially the most vulnerable among us," said Hussey. "The people of God have suffered, and they rightly demand transparency and accountability. We hope that this disclosure of names will contribute to reconciliation and healing."
The list of names released by the province did not indicate if any of the allegations were reported to law enforcement.
"An allegation is deemed 'credible' if there is a preponderance of evidence that the allegation is more likely true than not," the province stated. "The Review Board — an independent board of predominantly lay professionals from the fields of psychology, law enforcement and human resources — evaluates accusations and subsequent investigations and makes a judgment on the credibility of the accusation."
The judgment is presented to the provincial, who makes the final decision on credibility in accordance with accredited policies, the province said. Credibility can also be established by a court conviction or admission by the Jesuit.
Bradley's early pastoral career included assignments at Gonzaga College High School in Washington, D.C., in the 1960s and '70s. He then was assigned to Jesuit communities in Baltimore, Md., for most of the '80s, followed by one year at St. Thérèse Church in Mooresville — a parish of the Diocese of Charlotte, which has jurisdiction in Western North Carolina.
Bradley was assigned to St. Elizabeth in Boone — another parish of the Charlotte Diocese — from July 1989 to September 1993, according to church records. (John Francis Donoghue was the diocese's bishop at the time, but he left to become archbishop in Atlanta in 1993. Donoghue died in 2011.). St. Elizabeth's missions include the Church of the Epiphany in Blowing Rock and the Catholic campus ministry at Appalachian State. Under Bradley's pastorate, two education wings were completed at St. Elizabeth in 1993 to accommodate continued parish growth, according to a parish history formerly published on the Charlotte Diocese website.
Province spokesperson Mike Gabriele said he could not provide the number of allegations that were made against Bradley and that the province could not comment on specific allegations. But he added that to the best knowledge of the province, no abuse allegations stemmed from Bradley's assignment at St. Elizabeth.
"I did check, I wanted to make sure there were no allegations, credible or not, that came out of his time in Boone, and there were none," Gabriele said.
Gabriele confirmed that Bradley was temporarily removed from ministry and sent to treatment in 1993 — the year he left St. Elizabeth — following reports of abuse that allegedly occurred at a different location years before, he said.
After St. Elizabeth, the province's assignment history for Bradley shows he was at the Provincial Residence in Baltimore, Md., from 1993 to 1994. Gabriele confirmed that it is here that Bradley resided while receiving psychiatric treatment.
In 1994, Bradley was returned to the ministry, assigned to Saint Joseph's University in Philadelphia as a campus minister and basketball team chaplain until 2006, when the province permanently removed Bradley from ministry amid an investigation of additional allegations, according to media reports. The allegations came to light in early 2007, when then-Saint Joseph's President Timothy Lannon sent a statement to the campus community about the investigation, which included a letter from the province stating that Bradley "verified substantial details" of one of the allegations and "said he is unable to deny the allegations," the Philadelphia Inquirer and Washington Post reported.
In January 2007, the province reportedly sent a letter to all locations where Bradley had lived and worked in an attempt to learn of any other potential victims.
Although he was removed from ministry in 2006, Bradley remained in the Maryland Province Jesuits under a "safety plan" with limited access to visitors and technology, Gabriele said. But Bradley left the Jesuits in 2007 and thereafter was no longer monitored by the province. The Watauga Democrat was unable to obtain contact information for Bradley, who Gabriele said is living as a private citizen.
Bradley's removal came four years after the Boston Globe's influential investigation that, beginning in January 2002, revealed the vast extent of abuse by Catholic priests. In June 2002, the U.S. Conference of Catholic Bishops established the Charter for the Protection of Children and Young People, a set of procedures for addressing allegations of sexual abuse of minors by Catholic clergy.
In 2018, a Pennsylvania grand jury report revealed that hundreds of priests were accused of abusing more than 1,000 children and that church leaders took steps to cover up the crimes, renewing the international focus on the scandal. The revelations mounted increasing pressure on dioceses and orders to release the names of accused priests, and during the past four months, almost 50 dioceses and orders have released the names of more than 1,000 priests and others accused of sexually abusing children, the Associated Press reported on Jan. 3. Fifty-five more have announced plans to do so during the next few months.
Although St. Elizabeth is a parish of the Charlotte Diocese, as a Jesuit priest, Bradley would have reported to the province, Gabriele noted. David Hains, spokesperson for the Charlotte Diocese, said the diocese has not received complaints about Bradley related to his assignments within the diocese.
The Charlotte Diocese has not released its own list of credibly accused priests but is considering it, Hains said. However, he confirmed that the diocese considers reports of abuse by Damion J. Lynch — who was promoted to pastor at St. Elizabeth after Bradley's departure — to be credible. According to Watauga County court records as well as media reports, the diocese twice settled with a Boone family over allegations that Lynch had sexually abused twin boys in the early 1990s.
Lynch was placed as associate priest at St. Elizabeth in June 1991, and after the departure of Bradley, was installed as pastor of the church. In 1995, he was placed on administrative leave by Bishop William G. Curlin and ordered to undergo psychological testing, Hains confirmed. Court records show that in 1996, the diocese paid $87,000 to the family to settle a complaint of sexual abuse against one of the boys, which included an agreement not to publicly discuss the matter.
But when the family learned of alleged abuse of the other twin brother, they filed a civil complaint in Watauga County Superior Court against Lynch, Curlin and the Charlotte Diocese in February 1998. The lawsuit ended in March 1999 with a settlement of an undisclosed amount paid by the diocese.
After leaving St. Elizabeth, Lynch was appointed to Our Lady of Consolation in Charlotte in 1997 and requested a leave of absence in 1998. It was then that Curlin removed his priestly faculties, Hains said, but he did not know when Lynch left the diocese. Curlin continued as bishop until retiring in 2002; he died in 2017.
The nonprofit organization BishopAccountabilty.org indicates that Lynch was last known to be living in the Washington, D.C., area. An attempt to reach Lynch for comment was unsuccessful.
A search of court records did not find criminal charges against Bradley or Lynch in North Carolina, with the exception of Bradley's DWI conviction in Watauga County in 1992. The Boone Police Department and district attorney's office said they did not have any records of complaints made against Bradley or Lynch.
David Fortwengler, the contact for the Charlotte chapter of the Survivors Network of those Abused by Priests, did not respond to an email from the Watauga Democrat. But in November, he called on the Charlotte Diocese to release a list of names.
"It would be the bare minimum that the Charlotte Diocese could do," he told NBC Charlotte. "We've been asking for this for 16 years."
Father Matthew Codd has been the pastor of St. Elizabeth since 2015.
"The parish I've known — though only for three years — is a wonderful church with wonderful people," Codd said. "I hate that this church, or any Catholic church, has to deal with such a dark cloud of scandal. But the people find Christ here, and I find Christ in them. This parish has a beautiful faith and I don't think anything could ever destroy that."
The Maryland Province encourages anyone who suspects abuse by any clergy or employee of the Province to contact local civil authorities and/or the provincial's office of the Maryland Province. The Victim Assistance Coordinator can be reached at (443) 370-6357, MARadvocacy@jesuits.org, or through writing to Maryland Province of the Society of Jesus, 8600 LaSalle Road, Suite 620, Towson, MD, 21286.
To make a report of sexual misconduct to the Charlotte Diocese, call the Chancery at (704)370-6299 or write to Chancellor, Diocese of Charlotte, PO Box 36776, Charlotte, NC 28236. The Victim Assistance Coordinator David W. Harold can be reached at (704) 370-3363 or david.harold@gmail.com. Hains said the diocese immediately sends reports of child sexual abuse to departments of social services as well as the N.C. Conference of District Attorneys.
Contact: anna.oakes@mountaintimes.com