Victims of San Antonio priests recall pain, anger — and reckoning
By Elaine Ayala
Express-News
February 02, 2019

https://bit.ly/2WErLkn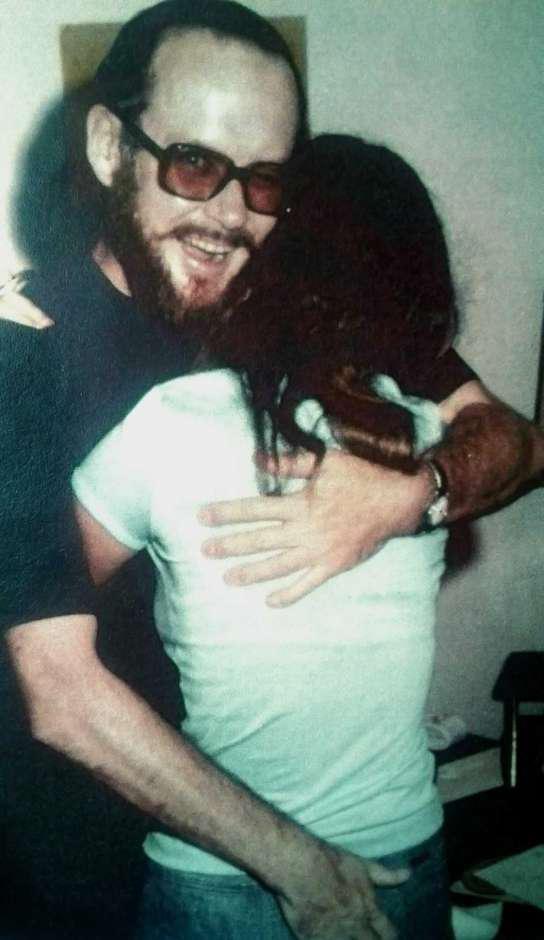 Father Charles H. Miller, identified in the Archdiocese of San Antonio's report on priests credibly accused of sexual abuse of minors, is shown in a photo taken around 1977 in St. Louis, Missouri, embracing a 14-year-old girl at a social event. She later told his Marianist order that he molested her at least twice in San Antonio when she was ...
When a Colorado man heard that the Archdiocese of San Antonio would release its list of priests "credibly accused" of the sexual abuse of minors last week, he was ready to click on the document as soon as it went online.
His own "predator priest" — who he said molested, kissed and fondled him over the course of 10 years, stalked him and finally sexually assaulted him — was there for the public to see: Father Galeb Mokarzel.
The entry was short, easy to overlook in a report that covered almost 80 years and 150 sex-abuse accusations against 54 priests. But it offered some relief — now 70, the man had only recently begun to grapple with what happened to him half a century ago as a high school student, he said.
As with several victims who spoke to the Express-News after the long-awaited report was released, the Colorado man's story takes longer to tell than its simple summary: "In 2019, a survivor alleged that as a minor teenager he was sexually abused by Mokarzel in the 1960's."
He and the other victims didn't want the newspaper to publish their names. They spoke of the stigma they felt, problems with family members, guilt, anger, and how their experiences with a priest affected their faith.
It remains an incomplete reckoning. Only a few of the priests were charged or went to prison. Some are long dead.
Texas removed the statute of limitations for the most serious crimes against children in 2007, but "anything that occurred prior to September of 1987 probably cannot be prosecuted because it's just too old of an offense," Bexar County District Attorney Joe Gonzales said in a prepared statement.
To compile the report, the archdiocese defined sexual abuse of a minor using Texas laws against human trafficking, sexual assault, indecency with a child and other related offenses. Its own review board examined records of allegations dating to 1940, in some cases consulting with outside professionals, to see if there was reason to believe the allegation was true.
In the end, it identified the highest number of credibly accused priests among Texas's dioceses, which together named nearly 300 in a simultaneous statewide accounting. Often based on a single "uncorroborated statement of the abuse survivor" sometimes the conclusion was bolstered by multiple accusations, criminal convictions or priests' own admissions of guilt, the report stated.
Over the years, the archdiocese has tightened its response to initial outcries of abuse. Today it reports the allegations to police if the priest is alive and hires a private investigative firm led by a retired FBI agent if the initial evidence justifies an investigation, the report stated.
Across the nation, the allegations "are tearing the Church apart," Archbishop Gustavo García-Siller wrote in the opening words of the report. Its release Thursday "does not bring an end to this work; it will continue."
A retired law enforcement officer, the Colorado man said he has been writing reports about his abuse, filing complaints against Mokarzel with police departments, with the priest's religious order, the Oblates of Mary Immaculate, and with the San Antonio archdiocese and the dioceses of Brownsville and Dallas.
He tells them, as best he can, where and when the assaults happened, naming churches, buildings and rooms, starting in San Antonio with the now-closed St. Anthony High School Seminary that the Oblates ran.
He tells of the time Mokarzel followed him and other seminarians when they traveled to the South Texas town of Sarita, where their Oblate Novitiate class was located, and about a stop they made in McAllen.
He wrote of being in a room in the rectory next to a parish church in McAllen for hours as Mokarzel "initially molested, abused, and assaulted me; I then recall taking a short nap, and awaking when he abused and molested me again … he fondled me, my entire genital area, inside and outside of my pants, and upper body; Mokarzel continuously and repeatedly kissed me, and for long periods at a time, with his tongue completely inserted in my mouth."
"What I recall about this and all my assaults by him, is the side of his face rubbing against mine, as he had what I can only describe as heavy stubble or facial hair, like sand paper," he wrote. "I will never forget that."
The Oblates concluded the allegation was credible and placed Mokarzel under supervision at a retirement facility in San Antonio, the archdiocese report states.
A family friend
A registered nurse in St. Louis, Missouri, began watching Garcia-Siller's address Thursday on her cell phone, but turned it off after a few minutes, flooded by memories of being groped by a priest here in 1980.
"I got so annoyed at the churchy part when they talk about how much they care that I couldn't watch anymore," said the woman, 56. "I dropped my faith altogether after trying to get the church to deal with this correctly."
She said Father Charles H. Miller, 84, a Marianist priest, was a family friend when he taught at St. Louis University. By 1980, when she was 17 and a high school senior, he was a theology professor at St. Mary's University and invited her to San Antonio to look at nursing schools.
During that visit, she said in interviews with the Express-News in 2009 and last week, the priest gave her massages, fondled her breasts and further abused her on a camping trip at Pedernales Falls State Park.
"I don't want to state what else happened. I don't feel comfortable. I kind of pretended like it didn't happen," she said. "I blocked it so much that I even had him come to my first wedding" in 1987.
In 2005, the woman grew upset when she came across an old family photo of a grinning Miller hugging her when she was about 14, his hand on her buttocks.
She wrote him, asking him to acknowledge the abuse. She also wrote to the Marianists, notifying its provincial, or national leader, of her allegations. At the time, Miller, a former dean of the university's School of Humanities and Social Sciences, was directing overseas trips for St. Mary's alumni.
A Marianist review board validated her claims two years later — after she prodded them with another letter — and paid for years of counseling. St. Mary's forced Miller to resign. He lives in a Marianist facility in Rome, "under supervision … removed from both priestly ministry and university service," a Marianist official said.
The nurse said she never consulted an attorney or considered reporting the incidents to police. "I just didn't want him to continue to hurt anyone," she said.
Attempts to reach Miller in Rome were unsuccessful.
The woman said few Catholics understand that priests in religious orders can escape accountability from bishops, who control only their diocesan priests.
A lay commission that reviewed the abuse allegations in the archdiocese's report issued its own conclusions Thursday, saying both the archdiocese and religious orders had improved their responses to complaints in the past decade but recommending more precise coordination.
Thomas Mengler, the St. Mary's president, chaired the lay commission. Five of its seven members were St. Mary's graduates, he noted in a letter to the university community. In it, Mengler called the church-wide abuse crisis "devastating" and said St. Mary's and the Marianists were committed to protecting students, reporting abuse claims to police and supporting survivors.
One priest, 10 victims
In 1963, a third grader at the St. Vincent de Paul school near Lackland AFB came to dread his teacher's daily selection of a boy to bring milk to the class from the priests' office.
"We'd knock on the door," said the former student, now 63, who asked to be identified only as David. "And there would be Father (Michael J.) O'Sullivan. He'd stop you and make small talk … and then he'd say, `Come here and hug me.'
"And I'm 9 or 10, hugging him, and he would grab my hand and put it on his penis outside his pants. I knew as a kid that this was wrong and pull my hand away, but he'd say, `Don't worry, son,' and put it back. It happened several times, enough that I never wanted the teacher to choose me to get the milk."
David called the Express-News after reading of the archdiocese report, which documented 10 allegations of abuse against O'Sullivan, starting in 1962 when he was at Blessed Sacrament Parish in San Antonio.
The report says O'Sullivan was treated by a psychiatrist after the 1962 incident, assigned to St. Vincent de Paul, where he "re-offended," then was sent to a residential treatment center in Georgia. The archdiocese refused to take him back but the diocese of Savannah, Georgia, accepted him in 1965. After that diocese suspended him in 1971 for molesting a child, he returned to his native Ireland, where more allegations were made.
David said he asked his parents what had happened to O'Sullivan "and they said he had gotten sick and had to go away."
"As I got older I really had forgotten about it. It never really affected me, but after my father died in 2001, I mentioned the incident to my mother after the funeral and said something like, `I'm really glad you turned O'Sullivan in,' and she said, 'We never turned him in.'"
It was not until 2006 that O'Sullivan was referred to the Congregation for the Doctrine of the Faith to seek his removal from the priesthood. He died in 2013.
"I'm sure the abuse happened to a lot of boys back at St. Vincent de Paul," said David, who went on to San Diego State University, joined the Navy and is now a retired engineer.
"He was representing God. He used people's faith to prey on them."
Still coming forward
Some victims' stories are still being reported and investigated, though the archdiocese declined to say how many new ones it has received since Thursday.
A man who lives in Georgia and works for a nonprofit organization said he told the archdiocese Friday about abuse he endured 50 years ago from Father Patrick Walsh at St. Anthony de Padua Parish here.
Now 60, the San Antonio native said he long has feared what the traumatizing information might do to his mother, who is still alive.
"It was my mother, unknowingly, who put me in harm's way," the man said, describing how Walsh would call her to ask that her son, an altar boy, be sent to the parish to help prepare for Mass or do chores.
"I would tell mom that I did not feel well," the man said. "I didn't want to go. She was quite insistent and would never go against the wishes of a priest."
For two years, the man said, Walsh fondled him and forced him to undress in the priest's bedroom.
"My perpetrator did not make the list of reported abusers," the man said. "I have suffered in silence."
But he did confront Walsh 30 years ago, face to face, and the priest both denied the abuse and asked for forgiveness, the man said.
It began on the day he and another boy told Walsh they wanted to be altar boys. "I recall vividly that Father Walsh asked the (other) boy to sit outside in the parking lot," then walked him behind the altar to the sacristy and fondled him.
"I didn't know what was going on. I knew it wasn't right, I knew," he said. "But as a 10-year-old, I couldn't reason. I never said a word to my friend as we walked home."
Over the years, he told a few friends, but no one in his family. He said Walsh gave him money after each episode, from a few quarters to $5. He recalled not being able to get the priest's odor off him. "It took forever," he said.
"One time my older sister saw me in a fetal position in bed after I came back (from church)," he said, crying during the interview and unable to speak for a few moments. "She hugged me and said, 'What's wrong? What is wrong with you?'"
He said he was in therapy, never married and that the abuse even kept him from developing close relationships with his nieces and nephews. But he hasn't let it define him or affect his relationship with God — he has devoted his life to working for nonprofit causes and has been generally happy, he said.
The Georgia man said he never gave Walsh the forgiveness he asked for.
The priest, he said, had told him he "prays for me and the people that he has offended," the man recalled. "I told him, 'No, you need to pray for you, not for me, pray for your soul.'"
He said Walsh also worked at St. Henry's Catholic Church, which the archdiocese spokesman, Jordan McMorrough, verified Friday, though he could not say where Walsh might be residing or if he was alive.
"All new allegations are being processed according to the policies stated in the archdiocesan report," McMorrough said. He could not confirm if the Georgia man's account was among them.
Contact: eayala@express-news.net