From Connecticut to New Mexico to Morocco, allegations have followed former Hartford Archdiocese priest set to stand trial on sexual assault charges
By Dave Altimari
Hartford Courant
February 07, 2019

https://bit.ly/2RRNykN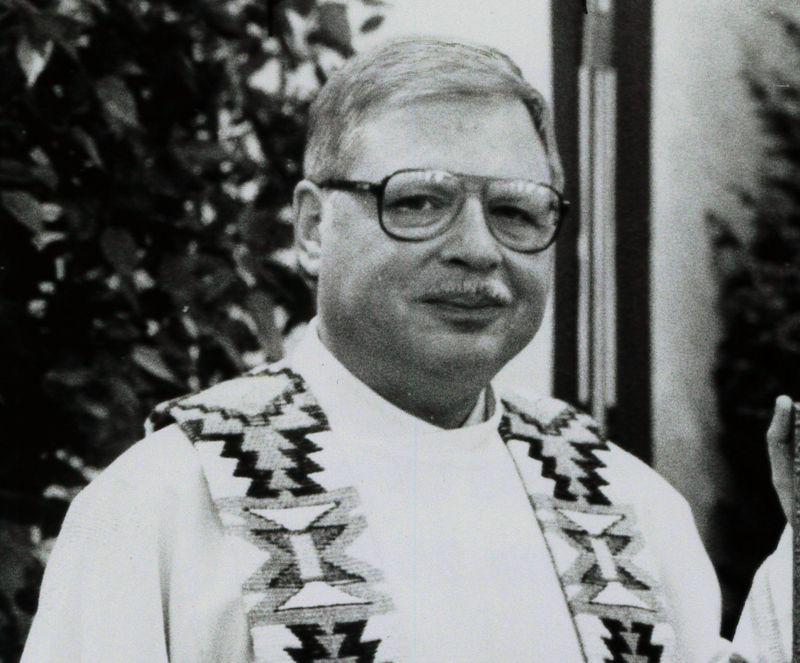 This 1989 file photo shows the Rev. Arthur Perrault in Albuquerque, N.M. Perrault, who fled the U.S. decades ago amid allegations of child sex abuse, will go on trial in Albuquerque, N.M., this month on charges of sexually assault.
A former Hartford Archdiocese priest, whose career started at a Catholic school in Naugatuck, will go on trial in Albuquerque, N.M., this month on charges of sexually assaulting one of his altar boys at a New Mexico Air Force Base and a national cemetery 27 years ago.
It has been a circuitous route for Arthur Perrault, who was ordained as a Hartford priest in 1964, sent to New Mexico for psychological evaluation at a now infamous treatment center and transferred to the Santa Fe Archdiocese, before fleeing to Morocco in 1992 only to be expelled last year and returned to New Mexico to face federal charges of aggravated sexual abuse and aggravated sexual contact.
The now 82-year-old Perrault — who, records show, once wrote a letter to a victim's family claiming he had molested their son because he had cancer when he didn't — fled the United States in 1992 when he learned that a series of lawsuits alleging he had sexually assaulted as many as 38 boys in New Mexico were about to be filed, court records show. He lived in an apartment in Tangier teaching at an all-boys school, until FBI agents — after getting the King of Morocco to agree to expel him from the kingdom — swooped in and arrested him in September of 2017. He has been held in a federal prison ever since, after a judge ruled him a flight risk and a danger to society.
His cases are being tried in federal court because, unlike state court, there is no statute of limitations. Officials also are alleging that the abuse of one accuser occurred on federal property at the Kirtland Air Force Base, where Perrault was a military chaplain, and also at the Santa Fe National Cemetery. If he is convicted, Perrault will spend the rest of his life behind bars.
The trial comes at a time of renewed focus on the issue of sexual misconduct by priests. The Archdiocese of Hartford recently released a list of 48 priests it says have had credible allegations of abuse made against them. The archdiocese said it has paid about $50 million in lawsuit settlements.
Church records that are part of the court file show that Perrault's troubles didn't start in New Mexico.
Secret church files, which a state judge overseeing some of the civil claims ordered released, show that Perrault was sent away to New Mexico by Hartford diocese officials in 1965 after incidents at the St. Francis School in Naugatuck. He had only been ordained in the Hartford diocese a year earlier.
Perrault was sent to the Servants of the Paraclete, a treatment facility in Jemez Springs, N.M., that became a dumping ground for East Coast pedophile priests. Other notorious clients included Laurence Brett from the Bridgeport Diocese and James Porter from Fall River, Mass. In a two-page letter written in April 1966 to the archbishop of Santa Fe, then-clinical director of the Paraclete John Salazar described why Hartford officials had sent Perrault there.
Perrault came to the attention of his Chancery office "because of two alleged incidents of homosexual approaches to some of the young men with whom he was working. From our contacts with the Chancery Office I gather that they are convinced that these two incidents did indeed take place," Salazar wrote.
Salazar went on to write that Paraclete officials believed the incidents were isolated and that Perrault could remain a priest.
"My approach to this matter has been one in which we are not so much concerned with what may have happened in the past, but rather are acutely alerted to what Father Perrault will do in the future," Salazar wrote. "We find no evidence of pathological sexual disturbances in Father Perrault, and we did advise him to seek reassignment away from his diocese in Connecticut."
Perrault never returned to Hartford.
Perrault was born in 1938 in Hartford and graduated from the St. Thomas Seminary in Bloomfield before being ordained in 1964.
In his 1958 St. Thomas yearbook, he is described as a "rather complex personality, to say the least, and not many people really know him. But our class artist is a very likable guy, and when he wants to be pretty sensible."
It goes on to say "his fortune is in his hands as his bowling, painting, italic script and five volume term papers indicate."
Perrault was initially assigned to the Blessed Sacrament Church in East Hartford, but by October 1965 he was at the St. Francis School in Naugatuck.
Church records show he wasn't there very long. Within two months he was transferred to the Servants of the Paraclete. The Associated Press reported that Perrault was accused of having inappropriate talks with boys at St. Francis after hours, including in his car. The letter by Salazar to then-Archbishop of Santa Fe James P. Davis refers to incidents with two young men at the school.
The Hartford Archdiocese would not comment on Perrault's tenure. He is listed as one of the 48 priests who has had "credible accusations" of sexual abuse made against him. It is unclear if the Hartford Archdiocese has ever settled any lawsuits against him.
Archdiocese spokesman the Rev. James Shanley noted Perrault has not been a Hartford Archdiocese priest since 1967.
"In 1967, following treatment in New Mexico, Perrault, at his request, was excardinated," or removed from the Archdiocese of Hartford, said Shanley. "At the request of the Archdiocese of Santa Fe, (Perrault) was incardinated," or placed under the jurisdiction of the Archdiocese of Santa Fe.
Within three months of being sent to Jemez Springs, Perrault — still officially a Hartford Archdiocese priest — was assigned to teach religion at St. Pius X High School in Albuquerque. Soon, he had allegedly abused his first victim in New Mexico, according to a timeline prepared by Albuquerque lawyer Brad Hall, who has filed 68 lawsuits against the Santa Fe Archdiocese over the years, settling 67 of them. Many of the 38 settled cases against Perrault were filed by Hall's firm.
"For some reason, they thought it was a good idea to put [Perrault] in a high school," Hall said. "We believe he went through 50 or 60 victims after that."
Perrault remained at the high school for nearly three years. During that time, he allegedly molested 11 boys, according to church records.
He was then shuffled to numerous positions within the Santa Fe diocese, from editor of the People of God archdiocesan newspaper to chaplain at the University of Albuquerque. He returned to a church in 1985 as pastor at St. Bernadette Church in Albuquerque, where many of the alleged abuses took place, according to court records. It was during that time period that he also became the military chaplain at nearby Kirtland Air Force Base. In 1992 then-Archbishop Robert Sanchez suspended Perrault's faculties with the Archdiocese of Santa Fe after some of his victims came forward, lawsuits were filed and he was criminally charged.
It was then Perrault went "AWOL" or "absconded," federal officials said, first heading to Canada before eventually going to Morocco.
During Perrault's detention hearing in October, Assistant U.S. Attorney Sean Sullivan told the judge the choice of the African country was no coincidence.
"It's more difficult to get someone back from a country where we don't have an extradition treaty," Sullivan said. "And even though we can do it, in the eyes or the mind of most people who flee, you can see why they would end up in a place that doesn't have an extradition treaty."
Pipe smoke and silk underwear
For 23 years, Perrault worked as a teacher at an English-language school in Tangier even as civil cases against him in New Mexico were filed and settled. He was seemingly out of reach until 2016, when the FBI got a tip about an accuser being sexually assaulted on the military base between 1991 and 1992. The location of the alleged assault, at a federal facility, allowed the FBI to open an investigation and eventually convene a grand jury.
In September 2017, the grand jury returned a six-count indictment of aggravated sexual abuse against Perrault. During its investigation, the FBI subsequently turned up information that Perrault allegedly sexually abused at least two other victims while serving as a chaplain on Kirtland Air Force Base. They specifically alleged that Perrault molested them on the base, including in his office at the base chapel and inside his car.
A common thread to all of the victim's statements: They all recalled Perrault smoked a pipe and that he wore silk underwear, court records show.
Nearly a year after that indictment, FBI agents showed up at Perrault's apartment in Tangier to arrest him and bring him back to New Mexico to stand trial.
During the detention hearing before U.S. District Court Judge Karen B. Molzen, federal authorities said that Perrault talked to FBI agents on the long flight back to the United States.
"I'll point out that during the plane ride back with FBI agents, the defendant denied committing any acts of child sexual abuse on Kirtland Air Force Base; however, in general terms he did admit to touching children through their clothing, engaging in oral sex and other things like that," Sullivan said.
Attorney Samuel L. Winder, who represented Perrault at that hearing, denied that his client was a flight risk and said he is in poor health.
Winder asked that Perrault be sent to a halfway house while awaiting trial, but Molzen agreed with the U.S. attorney's office and ordered him held without bail.
Perrault is scheduled to go on trial Feb. 25 in Albuquerque. If he is convicted, he will face a life sentence.
Following Perrault's arrest, Naugatuck police held a press conference and said they were seeking alumni who attended St. Francis in 1965, and who can describe what the "atmosphere and the culture of student life was like during this time frame."
This week, department spokesman Lt. Bryan Cammarata said the department hadn't received any credible accusations against Perrault from his days at the school.
Contact: daltimari@courant.com