Former priest accused in rape of boy, 6, is arraigned
Santa Fe New Mexican
February 11, 2019

https://bit.ly/2SK4Uog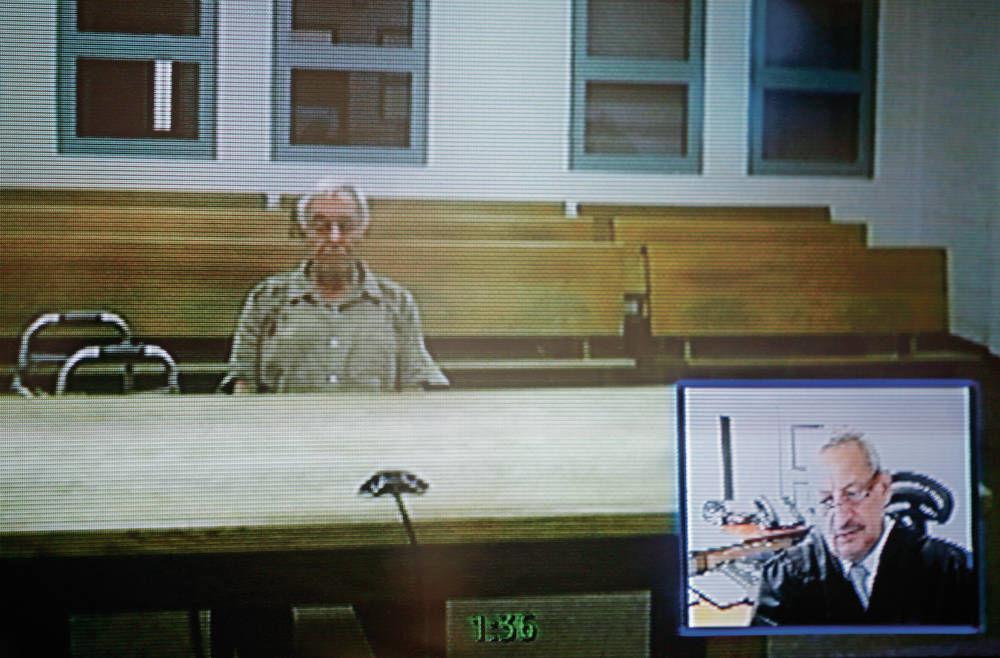 Marvin Archuleta is arraigned via video Monday in Judge David Segura's Magistrate Court. Archuleta is accused of raping a 6-year-old boy at Holy Cross Catholic School in Santa Cruz decades ago.
Photo by Luis Sánchez Saturno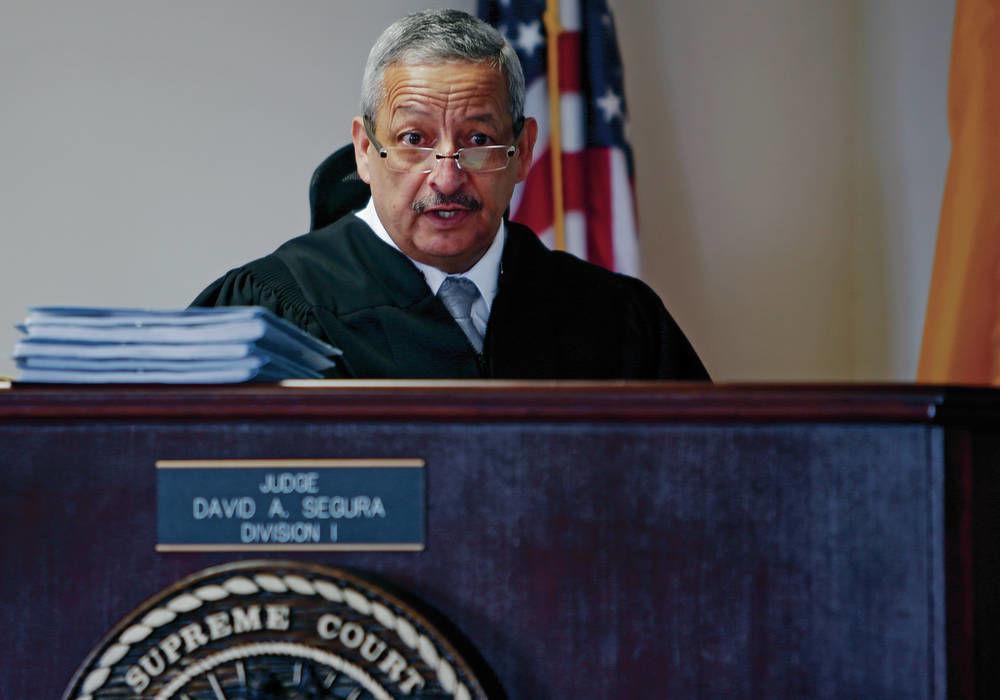 Judge David Segura video arraigns Marvin Archuleta in Magistrate Court on Monday February 11, 2019. The Rev. Archuleta is accused of raping a 6-year-old at Holy Cross Catholic School in Santa Cruz decades ago.
Inmates were asked to clear a room at the Santa Fe County jail Monday afternoon for the video arraignment of an 81-year-old former priest charged with raping and kidnapping a 6-year boy in the late 1980s.
Unlike other inmates, Marvin Archuleta's hands were unbound. He leaned heavily on a walker as he entered the room, his sliver-white hair parted to the side. Slowly, he lowered himself into his seat, adjusted the walker, cleared his throat and straightened the collar of his khaki jumpsuit. He looked into the camera lens, then down.
Santa Fe Magistrate Judge David Segura addressed Archuleta's televised image through the window of a Sony television set.
"A criminal complaint has been filed against you," Segura began. The judge read aloud the statutes that govern first-degree criminal sexual penetration of a child under 13, kidnapping or unlawful confinement resulting in great bodily harm.
Archuleta, who served as a priest for the Archdiocese of Santa Fe for more than a decade, was arrested Friday in Albuquerque on charges he raped and confined a first-grader at Holy Cross Catholic School in Santa Cruz. If convicted, he could face up to 60 years in state prison.
Monday marked his first court appearance.
Archuleta bobbed his head to his chest and said "yes" to confirm he understood the charges. He told the judge he would like time to arrange his affairs and finances for his studio apartment in Albuquerque.
But Segura told the former priest Magistrate Court has no legal authority over his release and the conditions will be set during a detention hearing in District Court. The state Attorney General's Office filed a motion Monday asking Archuleta be kept in custody without bond until trial; he will face a District Court judge within the next five days on the state's custody request.
"We believe this individual is a danger to the community," said David Carl, a spokesman with the Attorney General's Office. "And no conditions of release would have protected the community from him."
The motion to keep Archuleta confined argues the former priest already has proven himself a threat to the community and an international flight risk.
Archuleta served in the Archdiocese of Santa Fe from his ordination in 1970 until 1978, and again from 1987 to 1994. Multiple children and teenagers said Archuleta targeted and improperly touched them — and forced the boys to touch him — when they were alter boys at Holy Cross, according to the criminal complaint.
In the mid-1990s, after attorneys filed a civil claim against the church related to Archuleta's "improper sexual activity" with at least one child, the priest fled to Mexico. He was identified in Mexico City in 2002 by ABC News, but it is not known when he returned to Albuquerque, the complaint states.
Archuleta lives in an apartment near Albuquerque High School. Allowing him to return "to a location so near and approximate to a school is a recipe for disaster," the motion states.
His arrest is the result of a two-year investigation by the Attorney General's Office into sexual abuse by members of the state's Roman Catholic clergy. In August 2018, the Archdiocese of Santa Fe released an updated list of 78 clergy members accused of sexually abusing children. The Archdiocese filed for bankcruptcy in November 2018, citing the financial weight of victim abuse settlements.
Archuleta was on the list, though the document only identifies him as working at Holy Cross until 1978. The Attorney General identified church documents and newspaper archives placing Archuleta at a nearby church again in October 1987, around the time of the alleged assault.
When asked about another unnamed priest mentioned in the complaint, and described as a co-conspirator, Carl said his office hasn't ruled out any other priests and asked for other victims of abuse to come forward.
"We want to seek justice for any individual who has been harmed by a member of the clergy," Carl said.
According to the victim's statement, made last November to the Attorney General's Office, Archuleta identified the boy, referred to as John Doe A, while he was in first grade at Holy Cross Catholic School. The boy, now in his late 30s, had informed the priest of a dead bat outside the church. Soon after, the priest pulled the boy and two other students out of class.
John Doe A has identified Archuleta as his assailant, according to the motion filed Monday.
Archuleta, and another priest brought the first-graders to a changing room inside the church, where a table had been arranged with cookies and punch. The unidentified priest took the other children to "an unknown location," leaving the boy and Archuleta alone.
During the assault, the complaint said, Archuleta told the child to kneel on a chair and bound him with a belt, telling him, "this is how God shows his love."