Woman Sues Clerics Group over Alleged Abuse by Teacher
Times Union
February 14, 2019

https://www.timesunion.com/news/article/Man-sexually-assaulted-by-priest-he-met-in-Troy-13616533.php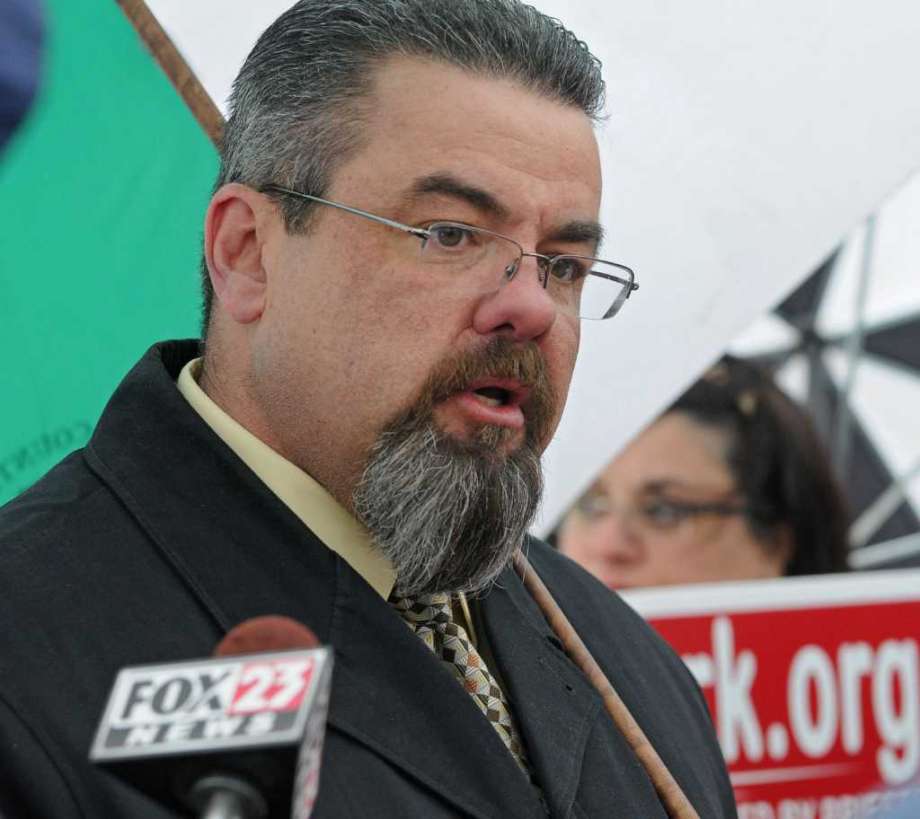 Mark Lyman, a local man who was sexually assaulted by a Catholic priest when he was a boy, will be among a group of people filing a lawsuit against an organization of priests and religious brothers, alleging the group concealed the "histories and identities" of clerics who abused children. (Lori Van Buren / Times Union archive)



In 2012, Jeanne Marron and other alumni of Notre Dame Bishop Gibbons High School received a letter from the national office of the Irish Christian Brothers.

The letter, Marron recalled at a press conference Thursday, "said if you were sexually assaulted by any of our people you have until such-and-such a date to come forward."

Marron came forward.

It had been more than 30 years since she had allegedly been sexually abused by Brother James Vincent Hanney, a former teacher at Bishop Gibbons.

Marron learned that she wasn't alone. "It was very quickly after that that I learned that my sexual assailant, rapist and exploiter ... was actually not just preying on me way back when, but that he was a simultaneously a serial sexual assailant of other, both male and female, teens."

Marron and four others shared their accounts of sexual abuse by religious leaders in New York as they announced a lawsuit against the Catholic Conference of Major Superiors of Men, an organization of priests and religious brothers. The lawsuit alleges that the group concealed the histories and identities of members who had been accused of sexually abusing children.

"In order to protect kids, we need to know about those hundreds – thousands – of pedophiles that are out there, that are assaulting kids," Marron said. "They are being protected by being moved around, by information being kept hidden and by not being appropriately disciplined, treated or anyway dealt with."

According to information provided by Jeff Anderson, the lawyer representing Marron and the four others in the suit, Marron was sexually abused by Hanney between 1977 and 1980 when she was a student at the Schenectady school.

Marron said the abuse began when she was 15.

Based on Bishop Gibbons yearbooks from the '70s, Hanney was a teacher there. Anderson said he was also a counselor.

Anderson alleged that Hanney "manipulated" Marron during counseling sessions, abused her at school and on camping trips to Maine.

Marron suspects more victims are out there. "This is also about being there for all those other survivors that haven't had the ability to step up yet, that were abused by him," she said.

Anderson said that in 1971, Bishop Gibbons students allegedly found a picture of a photograph of Hanney and two young men sitting on a picnic table naked. The students brought the photograph to the then-principal, who "reportedly took no action against Brother Hanney, instead allowing him unrestricted contact to Ms. Marron and other students."

Bishop Gibbons High School is now operated by the Roman Catholic Diocese of Albany. At the time of the alleged allegations, it was operated by the Irish Christian Brothers, said Mary DeTurris Poust, the director of communication for the Albany Diocese.

"In light of this, any allegations of abuse would have been reported to the Irish Christian Brothers, not to the Diocese," DeTurris Poust said. "The religious order would maintain any records of employment and abuse allegations."

The Irish Christian Brothers website did list that a James Vincent Hanney had also worked at Briscoe Memorial School in Kent, Wash., in 1963 and 1964. That school has been embroiled in its own decades-old abuse scandals.

"He was moved numerous times," Marron said. "There was information that was provided to the order. ... It was known that it was a problem and nothing was done."

Marron said she has spent years trying to track down Hanney; she believes he is now teaching at a school in the Philippines.

She hopes this lawsuit will help reveal his whereabouts.

"It's about finding out where he is," Marron said. "Who is he hurting right now? How many more kids?"

The lawsuit calls for the Catholic Conference of Major Superiors of Men to release all the identities and information about priests and brothers accused of sexual abuse.

Mark Lyman, a local man who was sexually assaulted as a boy by a former associate pastor at Troy's St. Anthony of Padua Church, also spoke at the conference. Lyman was one of three people from the Capital Region who had their abuse claims vindicated when the Rev. Frank Genevieve admitted 10 years ago in a Massachusetts court that he sexually assaulted them decades ago during repeated trips from Troy to the Bay State.

Lyman lives in the Capital Region and for years has been prominent for his work as the Capital Region director of the Survivors Network of Those Abused by Priests.

The filing of the lawsuit Thursday coincides with Gov. Andrew Cuomo's signing of the Child Victims Act, which sets a one-year period for alleged victims of sexual assault to file a lawsuit against their abusers or any organization or individuals that may have facilitated the abuse.

The lawsuit is not being filed under the new law, but as a separate legal action.

"These guys don't stop until they are dead, usually — or stopped by some system," Marron said. "They need to be stopped."