Despite defrocking, the fat lady hasn't yet sung on the McCarrick saga
By John L. Allen Jr.
Crux
February 17, 2019

https://bit.ly/2GNPE3a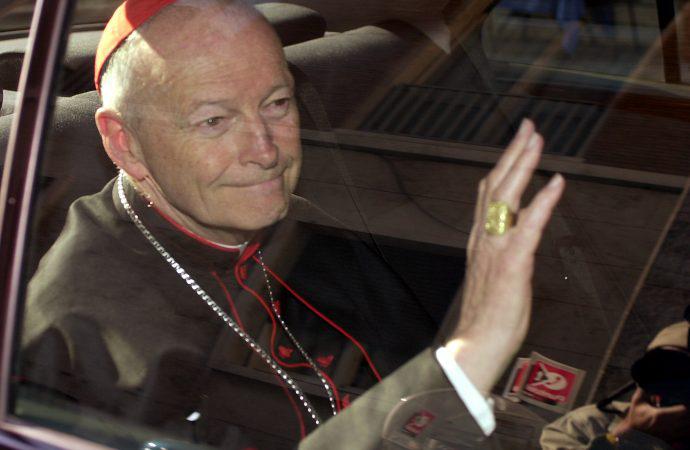 In this April 23, 2002, file photo, Cardinal Theodore McCarrick of the Archdiocese of Washington, waves as he arrives at the Vatican in a limousine. On Saturday, Feb. 16, 2019 the Vatican announced Pope Francis defrocked former U.S. Cardinal Theodore McCarrick after Vatican officials found him guilty of soliciting for sex while hearing Confession.
Photo by Andrew Medichini
For Theodore McCarrick, the other shoe finally dropped on Saturday as he was formally dismissed from the clerical state, or, to use the colloquial argot, "defrocked." He was already an ex-cardinal; now, he's also an ex-priest.
The verdict was expressed in a brief Vatican statement indicating that McCarrick had been found guilty of "solicitation in the Sacrament of Confession, and sins against the Sixth Commandment with minors and with adults, with the aggravating factor of the abuse of power."
In July, Pope Francis accepted McCarrick's resignation from the College of Cardinals after he'd been removed from ministry over a charge of sexually abusing a 16-year-old altar boy decades earlier while serving as a priest in New York, an allegation McCarrick denied.
Since then, at least two other charges of abuse of minors have surfaced, along with charges of sexual misconduct with adult seminarians and priests. All of that comes bundled with suggestions of abuse of power, since in virtually every case McCarrick held either direct or indirect authority over the other party.
Laicization is the most severe penalty under Church law for a cleric, and no doubt McCarrick's victims and others outraged by the scandals will draw some satisfaction from seeing him held accountable.
However, it would be terribly premature at this stage to say that the fat lady has sung. The Vatican may have wanted the McCarrick case to be over before Francis opens a keenly anticipated summit of presidents of bishops' conferences from around the world and other senior officials on Thursday, but there are at least four further dimensions that collectively suggest fallout from the McCarrick scandal will continue to haunt the Vatican and the U.S. Church for some time to come.
Diocesan investigations
The four dioceses in the U.S. in which McCarrick served over the course of his long career - New York; Metuchen, New Jersey; Newark; and Washington, D.C., are all conducting separate investigations, a result of the fact that a request by the leadership of the U.S. bishops' conference for a Vatican-sponsored apostolic investigation was turned down by Francis.
It's too early to say what those probes may uncover, but it's at least possible they may identify further victims beyond those who have already come forward. That would make precious little difference in terms of McCarrick's ecclesiastical status, since he obviously can't be defrocked more than once, but it certainly would contribute to the historical record of the scandal.
In addition, those inquiries could also establish that other figures in the system, clergy and laity alike potentially, knew about McCarrick's misconduct - or, at least, should have known - and failed to act. If that's the case, the question would then become what sort of accountability would be imposed.
Vatican review
On Oct. 6, the Vatican issued a statement indicating that Francis had ordered a "thorough review" of Vatican files relating to McCarrick, in an effort to answer the $64,000 question at the heart of the affair: Who knew what, when did they know it, and why did they fail to act?
Saturday's verdict amounts to accountability for the crimes of sexual abuse committed by McCarrick, but that's not the only part of the drama that's had people upset. From the beginning, there's also been a question of how he was able to remain at the pinnacle of power in the Catholic Church for more than twenty years despite persistent rumors that something was amiss.
"Both abuse and its cover-up can no longer be tolerated and a different treatment for Bishops who have committed or covered up abuse, in fact represents a form of clericalism that is no longer acceptable," that Oct. 6 statement said.
The Vatican vowed that the results of the review would be communicated "in due course," but so far there has been no update. Until that revelation comes, it's doubtful that anyone will consider the McCarrick story closed.
Protecting reputations?
Perhaps one reason there's been no further word about the results of the Vatican review is the political sensitivity of whose reputations might be damaged.
The Oct. 6 statement seemed to anticipate that possibility, saying: "From the examination of the facts and of the circumstances, it may emerge that choices were taken that would not be consonant with a contemporary approach to such issues."
To be precise, there's been concern from the beginning that the Vatican might short-circuit its examination of conscience because it could end up casting a shadow on St. John Paul II, since it was on his watch that McCarrick was appointed both as the Archbishop of Newark and later as the Archbishop of Washington.
Specifically, there's long been speculation that key aides to John Paul favored McCarrick's rise to power - including Cardinal Stanislaw Dziwisz, John Paul's priest-secretary and confidante, who valued the support McCarrick delivered to the Solidarity movement in Poland. The theory is that those architects of the John Paul papacy chose not to look too closely at question marks about McCarrick because he was useful to them in other areas.
The question, therefore, is whether Francis's Vatican is willing to follow the McCarrick trail wherever it leads, regardless of whose legacy is on the line.
Selective focus
One question that Catholics in other parts of the world may well ask is why the media - and, for that matter, the Vatican - is investing so much time and energy in the McCarrick case, when there are other scandals, arguably even more galling, which also merit careful attention.
One compelling example is Chile, which has experienced an abuse crisis on a scale that's basically unprecedented anywhere in the world, and where the pope himself has accused the country's bishops of cover-up including the destruction of evidence. Yet there's no equivalent outcry from the media or public opinion, and no similarly draconian action from the Vatican.
Francis is legendarily a pope of the peripheries, making it especially ironic that his most dramatic action on the abuse scandals to date has come in the United States, basically the dictionary definition of the center.
Last night, Peter Isely, a survivor himself as well as a psychotherapist and a founding member of the advocacy group "Ending Clergy Abuse," talked with Crux about his hopes for the pope's summit this week. In a nutshell, his comments suggest that defrocking McCarrick, however complicated, actually may have been the easy part for Francis and his team.
"Why is [Pope Francis] covering up for people who have covered up those crimes? That's the problem," Isely said.
"He'll have time over the summit, if he hears from survivors and he hears from people and sees this happen, maybe he can rethink and reconsider that," he said.
We'll know soon enough whether that reconsideration occurs - because, in the end, the unfinished business from the McCarrick case is precisely the cover-up and not the crime.