The Vatican Wouldn't Defrock a Priest Accused of Abusing a Boy at a Lynchburg Church. Now the Former Altar Boy Shares His Story.
By Richard Chumney
News & Advance
March 22, 2018

https://www.newsadvance.com/news/local/swept-under-the-rug/article_538d2b94-e854-5a89-a41d-277c28245e52.html

For five decades, James Sheehan kept his most painful memory a secret.

The horror of the abuse he remembers experiencing at that hands of his local parish priest haunted him into silence. And for half a century he felt alone — isolated and, at times, lost in his own memories.

But now, Sheehan is speaking publicly after Vatican officials refused to defrock the priest at the center of the allegation, despite the fact that the Diocese of Richmond found his claim credible and recommended he be dismissed from "the clerical state." The decision to come forward follows a renewed national focus on clergy child abuse and prompted Lynchburg police to briefly reopen its investigation into the man Sheehan says physically and sexually assaulted him in the mid-1960s.

As a teenage altar boy at Holy Cross Catholic Church, Sheehan told The News & Advance in recent interviews he was serially abused by the Rev. Julian Goodman.

Sheehan, embarrassed and fearful of Goodman, told no one at the time.

Instead, he bottled up the pain and carried the burden alone for 50 years. The trauma destroyed the young boy's innocence, forcing him to endlessly wrestle with his own self worth and faith. Even today, as a staff member at a Catholic church in Georgia, he struggles to attend Mass.

"I've always felt like I was somewhat tainted," he said.

Sheehan, 66, is now left with the emotional scars of the abuse he remembers and lingering questions that may never be answered.

How could this priest, he remembers thinking, a man who pinned my body to the ground and violated me inside my own church, use those same hands to turn bread and wine into the body and the blood of Christ? Why did he choose me? Who was this man?

A young priest

Julian Goodman, a Richmond native, came to Lynchburg in the summer of 1966 as Holy Cross' new assistant pastor. A short profile published in The Daily Advance at the time described the 26-year-old recently ordained priest as "an accomplished musician with an interest in young people."

A photo accompanying the article shows a clean-shaven Goodman standing before the church, wearing a smile, thick-rimmed glasses and the clerical collar.

"I don't believe in spoon feeding," Goodman is quoted as having said. "I am interested in young people, but for any organization to be successful its members must show interest and be willing to give of their time and efforts."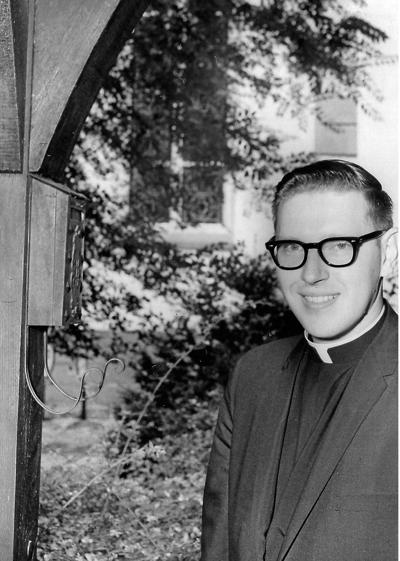 The Rev. Julian B. Goodman, June 25, 1966



Goodman was soon put in charge of managing the church's altar boys, including the meek 15-year-old boy known to his friends as Jimmy. As Sheehan recalls, Goodman was a stickler for details. The priest would drill the boys with a military-like intensity, demanding perfection for the Mass services. And Sheehan, eager to learn, obeyed Goodman's commands.

"The priests were venerated when I was a kid," Sheehan said. "They were the closest thing to God. As a kid you're taught to do what you're told."

Eventually, sometime in the second half of 1966, Goodman showed what Sheehan called his violent "dark side."

After a Mass service, Sheehan recalled, Goodman first performed what he called his "blessing." The ritual took place inside the church sacristy, out of site of other priests and parishioners.

Inside the small room, Sheehan said, Goodman grabbed him by his neck, forced his head to the floor and, as he recited the words to the Sign of the Cross prayer, repeatedly struck the boy's buttocks with his hand.

The abuse continued for months and with each successive "blessing" the punishment Goodman inflicted on Sheehan would increase in intensity, Sheehan said. One incident stands out more than others.

After an evening Mass in 1966 or 1967, Goodman cornered Sheehan inside the sacristy, forced the teen to his knees and sunk his weight into the altar boy's back.

"I felt as if he was going to break me in half," Sheehan later wrote in a 2016 letter to diocesan officials describing the assault.

Goodman reached for the boy's crotch, painfully groped him and, with his knee digging into his back, began to masturbate, Sheehan recalled.

Eventually, Goodman allowed the altar boy to leave the sacristy. From then on, Sheehan was desperate to avoid the priest. The trauma of the event, he said, propelled him to quit the altar service he once loved.

"I've always had the Goodman thing in the back of my mind," he said. "The only way I could deal with it was to think they were isolated incidents."

Goodman, who appeared on a list of former priests credibly accused of sexual abuse of minors released by the diocese last month, served at Holy Cross for about three years, though it is unclear exactly when he left Lynchburg. Efforts to reach the former priest, now 79, were unsuccessful.

Deborah Cox, the diocesan spokesperson, said the church would not release the specific years priests were assigned to individual parishes in an effort to protect the privacy of victims.

"We did not want to put out anything that could potentially be identifiable," she said.

Interviews, newspaper archives and city directories, however, show that by the late 1960s Goodman had been re-assigned to St. John Vianney Seminary in Goochland County, an all-boys high school meant to prepare students for the priesthood.

At St. John Vianney, Goodman served as a music teacher and worked alongside two other priests who would later be accused of child sexual abuse, including John Leonard — the school's principal and founding pastor of Lynchburg's St. Thomas More Catholic Church.

In 1994, former St. John Vianney student James Kronzer told the Diocese of Richmond Goodman sexually abused him as a teenager between 1976 and 1979.

When church officials confronted Goodman about the allegation, he admitted to abusing Kronzer, a diocese spokesperson later said at a news conference.

Goodman was placed on administrative leave and sent to Villa St. John Vianney Hospital in Downington, Pa. for two months of treatment. After hospital officials determined Goodman no longer posed a risk to others, he returned to Blessed Sacrament Parish in Norfolk and spent the next 18 months in outpatient therapy while serving as pastor.

Bishop Walter F. Sullivan, the top diocesan official at the time, allowed Goodman to continue to serve for another eight years. In 1999, Goodman was relocated to the Holy Comforter Catholic Church in Charlottesville, where he led the city's parish. But in 2002, Kronzer demanded Sullivan make his allegation public amid a national reckoning on clergy sexual assault sparked by revelations of widespread abuse and cover-ups in Boston. Sullivan, who died in 2012, granted Kronzer's request.

Goodman was then forced to retire from the priesthood and was barred from preaching or wearing the clerical collar in public, the Rev. Pasquale J. Apuzzo, the diocesan spokesperson, said at a news conference at the time.

Thomas Magri, a former Holy Cross altar boy and childhood friend of Sheehan's, matriculated to St. John Vianney in 1967. His time in Lynchburg and Goochland overlapped closely with Goodman's, but in an interview he said he never experienced or knew of the alleged abuse until years later.

"Nothing ever happened to me — it's just the way it is," said Magri, who after a 17-year career in the priesthood went on to treat survivors of abuse as a counselor. "And if you know abusers, you understand that that is the pattern."

Magri said it is common for abusers to hide their predation from colleagues and others. At no point did Magri suspect Goodman was capable of abusing children.

"He didn't stand out to me one way or the other," Magri said. "He was just another priest."

Coming forward

Sheehan first told diocesan officials of the abuse in 2016, according to written correspondence he provided to The News & Advance. He was convinced to come forward after a friend he had confided in encouraged him to report Goodman to church officials.

The letters show that the Diocesan Review Board in Richmond, a group of mostly laypeople who deliberate on sexual abuse accusations within the church under the bishop's supervision, investigated the allegation.

After reviewing the board's findings, then-Bishop Francis X. DiLorenzo found Sheehan's claim "grave in nature and credible" and forwarded the accusation to the Vatican, urging officials to defrock Goodman.

In Rome, however, the Congregation for the Doctrine of the Faith, the church's disciplinary body, declined to take any action.

"After carefully reviewing the case; taking into consideration the age of Father Goodman; the amount of time that has passed since the incidents took place and the previous disciplinary action enacted by me in 2006 with his removal from public priestly ministry, the Congregation did not find a compelling reason to impose the penalty of dismissal from the clerical state," DiLorenzo wrote in an August 2016 letter to Sheehan.

The Vatican's decision allowed Goodman, then 76, to continue to receive financial support from the diocese, even though he is barred from active ministry.

According to the letter to Sheehan from DiLorenzo, Goodman is required to report to the bishop's office on a quarterly basis and provide recent copies of his criminal history. DiLorenzo, who died in 2017, also ordered diocesan officials to begin monitoring the now-elderly former priest "to ensure that he does not interact with children."

Cox, the diocesan spokeswoman, declined to specify the steps church officials have taken to monitor Goodman or if the former priest still regularly reports to the diocese now that DiLorenzo has died.

Becky Ianni, a leader of Virginia's chapter of Survivors Network of those Abused by Priests, a group that supports victims of clergy abuse, said the diocese's refusal to answer questions about Goodman raises concerns about the church's commitment to preventing future abuse.

"When [a priest's] not defrocked but he's been removed, then they still have a responsibility for that priest," Ianni said. "So in Goodman's case, they're still responsible for his actions and they should be making sure he is some place secure and that he's monitored so that he's never around children. I don't know if they're doing that or not."

Though Sheehan was disappointed at the Vatican's decision, he still was interested in finding justice. At the urging of DiLorenzo and at the expense of the diocese, Sheehan made the nearly seven-hour drive from his current residence in Savannah, Georgia to his hometown of Lynchburg to file a police report.

The homecoming was a difficult one for Sheehan. For decades, he struggled to come to terms with the assault and found it emotionally taxing to share the specifics, a phenomenon that Ianni said is common for victims of child sexual abuse.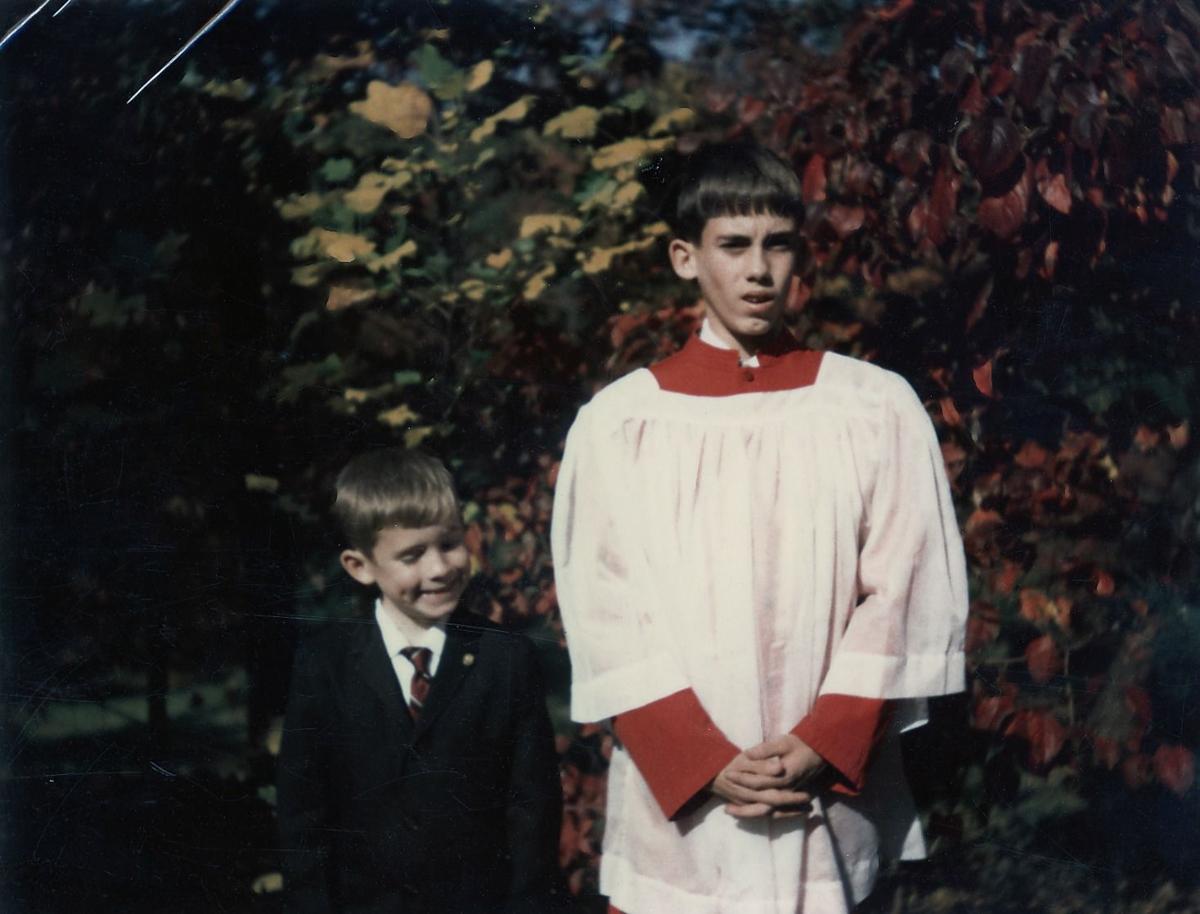 James Sheehan in his altar server garments. The photo is dated Oct. 1966. He is standing next to his younger brother Patrick. Submitted.



"Most of the survivors feel like the abuse is their fault in some way," Ianni, who herself was abused as a child, explained. "They blame themselves. It's really hard to come forward when you feel like something's your fault. Even though we're adults and we know logically that this is not true, when we're speaking out about it we're still that kid."

In Lynchburg, Sheehan met with a detective, he recalled, and detailed the abuse that began as violent strikes and then, over the course of a few months, ultimately evolved into sexual abuse.

But once again, nothing came of Sheehan's reported allegation.

Months passed, and eventually he stopped expecting to hear from investigators. At the police department, the detective assigned to investigate Goodman retired and the case became inactive.

A renewed focus

In the years since Sheehan first reported the allegation, wide-ranging probes into Catholic clergy abuse have forced church officials to reckon with decades of misconduct.

Last summer, a grand jury in Pennsylvania alleged that Catholic officials covered up decades of abuse in virtually every corner of the state. The revelation triggered a wave of public acknowledgments of past abuse by diocesan officials across the county.

In October, Virginia Attorney General Mark Herring announced his own investigation into potential abuse and cover-ups in the Commonwealth. According to church officials, the Richmond Diocese is cooperating with the state probe.

In February, the diocese joined other dioceses' efforts toward transparency when Bishop Barry Knestout released a list naming 42 priests who church officials said had been credibly accused of sexually abusing minors.

Allegations reported to the diocese were found credible if they were supported by a "preponderance of the evidence," Cox said.

"After careful analysis, a name was added to the list if the greater weight of evidence suggested it was more likely than not that the abuse occurred," she said. "This does not mean it was proved to have occurred."

Among the clergy members named on the Richmond list were seven priests who had once served in the Lynchburg region, including Goodman.

The news that Goodman had been named by the diocese reached Sheehan in Georgia last month. He said he was stunned to learn the diocese did not disclose his own allegation to the public or — at the very least — acknowledge where and when the alleged abuse occurred.

"I felt like they swept me under the rug," he said.

After The News & Advance inquired about the local criminal investigation earlier this month, Lynchburg police reopened the case. Virginia has no statute of limitations for felony criminal sexual assault, which means Goodman still could theoretically face charges.

But within less than two weeks of reviving the investigation, Lynchburg police abruptly ended the probe.

Police told Sheehan investigators had learned Goodman now suffered from a "mental condition" and may not be competent to stand trial, he said.

Sgt. Luke Bryan, with the Lynchburg police, confirmed to The News & Advance that the investigation had been discontinued "based on the status of the subject." When asked to clarify, he said medical privacy laws prevented him from disclosing more.

The decision to close the case came as a shock to Sheehan.

"It floored me," he said. "When I got the call I thought maybe it's going to be some uplifting news, but it was the absolute worst news possible."

Lynchburg Commonwealth's Attorney Bethany Harrison, whose office ultimately decided not to pursue charges against Goodman, said police and prosecutors face two major hurdles when investigating accusations of decades-old abuse: a lack of corroborating evidence and the status of the alleged perpetrator.

"It's not a matter of whether we believe the victims or not," Harrisons said. "We come into these cases believing what the victims tell us but sometimes factors come up where cases can't be pursued."

Though once again disappointed, Sheehan said he plans to continue to share his story with anyone who will listen. In the coming days he plans to file a report with the attorney general's office through the state's clergy abuse hotline.

"I still want to keep plugging away even if I'm banging my head up against a brick wall," Sheehan said. "I still want to keep trying a little bit longer."