Local Catholic priest suspended as diocese reopens investigation into 2002 rape allegations
The Bakersfield Californian
March 4, 2019

https://bit.ly/2H2V77k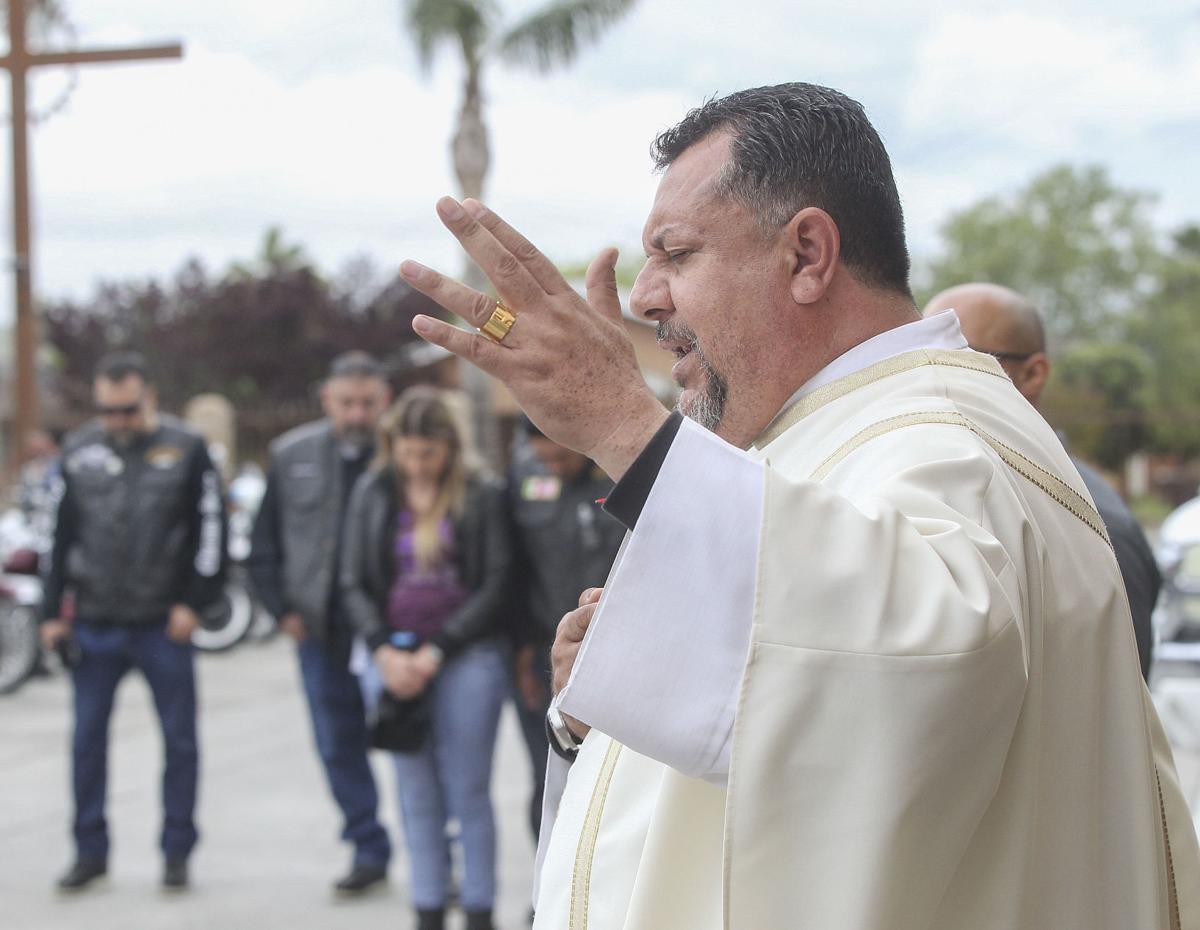 Father Miguel Flores in April 2018.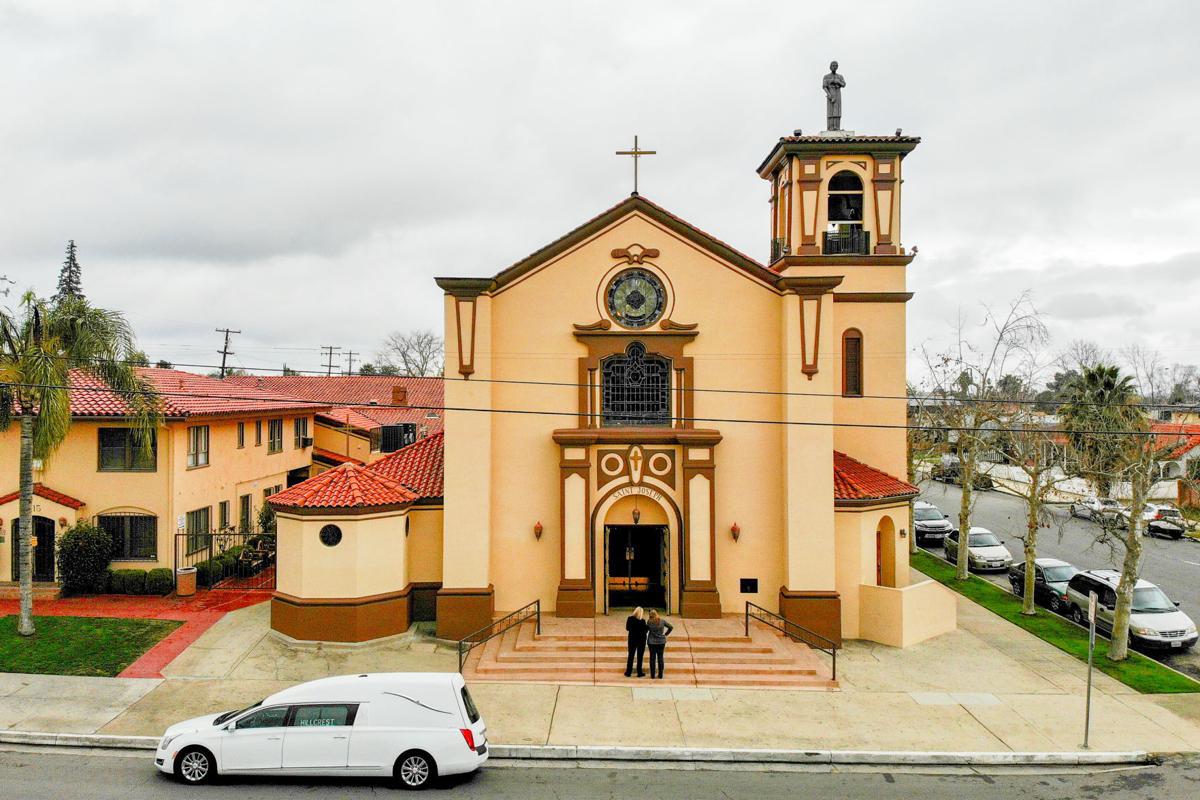 St. Joseph Catholic Church is located at 1515 Baker St.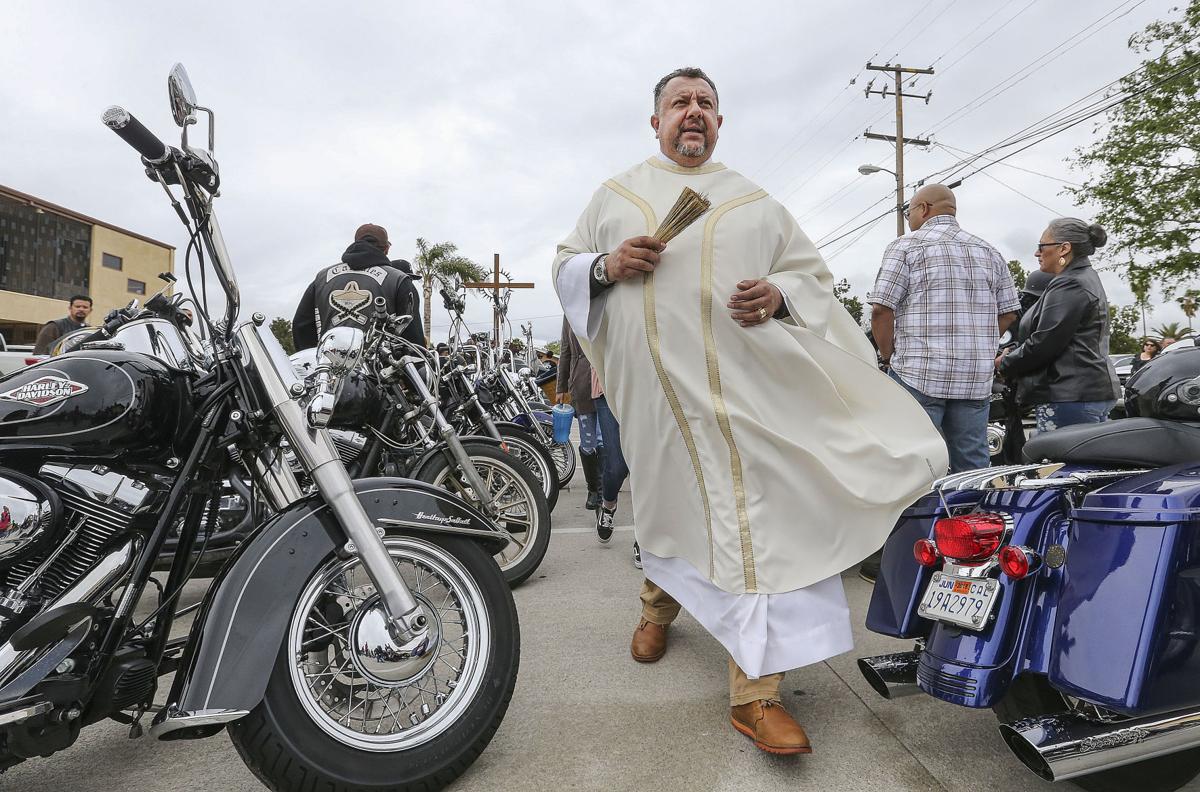 Father Miguel Flores makes his way through rows of motorcycles during the Blessing of the Bikes at St. Joseph's Church in April 2018.
The Rev. Miguel Flores of east Bakersfield's St. Joseph Catholic Church has been placed on administrative leave while senior officials take another look at 17-year-old sexual misconduct allegations involving him and a then-16-year-old girl, the Diocese of Fresno told The Californian Monday.
During Mass Sunday afternoon, Bishop Armando Ochoa, from the affiliated Diocese of Fresno, informed parishioners that Flores had been placed on leave while officials reopen an investigation into the accusations — for which Flores has already been tried and acquitted.
"The current allegation relates to a previous allegation of sexual abuse of a minor that was litigated in 2002, at which time Fr. Flores was acquitted," Diocese spokeswoman Teresa Dominguez told The Californian in an email. "The current disclosure is considered credible which gave cause to reopen a diocesan investigation into the matter."
She said the Diocese of Fresno has had "ongoing communication with law enforcement" since receiving "the third party report." She did not respond to a request to clarify whether the original accuser, or someone else, had contacted the Diocese of Fresno, or another entity, with new information.
Flores was cleared of three counts of forcible rape, three counts of sex with a minor and single charges of making threats and intimidating a witness in 2002, after it was alleged that he raped a San Joaquin girl who worked as his office assistant at churches in Tranquillity and Hanford. He was found not guilty of all charges.
Flores' suspension is not part of a review of possible sexual transgressions involving clergy that the Diocese of Fresno announced last month it would undertake, Dominguez said.
On Feb. 2 Ochoa said the Diocese of Fresno would conduct a thorough review of all files concerning priests and deacons in possession of the Diocese dating back to 1922, when the territory was the Diocese of Monterey-Fresno. He is bringing in a former FBI executive assistant director, Kathleen McChesney of Kinsale Management Consulting, to review the clergy files. Sometime this summer, the Diocese will decide which names to make public, Ochoa said.
On Sunday, St. Joseph parishioners were reported to have gasped audibly when his suspension from pastoral duties, effective Feb. 28, was announced. Ochoa attended several Masses at St. Joseph on Sunday but had the Vicar, Fr. Salvador Gonzalez, read the statement at the Masses he could not attend, Dominguez said.
Flores joined St. Joseph Church, located in Old Town Kern, in 2007. The parish has more than 3,600 registered families.
The Diocese of Fresno comprises 87 parishes in eight counties, including Kern, Fresno, Tulare, Kings, Inyo, Madera, Merced and Mariposa, and it has an estimated 1.2 million Catholics, according to Dominguez.
Several priests — an undetermined number — who have served at various churches in Kern County have been accused of sexual misconduct.
According to BishopAccountability.org, a website that tracks accused priests, 11 priests in the Diocese of Fresno have either been accused, convicted or sued for sexual misconduct. Several of them served at various Catholic churches in Kern County at some point. One is Robert Gamel, convicted and sentenced last year to four years in state prison for possession of child pornography while he was pastor at a church in Los Banos. Gamel served at Our Lady of Perpetual Help and others around Kern County.
Flores, who hails from Guadalajara, provided St. Joseph parishioners with a brief autobiography when he was first hired 12 years ago.
Because he is the oldest male child in his family, Flores wrote, his father's intention had been to groom him to become a businessman. He came from wealth: Flores & Sons is the name of his family's business, which consists of several packing houses for produce and other agricultural goods in Mexico, Spain and Chile.
"I always felt inclined to study psychology," he wrote. He ended up earning a master's degree in that field in Spain.
Around age 23, Flores was ready to become a priest. His father didn't understand why but still paid for an extensive liberal arts education for his son -- across several continents. His frst assignment as a priest was in Tarija, Bolivia. He was ordained with the Diocese of Tarija in 1994 and came to the Fresno Diocese from Mexico in 1999.
For more than the last decade, Avila said, there has been a shortage of priests in the Fresno Diocese. Foreign-born priests, therefore, are more than welcome, he said, as long as they pass stringent requirements that include a scrutiny of their training and a criminal background check.
After Bolivia, Flores moved to Valparaiso, Chile, where he also taught at the university level besides serving as a priest. He went on to earn his master's degree in modern philosophy at Loyola University in Buenos Aires, Argentina. Then he studied mental health, also at the master's level, in Sydney, Australia. He taught at a seminary in Lima, Peru, then earned a master's in business administration at the Public University in Bogota, Colombia.
"My MBA has helped me a lot because it has allowed me to have a successful career as an administrator in my parishes, not only in the United States but in all the countries where I've worked," Flores wrote.
After earning his MBA, Flores went on to teach in a seminary in Tepic, Nayarit, Mexico. He then earned a doctorate in anthropology, also from Loyola University in Buenos Aires.
Flores' language ability, the Diocese of Fresno said at the time, was a big reason for bringing him to St. Joseph, which increased its Spanish worship service offering from one to three Masses a week under Flores' predecessor, the Rev. Robert D. Wenzinger, who served at the parish for almost 14 years. Wenzinger was transferred to St. Anthony of Padua Church in Fresno.
Flores has served under the Diocese of Fresno in Arvin, Visalia, Fresno, Tranquility, Hanford, Orange Cove and Squaw Valley.
"Your will is my will," is what Flores has said has been his reply to the diocesan bishop any time a new assignment has come up for him.
He told The Californian in 2007 of his desire to stay true to his priestly vows of poverty, obedience and chastity.
This is not related to the upcoming file review to be conducted by Dr. Kathleen McChesney, former FBI. It was a third party report.