Results of former WV bishop investigation sent to Vatican
By Rebecca Carballo
Gazette Mail
March 11, 2019

https://bit.ly/2TtXfeQ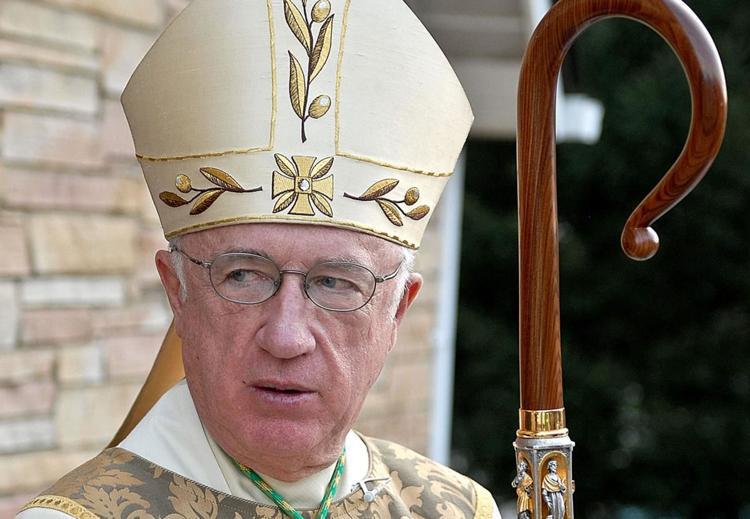 Michael J. Bransfield, former bishop of the Diocese of Wheeling-Charleston.
A investigation into alleged sexual and financial misconduct by former Catholic bishop Michael J. Bransfield has ended after five months, and the former leader of West Virginia's Catholics faces more restrictions while waiting for the Vatican to respond.
In a statement issued Monday, Archibishop William E. Lori of Baltimore said the investigation results have been sent to the Holy See. Lori was appointed to temporarily take Bransfield's place at the Diocese of Wheeling-Charleston when Bransfield's retirement and the investigation were announced in September.
"Pending the assessment of the findings of the Holy See, as Apostolic Administrator of the Diocese of Wheeling-Charleston, I have directed that Bishop Bransfield is not authorized to exercise any priestly or episcopal ministry within the Diocese of Wheeling-Charleston," Lori said in Monday's statement. "I have further directed the Diocese to implement a third-party reporting system for any sexual or financial impropriety on the part of its bishop, clergy, religious and lay employees and volunteers."
Bransfield had already been barred from visiting the Diocese of Wheeling-Charleston when the investigation was begun in September. Diocese spokesman Tim Bishop said the new restrictions stated the prohibition in stronger language.
Lori, along with a team of five lay experts, examined multiple allegations of sexual harassment of adults and financial improprieties, according to Monday's statement.
Pope Francis instructed Lori to conduct the preliminary investigation into allegations of sexual harassment and financial improprieties by Bransfield. Church officials have emphasized that the sexual harassment allegations against Bransfield involve adults, not children.
More than 40 people were interviewed, including Bransfield, according to the statement. At the request of those who provided testimony, alleged victims will not be identified, nor will details of their personal accounts be disclosed, church officials said in the statement.
Bransfield had been investigated for an alleged groping incident in 2007 and was implicated in court testimony in 2012 in an infamous Philadelphia priest sex abuse case. He denied ever abusing anyone and the West Virginia diocese said it had disproved the claims.
When the latest investigation was announced in September, no details of the allegations were revealed. The Diocese of Wheeling-Charleston said it had "no idea" where Bransfield was after the Vatican ordered him to live outside the diocese.
The diocese asked anyone who might have been harmed by anyone in the church, including clergy, religious and lay personnel, to call the church's the Safe Environment Office, at 833-230-5656.
"I apologize to any who have suffered harm and express my gratitude to the five men and women who conducted the investigation, as well as to those who participated in this difficult process," Lori said. "It is my privilege to serve the Diocese of Wheeling-Charleston as the journey toward healing begins anew and as we anticipate the appointment of a new bishop."
In a news release, the group Survivors Network of Those Abused by Priests urged West Virginia Attorney General Patrick Morrisey to open a law-enforcement investigation into clergy sex abuse in West Virginia. The group said, "as we have consistently been shown in the past six months, we cannot count on church officials to be forthcoming about clergy sex crimes."
Bishop, the diocese spokesman, said it was up to the Holy See to appoint a permanent replacement for Bransfield. Asked when that might happen, he said, "Hopefully, in the near future."
Contact: rebecca.carballo@wvgazettemail.com