Legal options limited for man who says priest molested him
By Rebecca Moss
New Mexican
March 16, 2019

https://bit.ly/2Fde8kh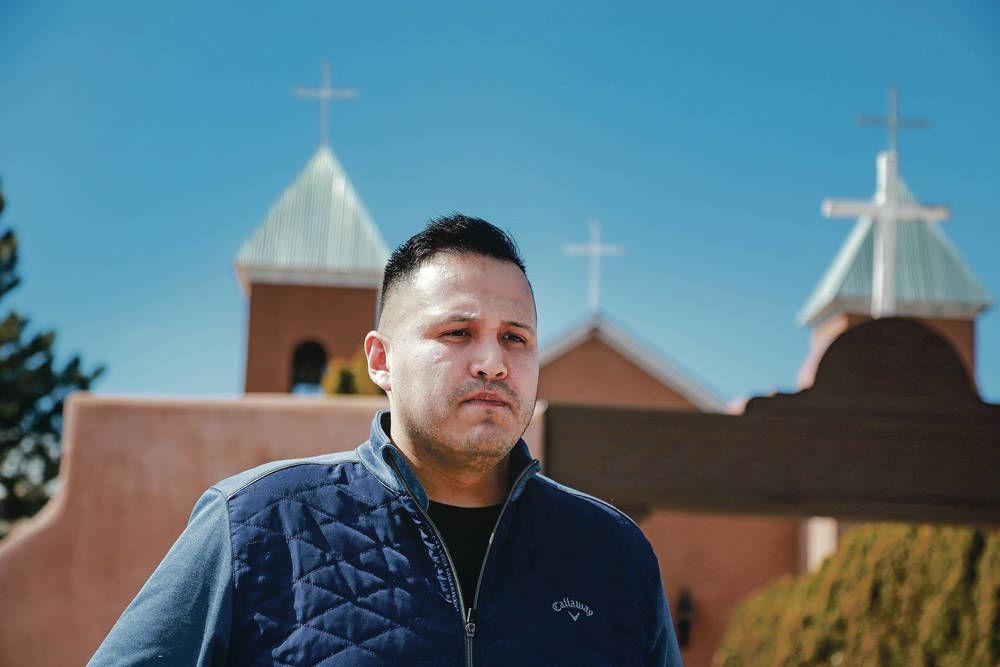 Isaac Casados stands outside the gates of Holy Cross Catholic Church in Española on Feb. 28. Casados says he was molested while he was an altar server at the church in the early 1990s.
Photo by Gabriela Campos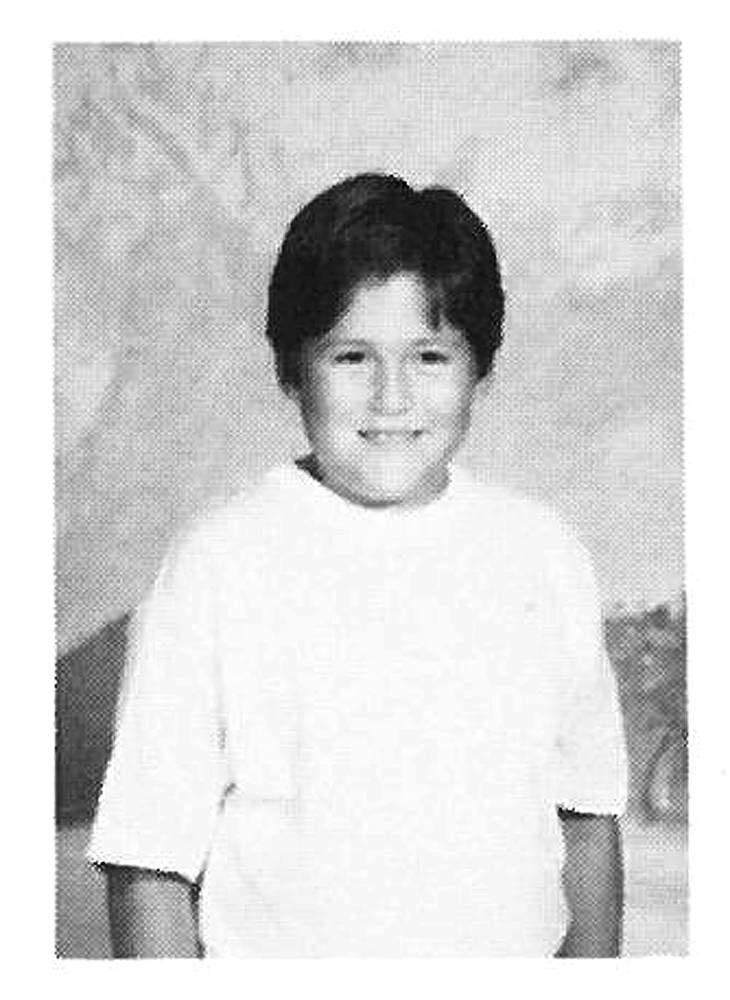 A yearbook picture of Isaac Casados in third grade.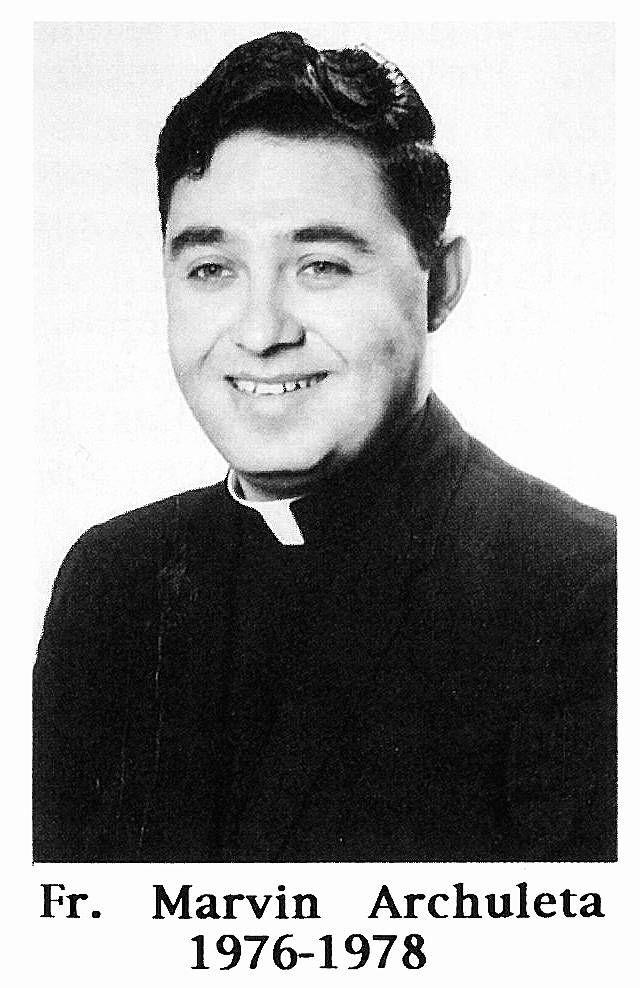 A yearbook photo of Marvin Archuleta.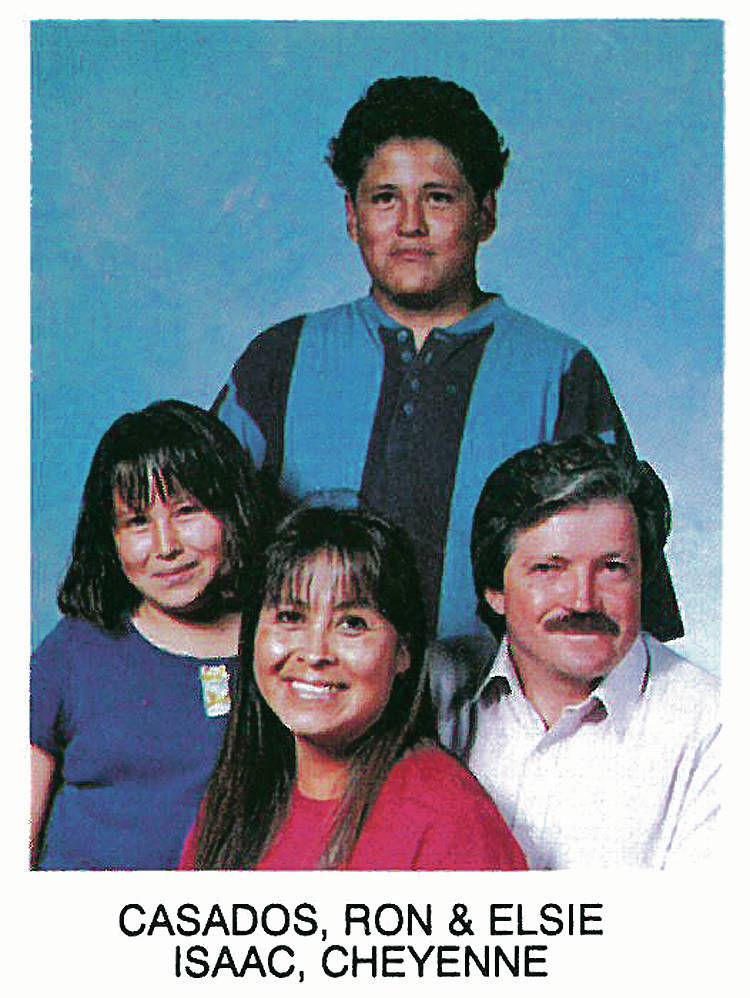 The Casados family in a 1995 parish directory.
Marvin Archuleta enters District Judge Matthew J. Wilson's courtroom on Feb. 15. The New Mexico Attorney General's Office in February indicted the former priest on charges of raping and restraining a boy in the late 1980s at Holy Cross Catholic School. After seeing Archuleta's name in the newspaper, 37-year-old Isaac Casados came forward and said he was molested by him in the early 1990s.
Photo by Luis Sánchez Saturno
It was early summer and the altar servers for Holy Cross Catholic Church were squirming in the heat of their white robes. There was no air conditioning in the sacristy behind the chapel as the children prepared the church for the 10:30 a.m. Mass.
Isaac Casados, who was 10 at the time, had grown up in this church. He planned to become a priest and felt that leading his fellow altar servers was the first step.
"Every young kid at Holy Cross was taught being an altar server is the greatest thing," said Casados, now 37. "At the same time, all the nuns would always teach you the priest was kinda the closest thing to God. What they did, what they said, was firm. You did not refute it, you did not question it. Because if you did, you'd go straight to hell."
On that hot Sunday nearly three decades ago, Casados was a fourth-grader at a school run by Holy Cross and one of several children assigned to help the Rev. Marvin Archuleta, an assistant priest for the Sons of the Holy Family at Santa Cruz de la Cañada parish in Española.
Casados said in a recent interview that the priest, known as Father Marvin, told him he needed to adjust his altar robe, which had bunched in the back.
"I thought he was going to straighten out my shirt," Casados said. "He came up behind me … and instead, his hand went straight into my pants."
Casados said Archuleta had a "kind of mischievous look on his face, with just a smile. And I remember just standing there petrified, not knowing what to do."
Last month, Casados brought his allegations of molestation by Archuleta to the New Mexico Attorney General's Office. The former priest had been indicted in February on charges of raping and restraining another boy in the late 1980s at Holy Cross Catholic School.
Crimes associated with Casados' allegations could bring a second-degree felony charge and carry with them as many as nine years in prison time if they happened today. But Archuleta will face no such charges related to Casados because the statute of limitations expired more than a decade ago.
Still, although the state Attorney General's Office would not specifically discuss Casados' allegations, it said such claims could bolster the state's pending child rape case against Archuleta.
The rape charges against the former priest come two decades after a series of lawsuits were filed against him and the Archdiocese of Santa Fe, accusing Archuleta of raping and groping boys. One lawsuit, filed in 1994, alleged Archuleta repeatedly molested a 14-year-old boy from Holy Cross during a cross-country road trip in 1971.
Santa Fe lawyer Merit Bennett testified in Archuleta's criminal case last month that he and the archdiocese had settled roughly five lawsuits involving Archuleta in the mid-1990s. Just one such lawsuit could be found in the online New Mexico court case records, but it outlines multiple allegations of abuse against Archuleta. The Attorney General's Office also references multiple abuse allegations over decades in its February complaint.
Casados is the first person to publicly bring forward new allegations of abuse by the former priest since the February indictment, and his story is the latest addition to a new groundswell of accusations faced by members of Catholic clergy in New Mexico, which had been rocked by a similar scandal in the early 1990s. Archuleta's name is on a list of 78 priests, living and deceased, the archdiocese says have been credibly accused of sexual abuse of children.
Casados, who owns a medical technology company in Española, says he has felt angry for years about his experience with Archuleta in 1992 and remains uncomfortable in crowds — often jumping when strangers try to touch him. As an adolescent and a young adult, he struggled with alcohol abuse, he said, and faced a drunken-driving charge in 2011.
It was only after learning about Archuleta's arrest in the newspaper that Casados felt compelled to contact the Attorney General's Office and decided to write a post on Facebook about the alleged assault.
"After staring in shock at his arrest picture over the weekend," Casados wrote at the time, "I knew it was important to share my story."
Archuleta, now 81, is on house arrest as he awaits trial in the rape case. Jury selection is scheduled for late August.
In a brief telephone interview, Archuleta said he did not remember Casados and was "nowhere in the area" of Holy Cross in 1991 or 1992.
Archuleta would not give other information on his whereabouts during those years. "The whole thing is public record," he said. "I have enough embarrassment already for something that did not happen."
Ryan Villa, Archuleta's attorney, said Archuleta "denies the allegation for which he is currently charged and he also denies the allegation by Mr. Casados."
Holy Cross officials referred questions about Casados' allegations to the archdiocese, whose spokeswoman, Celine Baca Radigan, said church officials first received a report accusing Archuleta of abuse in 1994. The archdiocese immediately removed Archuleta from the ministry and "restricted his priestly faculties," she said.
He was never reassigned within the archdiocese, Radigan said.
Following his dismissal, Archuleta was sent to St. Luke's Institute in Maryland for an evaluation and then to the Vianney Renewal Center near St. Louis, which offered "rehabilitation and reconciliation" for priests and was a stopping point for clergy accused of abuse.
The facility is operated by the Catholic organization Servants of the Paraclete, Radigan said.
The group ran a similar rehabilitation facility in Jemez Springs.
"While the archdiocese is not able to comment on the particulars of new claims as they come in, the archdiocese continues to work and pray for healing and justice for all survivors of clergy sexual abuse," Radigan said.
The Attorney General's Office declined to specifically discuss Casados' claims, citing the active nature of the case.
While the archdiocese acknowledged in the document listing credibly accused priests that Archuleta had worked at Holy Cross from 1970-78, the Attorney General's Office cites documents from the archdiocese and stories in local newspapers that indicate he also spent time at Holy Cross in the late 1980s. Public records also indicate Archuleta held a post office box in Santa Cruz between 1992 and 1995.
A book commemorating the 300th anniversary of the Santa Cruz parish, retained by the Casados family, shows the priest began working at the church again in 1991. It is one of two aged, white volumes that outline how Casados' and Archuleta's lives overlapped.
One is a school yearbook that contains Casados' third-grade photograph. In an oversized white T-shirt draped past his elbows, he grins at the camera; his hair is a messy bowl cut, parted at the center.
The second book contains a portrait of Archuleta, smiling widely. He is listed as serving as the church's pastor from 1976-78 and serving as assistant pastor beginning in 1991.
Under Archuleta's charge at the Catholic school, Casados said in several interviews with The New Mexican, he and a few other boys often were brought after school to the rectory, a yellow adobe house where the priests lived. Most of the boys were led to the basement to clean and move boxes, he said. A few were taken elsewhere.
Archuleta would check on the boys as they worked in the basement, Casados said, adding the priest frequently came up behind him, rubbing his arms, shoulders or chest.
On one occasion, Casados said, Archuleta appeared in the basement wearing only his boxers and a white tank top, and proceeded to massage the boys. In another instance, Casados said, Archuleta opened a dusty bottle of wine and made the sign of a cross over the bottle.
"Take a drink of Jesus Christ," he instructed the boys, according to Casados.
And they did, Casados said.
The boys were paid for their work with $2 bills from the church safe. Casados still has one.
When the altar boys would dress in their robes in the sacristy, he said, Archuleta would wrestle with Casados. The priest would brush against his groin, Casados said, and would rub his buttocks and thigh as they sat side by side in church.
On the day Casados says Archuleta groped him in 1992, the priest tried to wrestle with him again after Mass, he said. Casados said he wriggled out of the priest's reach, causing Archuleta to trip and fall. His sister also independently recalled the priest's fall.
"He was this very joyous, and very — not necessarily overzealous — but just a very engaging individual," Casados said of Archuleta. "He always had this laugh. He was always joking with everybody. In the back of my mind, I wonder, did he use that to his advantage?"
Casados kept silent about his experiences with Archuleta for years.
His parents, Elsie and Ron Casados, said their son didn't discuss his allegations about the priest's behavior until 2010, when he began writing a book and allowed them to read an early draft. One chapter mentions Archuleta by name.
"My hell was sparked by molestation and sexual fondling," Isaac Casados wrote. "… This violation against my innocence stifled my religious progression and killed my self-esteem."
His parents said they noticed a change in their son when he was in fifth grade. He stopped wanting to go to church and wanted to be left alone in his room. His grades dropped that year, they said, and by the time he was in sixth grade, they decided to transfer their kids to Sombrillo Elementary School in Española.
Elsie and Ron Casados said they had considered Archuleta a family friend. They frequently stayed at Holy Cross after Mass to talk with the priest in the pews, they said.
When the family members learned of Isaac Casados' allegations, they didn't bring the issue to the church or to law enforcement authorities. By that time, Archuleta had long vanished from the church, and the statute of limitations for second-degree felony molestation of a child had expired. In New Mexico, the time limit to bring legal action in such cases ends when an accuser turns 24.
The family also said it was hard to talk publicly about the matter within the intimacy of their tight-knit Catholic community.
Ron Casados said he wishes he had known earlier so he could have done something about it.
"This thing just makes your mind go through a whirlwind," he said. "It's like getting caught in a dust storm. You don't know which way is left or right or up or down. You want it to stop. You want to get out of it."
Elsie Casados wondered: "How can a priest, who committed himself to that profession, who you really looked up to, to do service for God, one that would care for the community, love the community, serve the community — how can they do things like that? … As parents, you just feel, 'Why me? Why us? Why was our child the victim?' "
Casados' sister, Cheyenne DeHerrera, was the first person he told about Archuleta, when he was about 19. She was in her sophomore year of high school, and her brother was home from a break during his freshman year at Georgetown University, where he attended for two years after graduating from Santa Fe Indian School.
In DeHerrera's childhood bedroom, Casados told her he was gay. As they talked, he also told her he'd been touched inappropriately by Archuleta years earlier and how that had made it difficult for him to understand his sexuality.
"They say you are supposed to be protected," she said, "but nobody protected him when he was a child."
Contact: rmoss@sfnewmexican.com