Alleged Abuse Victim Calls For Removal Of UWS Priest
By Brendan Krisel
Patch
March 19, 2019

https://bit.ly/2UJHOvH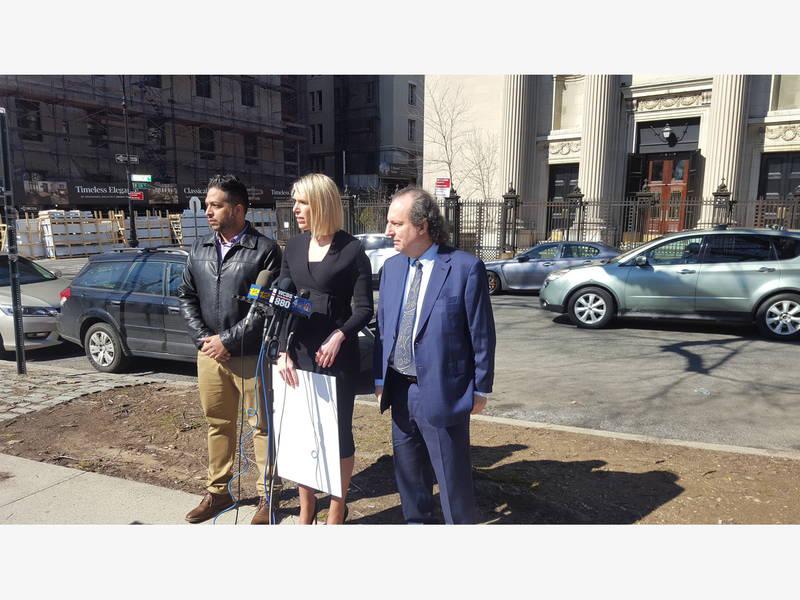 Rafael Mendoza (L) said he was abused by Monsignor John Paddack during his freshman year of high school in 1996.
Photo by Brendan Krisel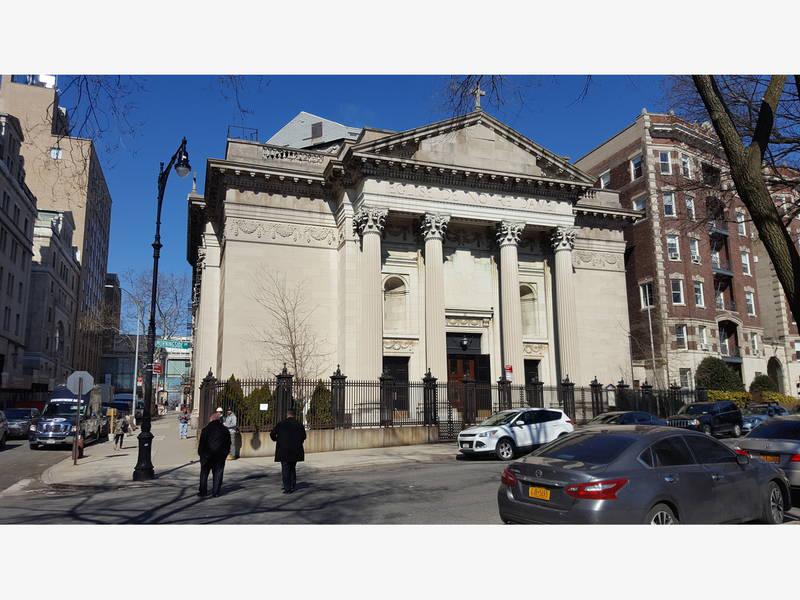 Paddack has served as an administrator at Church of Notre Dame since a 2011 appointment by Archbishop Timothy Dolan.
Photo by Brendan Krisel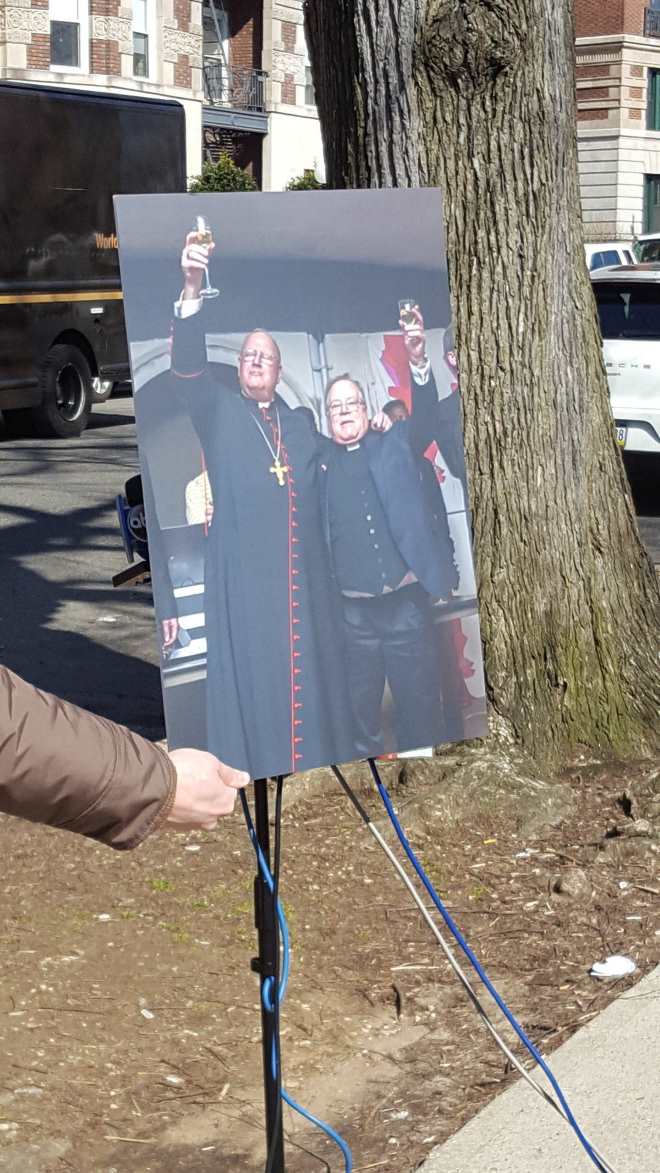 A photo of Archbishop Timoty Dolan (L) and Monsignor John Paddack (R) provided by accusers' lawyers.
A man who claims he was abused by a priest as a freshman at Cardinal Hayes High School in the 90s is calling on the Archdiocese of New York to remove the priest from his current posting on the Upper West Side.
Rafael Mendoza and his lawyers stood across from the Church of Notre Dame with his lawyers Tuesday morning and called on the church to suspend the church's administrator Monsignor John Paddack so that he cannot have any more contact with children. Mendoza and four other unnamed victims claimed they were abused by Paddack between 1988 and 2002 when the priest taught at three different high schools.
"He took advantage of me when I was at my weakest point," Mendoza said Tuesday. "I believe he should be removed. I don't know if he is still [abusing] anyone else or any kids out there."
Mendoza said Paddack abused him in 1996 during his freshman year at Cardinal Hayes High School in the Bronx when he was just 14 years old. Mendoza was new to the school and said he was abusing pills and suicidal when he reached out to Paddack, the school's counselor, for help.
After opening up to Paddack during their first session, Mendoza returned for future sessions where the priest's conduct grew increasingly abusive. Mendoza said he still remembers the cold feeling of Paddack using a stethoscope to fondle his genitals and the priest's face turning "bloodshot red." Paddack would also rub against Mendoza's crotch with his knee and grab his face during sessions, he said Tuesday.
Mendoza said he has spent 20 years "battling" with memories of his freshman year of high school and was inspired to come forward and tell his story after seeing an advertisement on television encouraging victims of abuse to come forward. He described coming forward as a "first step" toward helping himself heal from the abuse, adding that he had struggled with drugs and alcohol earlier in his life.
"It's really hard to speak about this, but once you let it out you let yourself free," Mendoza said Tesday, encouraging other victims of abuse to come forward with their stories.
Mendoza's lawyers said that four other men have accused Paddack of similar abuse while students at Cardinal Hayes, Staten Island's St. Joseph by the Sea High School and Upper Manhattan's Church of the Incarnation.
Attorney Michelle Simpson Tuegel called out Archbishop Timothy Dolan by name Tuesday, accusing the head of New York's archdiocese of having knowledge of Paddack's abuse and criticizing the church for talking about changing the way it approaches allegations of abuse, but not taking any action against priests like Paddack.
"Dolan, we ask that you remove Paddack now," Tuegel said Tuesday. "And hold true to your promises to change, and to acknowledge the pain of survivors and create a place where families and children feel safe in the church."
Tuegel also said that an abuse allegation brought against Paddack in 2012 was "swept under the rug" by the Archdiocese of New York and said it was suspicious that the archdiocese has moved Paddack between three different high schools and now to the Upper West Side parish during his tenure with the church.
Tuegel and lawyer Gerald Williams, who also represents Mendoza and other accusers, said that they have reached out with the state Attorney General to report the abuse and clients have also reached out to the Bronx District Attorney.
Due to the newly-passed Child Victims Act, abuse victims such as Mendoza have been given a new opportunity ability to bring lawsuits against their alleged abusers, Williams said. The law was passed and signed by Gov. Cuomo in February, and abuse victims will be able to bring their lawsuits after a six-month period following the law's passing. In the meantime, lawyers are helping clients such as Mendoza prepare their cases, Williams said.
"The Child Victims Act has really allowed survivors to finally come forward and tell their stories and not be afraid of retaliation and not be afraid that they can't get help." Williams said. "When the church could hide behind the statute of limitations there was no such availability for people like Rafael."
Paddack denied all allegations in an interview with the Daily News.
"I think they've been seeing the advertisements on television and in the paper and a chance to make money. Very sad, and it could ruin a reputation, which is awful," Paddack told the Daily News.
The Archdiocese of New York said that the church takes "all allegations of abuse of minors very seriously," and the organization has reached out to the accusers' lawyers to arrange meetings, archdiocese spokesman Joseph Zwilling said in a statement. Tuegel said Tuesday that she has not heard directly from the archdiocese.
The archdiocese encourages accusers to report abuse to the district attorney, so they can investigate, and the organization investigates cases where the district attorney does not get involved, Zwilling said in a statement.
"Before we can take action, we need to hear from the District Attorney their conclusion, or hear directly from the individuals themselves, so that we can commence our process. We hope that the attorney will have his clients be in touch with us so that we might begin our process," Zwilling said in a statement.