Authorities: Pa. native and W.Va. bishop Michael Bransfield knowingly employed pedophiles
By Jeremy Roebuck And William Bender
Philadelphia Inquirer
March 19, 2019

https://bit.ly/2UJ9fFT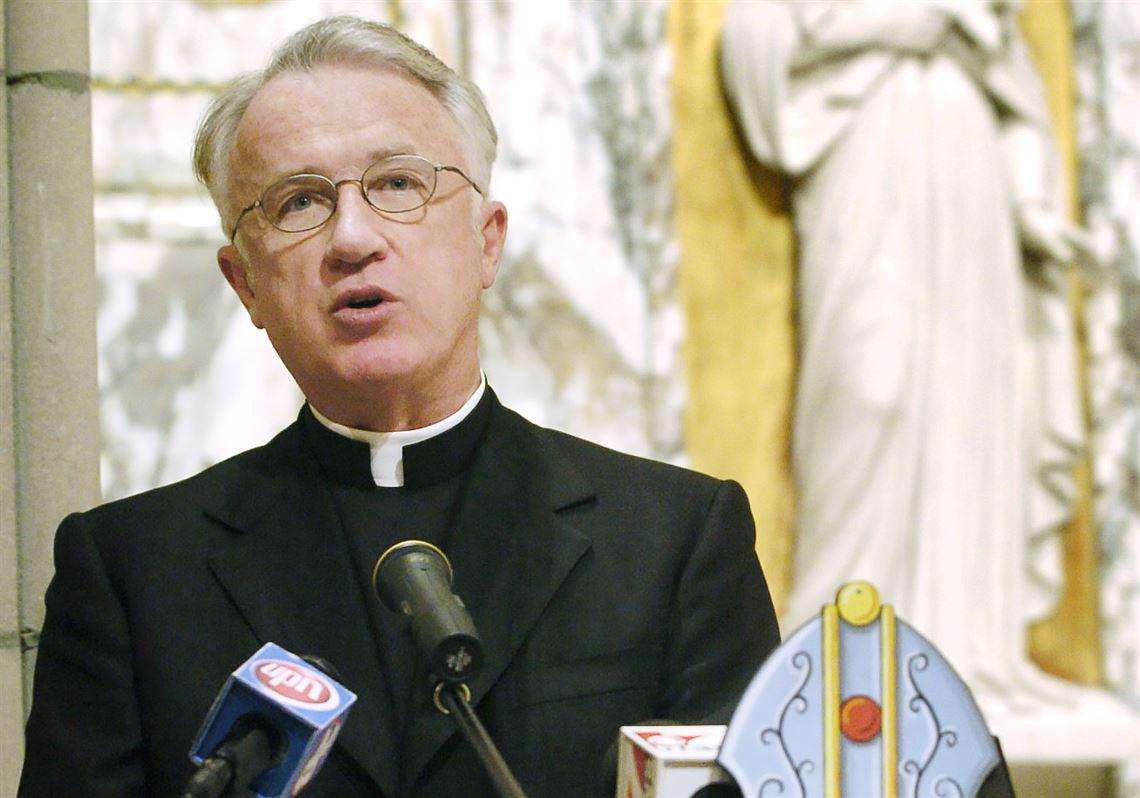 Photo by Dale Sparks
West Virginia authorities on Tuesday accused Michael J. Bransfield, a Philadelphia native and former Roman Catholic bishop of Wheeling-Charleston, W. Va., and his predecessors of "knowingly employing pedophiles" — including some priests cited in last year's Pennsylvania grand jury report examining decades of clergy sex abuse and cover-up.
In a civil suit, Attorney General Patrick Morrisey alleged that West Virginia's prelates had endangered children for decades by failing to conduct adequate background checks or disclose abuse accusations against clerics and diocesan employees to parents in the parishes where those people were assigned.
In some cases cited in the filings, child molesters were allowed to stay in parish assignments that brought them in routine contact with minors for years after they had admitted their crimes.
The lawsuit is the latest in a series of high-profile civil actions taken by state authorities across the country in the last year against a church that they say has been too slow to respond to — and in some cases covered-up — a crisis of sex abuse within its ranks.
Mr. Bransfield — the scion of a family of prominent Philadelphia clerics who resigned last year facing his own allegations of sexual misconduct — dismissed Tuesday's action as little more than a fishing expedition.
"I don't understand why there is a sudden concern," he said in an interview with the Inquirer. "Considering the publicity about my own situation, they're trying to find other things that could have happened. This is all happening because of what's happening to me."
A spokesperson from the diocese disputed the suit's allegations, though he said in a statement that church officials would address the matter in "the appropriate forum."
In a novel legal strategy, the West Virginia suit was brought under the state's consumer protection laws and asked for the Wheeling-Charleston diocese to be barred from advertising their parochial schools and outdoor camps as safe environments for children because top officials were working "to cover up and conceal arguably criminal behavior." The attorney general also asked a judge to impose financial penalties against the diocese and Mr. Bransfield.
"Parents who pay and entrust the Wheeling-Charleston diocese and its schools to educate and care for their children deserve full transparency," Mr. Morrisey said in a statement.
Pennsylvania Attorney General Josh Shapiro, whose office oversaw the state's grand jury investigation and who has consulted with his counterparts in other states as they began investigations, said: "State attorneys general are continuing to take action to hold the church accountable for clergy abuse, and I'm pleased to see Attorney General Morrisey taking such an innovative approach to protecting children in West Virginia."
Mr. Bransfield abruptly left his post in September and is awaiting judgment from the Vatican after several priests came forward to accuse him of sexual misconduct. He had been previously accused of abusing a minor during his stint as a priest in Philadelphia, although neither prosecutors nor the archdiocese took action against him.
Last week, Mr. Bransfield was barred from priestly duties by Baltimore Archbishop William Lori, whom Pope Francis appointed to investigate and manage the Wheeling-Charleston Diocese after Mr. Bransfield's departure.
Mr. Bransfield said Tuesday he had not been contacted by Archbishop Lori or the West Virginia Attorney General's Office since he left the state and returned to his home in the Philadelphia neighborhood of Roxborough. "Lori never talks to me," he said.
Despite Mr. Morrisey's broad claims against the former bishop, his lawsuit offered few details about Mr. Bransfield knowingly harboring pedophiles. Most of its accusations about him centered on the diocese's failure to adequately investigate the backgrounds of priests and civilian staff, including a high school principal hired in 2011 despite being convicted 26 years earlier of statutory rape.
The diocese, the lawsuit states, fired the man once his past was brought to officials' attention but no one warned students or parents about what they had discovered.
Mr. Bransfield blamed school administrators — not the diocese — for any failure to check the man's background. "They hire," he told The Inquirer. "The diocese doesn't hire people."
His predecessors — Bishop Joseph Howard Hodges, who held the post from 1962 to 1985 and Bishop Bernard William Schmitt, who retired in 2004 — came in for stronger criticism. Both are deceased.
In one decades-old case cited in the suit, Bishop Hodges welcomed to Wheeling the Rev. Victor Frobas, months after he was forced out of a Philadelphia seminary because of a 1962 accusation of child abuse that officials had deemed to be credible.
Once he arrived in West Virginia, Frobas was repeatedly accused of abusing children yet was shuffled from church-run treatment centers to postings that put him in charge of Boy Scout troops and diocesan summer camps. He was eventually charged and convicted in 1987 for molesting two boys in St. Louis while on leave from the West Virginia diocese after a separate abuse complaint, the lawsuit said.
Mr. Morrisey told reporters Tuesday that he launched his investigation after noticing that some priests named in the 2017 Pennsylvania grand jury report had cycled through the Wheeling-Charleston diocese.
The suit does not mention any by name, but the grand jury report detailed the case of the Rev. Raymond Lukac, a priest from Greensburg suspected of being a serial abuser and ultimately sent to Wheeling after he impregnated, secretly married and then divorced a teenager in his Pennsylvania parish in the '60s.
According to the grand jury's findings, William G. Connare, then the bishop of Greensburg, wrote to Bishop Hodges in 1964 and asked him to take in Father Lukac, who he acknowledged was "a risk."
Bishop Hodges agreed to welcome the accused pedophile to the West Virginia fold.
To Bishop Connare he replied, according to the grand jury report: "We will be happy to cooperate in helping him serve as a real priest."