Survivors accuse Missouri bishop of witholding details about abusive priests
By Roger Mckinney
Columbia Tribune
March 19, 2019

https://bit.ly/2Foivu1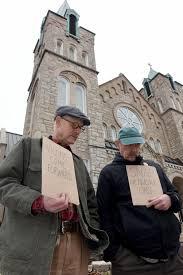 Don Asbee, left, and David Clohessy observe a moment of silence for victims of sexual abuse before talking to reporters Tuesday about being sexually abused by Catholic priests when they were altar boys in Missouri and Pennsylvania respectively.
Photo by Don Shrubshell
With Sacred Heart Catholic Church in the background, two members of the Survivors Network of those Abused by Priests accused Bishop Shawn McKnight and the diocese of Jefferson City of continuing to withhold information about abusive priests.
"We're here to essentially protect the vulnerable and heal the wounded," said David Clohessy, SNAP's president based in St. Louis.
Geoffrey A. Brooke Jr., a priest at Immaculate Conception Church and School in Jefferson City, has been placed on administrative leave while being investigated for allegations of "boundary violations" with minors. The bishop sent an email to school families, which was passed on to a Jefferson City reporter. The email said the Missouri Children's Division hotline had been notified.
Clohessy said Brooke previously was at the Newman Center at the University of Missouri, something not revealed by the bishop.
"He thought it wouldn't show up in the press," Clohessy said about the bishop's failure to disclose information. "It's heartbreaking."
Clohessy said he didn't know details, but Brooke was at the Newman Center recently because he was ordained just in 2015.
"It is tragically reckless that Bishop McKnight continues to be secretive about these dangerous clerics," Clohessy said.
Clohessy said Brooke was ordained long after a screening process for priests was established in 2002, but he added that he didn't think there's any way of screening for child abusers.
The diocese in December added the name of Mel Lahr to the list of priests with credible allegations of abuse. Clohessy said Lahr was a pastor at Sacred Hearth Catholic Church in the 1970s and 1980s.
"The more people know about proven and credibly-accused child molesters, the better they can protect their families," Clohessy said.
"It is a crime," said Don Asbee, with SNAP. "It is not just a sin. It is a crime."
Asbee said he was a victim of priest abuse in Pennsylvania from 1961-65.
Clohessy and Asbee appealed to those abused by priests to seek professional help, including from police.
"If you were hurt by anybody in any religious context, I ask you to reach out to someone," Clohessy said.
He asked for MU officials to help, by reaching out to current or former university staff and students who may have been hurt by Brooke while Brooke was in Columbia.
Clohessy said the church is conducting a continuing coverup to protect abusive priests.
"Every day you hide the identity of these abusers is a day he can shred evidence, or intimidate witnesses, or leave the country," Clohessy said. "Bishops seem fixated on restoring trust. What they need to fixate on is kids' safety."
Helen Osman, spokeswoman for the diocese, wrote in an email that it wasn't correct that the diocese was trying to keep information about Brooke out of the press.
"We have deferred to civil authorities to run their investigation per their normal process," Osman wrote. "Note that at this time we only have information about an alleged boundary violation by Father Brooke. There has not been a determination of misconduct or abuse."
She wrote that if the accusation is found to be credible, the diocese would inform the public and conduct an investigation.
Brooke was at some of the listening sessions McKnight conducted about clergy abuse, but she said she didn't know if he was at the one held at Our Lady of Lourdes in Columbia.
She wrote in the email that she didn't have details about when Brooke was at the Newman Center or when Lahr was at Sacred Heart.
"At the request of some victims, we have not published assignments of priests," Osman wrote.
Osman wrote that the diocese had informed the Missouri Children's Division and police agencies, which aren't actions that an organization wanting to cover up information would take.
"Bishop McKnight is on record in numerous places regarding his position on the urgent need for transparency and accountability," Osman wrote.
Contact: rmckinney@columbiatribune.com