Defrocked Kck Priest No Longer Holds Active Medical License in Kansas or Missouri
By Judy L. Thomas
Kansas City Star
March 19, 2019

https://www.kansascity.com/news/local/article228081499.html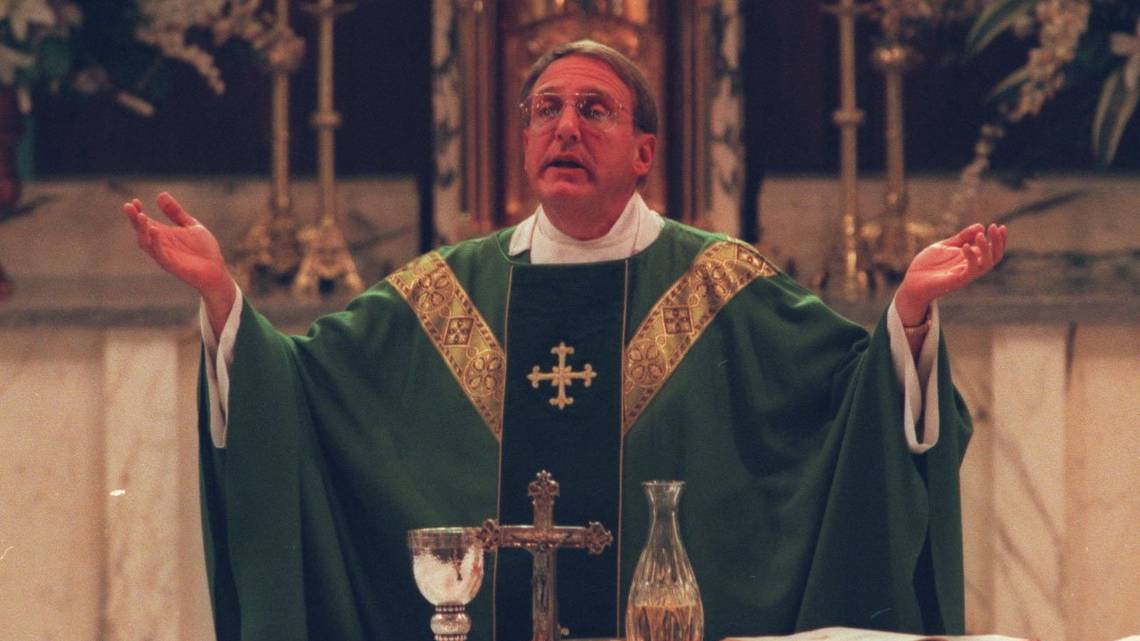 The Rev. John Wisner served in several parishes in the Archdiocese of Kansas City in Kansas. FILE PHOTO



A priest of the Archdiocese of Kansas City in Kansas defrocked last year over what church leaders said were credible allegations of sexual abuse of minors is no longer licensed to practice medicine in Kansas and Missouri.

John H. Wisner, who had been a priest for more than 45 years, also was a psychiatrist who held a medical license in both states. Those licenses remained valid months after he was defrocked.

But now, an "active licensee" search for Wisner's name in Missouri professional registration records comes up empty. And Kansas records currently list Wisner's license — which wasn't due to expire until July 31 — as "inactive."

"The designation of inactive is available for a person who is not regularly engaged in the practice of healing arts in Kansas and who does not hold oneself out to the public as being professionally engaged in such practice," said Kathleen Selzler Lippert, executive director of the state Board of Healing Arts, in an email to The Star.

Selzler Lippert declined to comment on whether Wisner's license had been revoked. But the board's website, which includes information on disciplinary action taken against medical professionals, shows no disciplinary records involving him.

"Complaints and investigations are confidential and can only be disclosed pursuant in specific instances authorized by statute," she said.

Records show that Wisner's license in Missouri was scheduled to expire on Jan. 31.

"Dr. Wisner's entry status is 'lapsed,' which means Dr. Wisner has not renewed his license," said Lori Croy, communications director for the Missouri Department of Insurance, Financial Institutions & Professional Registration, in an email to The Star. "Dr. Wisner's license has not been revoked."

Wisner was one of 22 priests publicly named by the archdiocese in January as those who have had substantiated allegations of sexual abuse of minors made against them in the past 75 years.

Wisner, 72, has previously declined comment about the allegations. His attorney, Carl Cornwell, did not respond to a request for comment.

An attorney who has represented hundreds of sexual abuse victims said Monday she viewed Wisner's medical license status "with a mixture of relief and concern."

"Because his license lapsed or was not renewed, the board likely lost jurisdiction to act on it," said Rebecca Randles. "He could conceivably seek reinstatement here or elsewhere. Those who have been credibly accused — and have settled lawsuits alleging sexual abuse of children — should not be able to practice medicine by turning in their license before disciplinary action then re-applying when the heat is off."

Ordained in 1972, Wisner served as an associate pastor at St. Agnes Parish in Roeland Park and worked at Sacred Heart and Christ the King parishes in Kansas City, Kan., and St. Joseph Parish in Shawnee.

Records show Wisner received his medical degree from the University of Kansas Medical Center in 1976 with a specialty in psychiatry and was licensed to practice in Kansas in 1977. Missouri records show Wisner was board certified in psychiatry and was licensed to practice there in 1979.

In 1979, he joined the University of Kansas Medical Center as part of the psychiatry faculty while serving as an assistant professor at the Kansas City VA Medical Center. He later became director of the Adult Psychiatry Inpatient Unit at the KU Medical Center.

Wisner retired in September 2012 — the same year the archdiocese first revealed the allegations against him.

His role as a psychiatrist included serving for years as an expert witness in numerous civil and criminal trials, among them high-profile murder cases and those involving sexual abuse.

Last year, the Archdiocese of Kansas City in Kansas reported in its newspaper that Wisner had been returned to the lay state, or laicized, by a decree issued by Archbishop Joseph F. Naumann. The decree was affirmed by the Vatican's Congregation for the Doctrine of the Faith on March 2, but the archdiocese didn't announce the action until May 25.

The archdiocese said that in 2012 it had received multiple allegations that Wisner had sexually abused minors. He was immediately suspended from active ministry and law enforcement was notified, the archdiocese said. An investigation by the archdiocese found the allegations to be credible, it said, and in November 2012, archdiocesan officials sent the results to the Vatican.

At the time, an archdiocesan spokeswoman said that Naumann had removed Wisner from active ministry after receiving a complaint from a 45-year-old man who alleged Wisner had inappropriately touched him in 1982 on a youth outing when he was 15. The archdiocese received two more allegations after that from men in their 40s.

Wisner denied that he engaged in sexual misconduct, the archdiocese has said. He was never criminally charged in relation to the decades-old allegations.

Wisner and the archdiocese settled a lawsuit in 2017 with a man who accused Wisner of sexually abusing him when the man was a minor, Randles said.

The lawsuit alleged that Wisner — identified in the suit as J.H.W. Jr. — sexually abused the alleged victim in the mid-1980s when the youth was between the ages of 15 and 17. Wisner held parties at his house at Table Rock Lake, the suit said, where he provided liquor to underage male parishioners and encouraged them to drink until they passed out, then sexually assaulted them.

At the time of the alleged abuse, Wisner was an associate pastor at St. Agnes Catholic Church and was also the victim's primary physician, the lawsuit said.