St. Bonaventure, Archbishop Walsh Say They Don't Know Anything about Dead Priests' Abuse Allegations
By Tom Dinki
Olean Times Herald
April 11, 2019

http://www.oleantimesherald.com/news/st-bonaventure-archbishop-walsh-say-they-don-t-know-anything/article_dde6b7d4-5cd5-11e9-b239-d7dcf4115586.html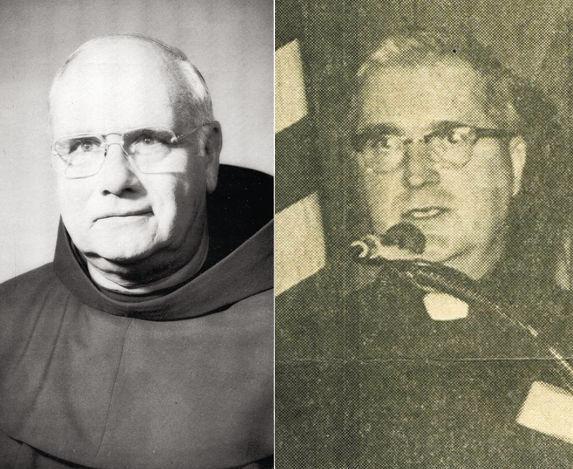 The Rev. James Cairnan Haggerty (from left) and the Rev. Gervase White, deceased friars who served at St. Bonaventure University, were accused of abuse. They are among more than 20 accused priests whose names were never released by the diocese, according to diocesan documents obtained by WKBW.



St. Bonaventure University and Archbishop Walsh Academy officials said Thursday they're in the dark just like the public when it comes to abuse allegations against two now-deceased friars who once held high-level positions at their institutions.

The Rev. Gervase White — a prominent St. Bonaventure University friar who died in 2002 — and the Rev. James Cairnan Haggerty —a principal of then-Archbishop Walsh High School who died in 1991 — are among more than accused 20 priests whose names were never released by the Catholic Diocese of Buffalo, according to a report by WKBW Wednesday evening.

The Diocesan Review Board, which reviews abuse claims for the diocese, reviewed allegations against the priests last June, according to diocesan documents obtained by the news station. But the board ultimately left them off their list of credibly accused priests that now totals approximately 80 names.

A call to the diocese about White and Haggerty, who WKBW report were both accused by a different man, was not returned Thursday.

The diocese has stated its list of priests credibly accused of child sexual abuse do not include those who only received a single allegation and that allegation was made after their death.

After releasing a statement late Wednesday that their records do not show any allegation made against White during his 47 years at the university, St. Bonaventure officials updated the statement Thursday that they also did not find any reports of abuse against Haggerty, who served as a campus minister from 1983 to 1985.

"Officials at Holy Name Province (the sponsoring province for Franciscans friars) have informed us that the abuse allegations against Fr. Gervase and Fr. Cairnan are being investigated. Until we know with certainty if these allegations are credible, we believe it's not appropriate to comment further on the cases at this time," said St. Bonaventure's president, Dr. Dennis DePerro, adding the university remains committed to zero tolerance for any sexual abuse or harassment.

Thomas Manko, president and principal of Archbishop Walsh and Southern Tier Catholic School, told the Olean Times Herald Thursday the private Catholic school is not aware of any allegations against Haggerty, who served as principal from 1964 to 1969.

He also said the diocese never contacted him about an investigation into Haggerty, and the Olean school will defer any possibly investigation to the diocese.

"Obviously it's a sad state of affairs if indeed this is accurate and true," said Manko, adding neither he or any of the current staff ever worked with or knew Haggerty. "We're saddened by the news, but it hit us like splash of cold water like, 'Not again, not again, please.'"

Haggerty is not the first former Archbishop Walsh priest to be accused of abuse.

The admission of the Rev. Norbert Orsolits, who taught at Archbishop Walsh in addition to serving at the Basilica of St. Mary of the Angels, kicked off the diocese's current clergy sexual abuse scandal.

Orsolits, who taught at Archbishop Walsh from approximately 1982 to 1988, told The Buffalo News in February 2018 he abused "probably dozens" of teenage boys in the late 1970s and early 1980s. However, he's never been publicly accused of abusing Archbishop Walsh students.

The same can't be said for the Rev. James Spielman, who taught religion at the school. Two lawsuits have resulted from Spielman's alleged abuse of an Archbishop Walsh student and abuse of another minor on the school's property.

A $1.5 million settlement in 2016 went to a former student who claimed Spielman abused him from 1979 to 1982, and a $150,000 settlement in 1994 went to a former altar boy who said Spielman sexually assaulted him at the Archbishop Walsh faculty house in addition to several area parishes.

As for the allegation against Haggerty, Manko said school officials hope the diocese is able to bring some "satisfactory closure."

"If there's confirmation, our heart goes out to the victim," he said. "We hope there's some healing brought to the situation so people can move forward with their lives."

WHITE WAS A native of Jessup, Pa., and a World War II veteran. He entered the Franciscan Order at Callicoon in 1948, earned his bachelor's degree in theology from St. Bonaventure in 1951 and was ordained in 1954.

He worked at the university until 2001, serving as vice president of student affairs, chair of the theology department, dean of men, director of the Third Order of St. Francis and guardian of the on-campus friary.

White's name is still prominent at the university — literally, as it hangs high above heads at Bob Lanier Court on the Reilly Center's video board, installed in the fall of 2016 in tribute to him and two others. His name is also attached to multiple honors bestowed by the institution and is often recalled by older alumni in positive testimonials.

Haggerty was born in Lee, Mass., and served in the U.S. Army. He graduated from Holy Cross College and was received into the Franciscans in 1950.

Prior to serving as principal of Archbishop Walsh, Haggerty was a teacher, guidance counselor, assistant principal and guardian of the community at the school.

Upon leaving Walsh in 1969, he served in a number of positions in New Jersey and Washington, D.C., before returning to the Olean area to join St. Bonaventure in 1983. He left the university in 1985 to take an assignment at a Massachusetts friary, telling the Times Herald it would allow him to be closer to his relatives.

They are not the first former St. Bonaventure friars to be accused of abuse.

The diocese identified the Rev. Maurice Scheier, who worked at the university for nearly 60 years and died in 1991, as a credibly accused priest last November. A 2004 claim accused him of abusing a female minor in 1948 in California, a claim eventually part of the Archdiocese of Los Angeles' $660 million settlement to more than 500 alleged abuse victims in 2007.

St. Bonaventure has challenged Scheier's inclusion on the list of credibly accused priests given he appears to have faced a single allegation and that allegation was made after his death.

The Rev. Gary Ketcham, who was part of the university's faculty until 1984, was named in last year's Pennsylvania grand jury report about clergy sex abuse. He was convicted in 1990 of molesting two boys while visiting friends in Alabama.

News of the allegations against White and Haggerty came just two days after St. Bonaventure cancelled an academic conference on the Catholic Church sexual abuse crisis that was set for this weekend.

The Franciscan Institute at St. Bonaventure decided to cancel the event after local victims voiced concerns that no victims would be allowed to speak at it, according to a statement from the university Monday.