'No way he would do this'
By April Baumgarten
Forum News Service
April 13, 2019

https://bit.ly/2KDtjZP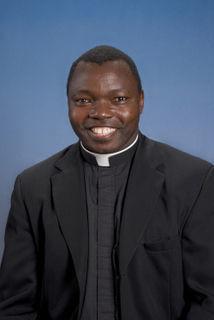 Wenceslaus Katanga
When the Rev. Wenceslaus Katanga didn't show up April 7 for Mass at St. Andrew's Catholic Church in Zeeland, parishioners thought he was sick.
Then a statement was read to the congregation, explaining that Katanga was under investigation for alleged misconduct involving a child when he was a priest at Sts. Anne and Joachim Catholic Church in Fargo.
Hearing the news during Mass that day was heartbreaking, said Vivian Schaffner, who has been a member of the Zeeland church for more than 40 years. People in attendance cried, she said, adding that they couldn't believe the news.
"There is no way he would do this," she said. "When you see him with our kids, he is not like that. He looks at a kid as a gift from God."
Not including Katanga, eight clergymen connected to the Fargo Diocese are known to have been accused of sexual misconduct, according to Bishop Accountability, a group that tracks abuse cases involving clergy.
The probe into the allegations against Katanga is still in its early stages, said Fargo police spokeswoman Jessica Schindeldecker. There is no timeline for when the case could be forwarded to the Cass County State's Attorney's Office for review. Criminal charges had not been filed as of Friday.
"After consulting with our investigations division, we are releasing minimal information regarding an allegation of misconduct involving Father Katanga from several years ago since this case is still under investigation," Schindeldecker said.
It's unclear whether the child was a member of Sts. Anne and Joachim Church. Police did not divulge when the alleged misconduct occurred, when it was reported or who reported it. Schindeldecker also declined to say whether the allegations were sexual in nature.
Fargo Diocese Bishop John Folda said in a statement that his administration is taking the allegations very seriously.
"I have placed Father Katanga on administrative leave and have removed him from his priestly duties pending a complete investigation of this matter," he said. "Father Katanga will not be residing at any parish during the period of this investigation."
Sts. Anne and Joachim Church deferred questions to the diocese, which declined to comment beyond its initial statement. The diocese would not say when Katanga was a priest in Fargo.
"I've been made to understand that, at this point, anything I release beyond the original press release could affect the ongoing investigation, and we are cooperating fully with that investigation," diocese spokesman Paul Braun said.
No 'warning signs'
Katanga is a native of Tanzania, a country in east Africa, and he attended the Pontifical College Josephinum in Columbus, Ohio, according to Forum of Fargo-Moorhead archives. He was ordained in 2003 by then-Fargo Diocese Bishop Samuel Aquila, the article said.
He began his ministry at St. Patrick's in Wishek, St. Andrew's in Zeeland and St. David's in Ashley in 2010, parishioners confirmed. The three Catholic churches in south-central North Dakota weren't closely connected until Katanga brought them together, said Jason Wolf, who's attended St. Andrew's his whole life.
"We all really, really admire him and like him," Wolf said, describing Katanga as humble. "He has done a lot for us. We think very highly of him."
Community members — Catholics and those of other religions — rallied together several years ago when Katanga was diagnosed with cancer, Wolf said. Churchgoers said he had a hard life, but they described him as heartwarming, kind and good with children.
"We're just sick," Schaffner said. "We want him to come back here and just stay with us."
Parishioners have discussed the investigation together, Wolf said, adding that no one has ever expressed concerns about Katanga being with children.
"The warning signs, we would have seen them," said lifetime St. Andrew's member Denise Pfeifer. "There were just none."
Katanga did not return messages seeking comment.
It's common for churchgoers to be shocked by misconduct allegations against priests because the accused is in a position of trust, said Taylor Stippel, an attorney for Jeff Anderson & Associates. The St. Paul, Minn., law firm has represented numerous victims in sexual misconduct cases involving clergy and has worked to force the church to release lists of accused priests.
For many reasons, it is hard for victims to come forward and report abuse until years, even decades, after it happened, she said.
"To speak out against an authority figure in such a trusted position, who for a lot of people is second only to God, is an incredibly difficult, if not impossible, thing for a child to do," she said. "The fact that the survivor had the courage to come forward and speak out about it should be applauded, and that person should be believed."
Like many other dioceses around the country, the Bismarck Diocese plans to release its own list of priests who face "substantiated claims" of sexual misconduct, but it is in the process of reviewing its files, according to a report from The Associated Press. A spokesperson confirmed the report and said the diocese did not have a timeline for releasing the list.
The Fargo Diocese also is "in the process of reviewing all clergy files," but it had not decided whether it will release its own list, Braun previously said.
The safest way to prevent further harm against children is to remove an accused priest from contact with youth as quickly as possible, Stippel said. The Fargo Diocese learned of the investigation April 4, just days before it announced Katanga was placed on administrative leave, according to the diocese.
The safety of children and their families is a priority for the church, Folda said. He asked parishioners to contact the diocese at 701-356-7945 or at victimassistance@fargodiocese.org if church members have any concerns or specific information regarding Katanga.
Schindeldecker said police plan to work with anyone claiming to be a victim and the Fargo Diocese. Like in any case, residents should contact the police if they know of criminal activity so investigators can look into it, she said.
"It's a good idea to still contact the diocese and let them know, but it's always important to make sure that when it's a criminal matter and a criminal allegation to involve the police at all times," Schindeldecker said.
Parishioners are praying for Katanga and the child involved, Wolf said. He hopes people will withhold judgment until the end of the investigation and treat both parties fairly.
"We just want him to know that we are with him and we are behind him and that we care for him," he said. "We have to be patient. That is the hard part."