Buffalo priest who advised U.S. presidents about youth was alleged child molester
By Jay Tokasz
Buffalo News
April 15, 2019

https://bit.ly/2DfWigd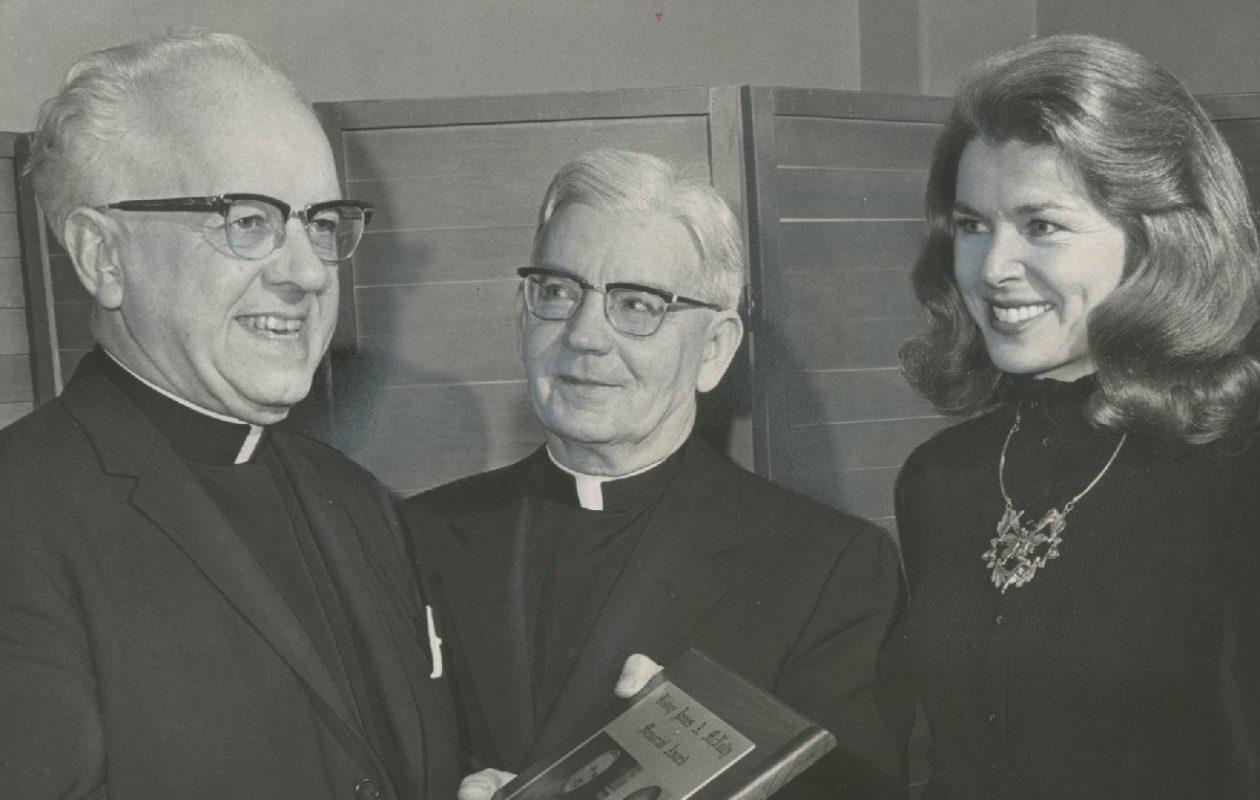 Monsignor Joseph Schieder, left, receives an award in 1958 from then-Buffalo Diocese Bishop Bernard McLaughlin for service to youth as Miss America Marilyn Van Derbur looks on.
Monsignor Joseph E. Schieder advised Presidents Dwight D. Eisenhower and John F. Kennedy on youth issues.
In the 1950s and '60s, he was arguably Buffalo's most renowned Catholic priest, writing books on youth and their concerns and regularly traveling the country and abroad to speak at youth conferences. The president of Italy even awarded Schieder a "Star of Solidarity," one of that nation's highest honors for noncitizens.
But behind his accomplishments, Schieder hid a dark secret.
The secret wasn't revealed until 2018 – more than two decades after Schieder's death at age 87 – when his name was included on a Buffalo Diocese list of priests with substantiated allegations of child sexual abuse against them.
The Buffalo News has learned at least five men have complained to the diocese that Schieder abused them when they were minors, and the alleged abuses spanned several decades.
One of the complainants recently accepted a $340,000 settlement offer through a diocese program to compensate victims, according to attorney Mitchell Garabedian, who said his client was between 11 and 13 when Schieder allegedly abused him more than 100 times between 1960 and 1964.
Another complainant accused Schieder in a Fort Lauderdale police report of sexually abusing him, starting in 1987. The same man who went to Fort Lauderdale police filed a pro se lawsuit in 1993 against Schieder in federal court in Florida. Police didn't charge Schieder, and the federal court case was dismissed. When the man notified the Buffalo Diocese in 2002, then-Bishop Henry J. Mansell wrote a letter back stating that the diocese had received no other complaints about Schieder.
Most of the 80 men on the diocese's list are rank-and-file priests who were not well known outside of the parishes where they served. A few of them held positions of power and authority beyond the parish level. With an international reputation, Schieder was perhaps the most influential and respected of any of them.
Schieder founded the National Catholic Camping Association and was director of the youth department for the National Catholic Welfare Conference in Washington, D.C. He was national director of the Catholic Youth Organization, or CYO, for 13 years during the organization's heyday. One of his books, "Spiritual Lifts for Youth," published in 1956, had more than two million copies in print around the world.
"It was a total shock to see his name on that list," said Monsignor Francis Weldgen, a retired pastor.
Schieder was known as a charismatic speaker, Buffalo's version of Bishop Fulton Sheen, the Catholic preacher celebrated for his radio and television broadcasts in the middle of the 20th century. Schieder, said Weldgen, would have "the whole audience in the palm of his hand. He was tremendously effective. He had to ability to tell a story, pretty much the way Bishop Fulton Sheen did." Schieder was viewed by many fellow priests as a likely candidate to be appointed a bishop. "He looked like a leader, sounded like a leader, conducted himself like a leader," said Weldgen.
Schieder frequently was quoted in the media railing against the evils of pornography or commenting on parenting, the roots of juvenile delinquency and other pressing social or moral issues.
His alleged crimes against children – kept hidden for so long – now overshadow his broad résumé.
Garabedian described Schieder as a likely serial molester whose abuses went unchecked by superiors.
Garabedian's client declined to speak with The News, but Garabedian said the priest befriended his client's family to gain access to the child, who was a parishioner of St. Andrew Church in the Town of Tonawanda and attended the parish school.
Another man contacted Garabedian recently about a separate abuse claim involving Schieder. Garabedian said he is investigating the claim, which dates back to 1957, when the man was 10 years old and Schieder was assigned at the National Catholic Welfare Conference in Washington, D.C.
Following his stint there, Schieder served as pastor of St. Andrew from 1963 to 1976. Former parishioner Doris Michol Sippel said Schieder was a feared and intimidating presence when she attended the parish school in the 1960s. Sippel said Schieder once barged into a classroom to berate and hit two male students. "Desks and chairs went flying, other kids got up and ran to avoid getting hit," said Sippel, who went by her adoptive name, Joan Wheeler, when she was in elementary school. "I was afraid of him. He was a tyrant."
A classmate of Sippel's said he also remembered an incident in which Schieder beat another student in class. "We all just sat there shocked and scared to death," said the man, who now lives in Lockport and asked not to be identified by name.
The man said he wasn't surprised to see Schieder's name on the diocese list of sex abusers. He remembers being called into the priest's office and told to look at pornographic magazines on his desk. "He says, 'Are these yours?' I had never seen this stuff in my life. I didn't know it existed. He said, 'Open them, look at them,' " recalled the man. The man said the priest did not molest him.
But he said other boys also were called into the office one by one, and in hindsight, he suspects Schieder may have been "grooming" kids according to their reaction to the pornography.
"To us, he was bigger than life – a high-level church person that we all had to give respect to. And, in reality, he was probably a terrible pedophile who got away with it for years," he said.
The inclusion of Schieder on the list of offending priests put his abrupt resignation in 1976 as pastor of St. Andrew Church in a different light. Schieder was 67 and in good health, eight years away from standard retirement age for clergy, when he sent a letter to then-Bishop Edward D. Head requesting early retirement.
Schieder called it the most difficult decision of his life. "Not a happy, but still a necessary decision for the people I love," he wrote. He said he planned to travel, then settle near family in San Diego or Fort Lauderdale. But soon after Schieder's retirement from the parish, Head appointed him to a post as procurator of diocesan properties, overseeing the diocese's vast real estate empire.
Lancaster resident John Walker wasn't surprised to see Schieder's name on the diocese's list, either. Walker said he had a disturbing encounter with Schieder in the early 1980s, when Walker was in his teens and his mother worked as a secretary for the priest.
Walker said his mother, who was single, worried about him becoming sexually active as a teenager. His mother trusted Schieder and asked the priest to have a talk with him, he said. At the time, Walker had nothing but respect and admiration for Schieder, an imposing man with broad shoulders and a shock of white hair. Walker said he asked the priest questions about the film, "The Exorcist," before Schieder moved onto his talk about avoiding premarital sex.
Schieder invited Walker to use weight-training equipment set up in the priest's Amherst ranch home if Walker agreed to not have sex with girls, Walker recalled. But the talk in Schieder's living room took an alarming turn when the priest began asking whether the boy's penis was larger or smaller than that of other boys, Walker said. "He was grooming me. I'm so lucky I never rolled with it," said Walker. "He never touched me. But it was just completely wacky and inappropriate."
Walker said his mother eventually arrived to pick him up, and he told her that he would never go back to the monsignor's home.
Schieder retired to Fort Lauderdale around 1985.
In 1992, a 20-year-old man filed a report with Fort Lauderdale police alleging that Schieder sexually abused him.
The man told police that Schieder hired him in 1987, when he was still in high school, to work as the priest's assistant. The priest then began counseling the complainant and during counseling sessions convinced the man to undress so that Schieder could masturbate him, according to the police report. The man said in the report that Schieder "told him it was an accepted medical practice" in helping to alleviate his mental health problems.
The police report said it appeared the complainant was at least 16 years old when the alleged abuse happened and that no threats were made to coerce him into sexual activity with the priest.
"Based on the information that he was providing, there did not appear to be any criminal activity," the report concluded.
The case was closed as unfounded.