Accused Priest John Smyth Has Died
By Jonah Meadows
Patch
April 17, 2019

https://bit.ly/2UrBg49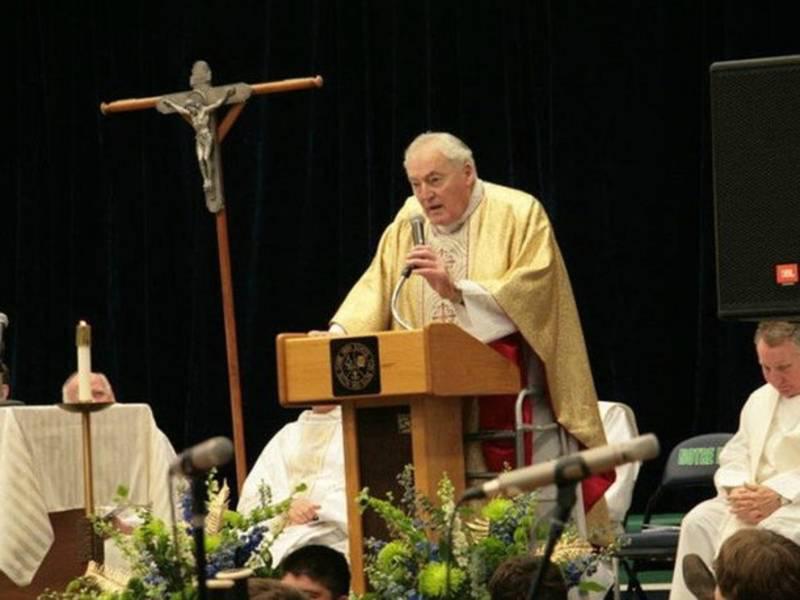 John P. Smyth at a celebration of 50 years as a priest in 2012 in Niles .
Photo by Pam DiFiglio
The former chief of Maryville Academy in Des Plaines and Notre Dame College Prep in Niles was removed from the ministry earlier this year.
A retired Catholic priest removed from the ministry earlier this year in response to allegations sexual abuse of minors has died. John P. Smyth passed away Tuesday night at Loyola University Medical Center in Maywood, according to the Chicago Archdiocese. He was 84.
Before his retirement in 2014, Smyth spend more than 30 years as the superintendent of Maryville Academy in Des Plaines, an archdiocese-run home for troubled youth. After stepping down 15 years ago amid state and federal investigations into the facility, he became president of a Catholic high school.
Smyth was a star basketball player at DePaul Academy and the University of Notre Dame. He was drafted into the NBA in 1957 but turned down a career as a professional athlete and instead entered the priesthood. He was ordained and began his career at Maryville Academy in 1962, becoming superintendent in 1970.
The allegations of sexual abuse of minors relate to 2002 and 2003, Smyth's final years assigned to Maryville, according to Cardinal Blase Cupich. Smyth stepped down as director of the facility in December 2003 amid a Department of Children and Family Services investigation triggered by the suicide of a 14-year-old girl, two sexual assaults and several children under the academy's care running away, according to the Associated Press.
At the time, Smyth accused the agency of "turning off the faucet" when it comes to child welfare, according to the Daily Herald. The AP reported the FBI opened a probe of possible health care fraud at the facility and former Illinois Gov. Rod Blagojevich withdrew Maryville's state funding as the result of the investigation.
"I'm troubled by the things that I've been privy to, the information that I've been privy to," Blagojevich said in 2003.
From 2007 until his retirement in 2014, Smyth was president of Notre Dame College Prep, the all-boys Catholic high school in Niles.
In January 2019, Smyth was removed from active ministry by Cupich after the archdiocese began investigating allegations that he had sexually abused a pair of teenage boys while in charge of Maryville Academy. He was asked to live away from the Our Lady of Guadalupe rectory in Des Plaines during the investigation.
Prior to his death, Smyth had been hospitalized in intensive care for weeks while being treated for pneumonia and other illnesses, the Des Plaines Journal reported. A spokesperson for DCFS last week told the Des Plaines Journal that the agency's investigation into the allegations had not been completed. The archdiocese also passed the reports on to the Cook County State's Attorney's Office, Cupich said. No criminal charges have been filed and Smyth's accusers have yet to file a civil lawsuit.
His attorney told the Chicago Sun-Times the allegations were "ridiculous" and that Smyth "adamantly denied" claims by two men that they had been abused by him at age 13 and 14. "It never happened. It's a lie. The stuff that was alleged is nonsense," Smyth's attorney Frank DiFranco told the paper.
Some supporters of Smyth rallied behind him after the allegations were made public, with the Maryville Alumni Association posting a pledge of support on social media and delivering a letter to the archdiocese.
"He wouldn't have gotten that statue if he was a molester," a retired Maryville alumni and friend of Smyth told the Journal. But members of the Survivors Network of Those Abused by Priests told WLS the Catholic Church has failed to follow through on its promises of a "zero tolerance" policy for clergy accused of abuse.