Paprocki and Pedophiles
By Bruce Rushton
Illinois Times
April 25, 2019

https://illinoistimes.com/article-21168-paprocki-and-pedophiles.html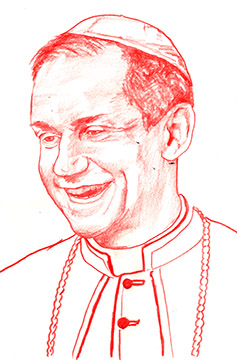 Images of Bishop Thomas John Paprocki for this article are by Jonah Harjer, a Springfield artist who was born in Chicago and grew up in the 1980s in Miami, where he was influenced by the local skate and street culture. He was drawn to painting graffiti,Illustrations by Jonah Harjer



A quarter-century ago, the Catholic Archdiocese of Chicago was in crisis.

A priest had been indicted for sexually abusing a child. Lawsuits were pending. Priests were removed from parishes after the church appointed a commission – two laypeople, plus the auxiliary bishop – to investigate sexual misconduct cases and recommend improvements. After the commission issued its report, Cardinal Joseph Bernardin in 1992 turned to Thomas John Paprocki, then chancellor for the Chicago archdiocese and, since 2010, bishop for the Diocese of Springfield.

For a decade, Paprocki was an insider in Chicago as the archdiocese first won praise for policies and practices that ultimately were discredited. Pedophile priests remained in parishes, despite promises, and zero tolerance was adopted only after outside pressure from the U.S. Conference of Catholic Bishops.

Last year, the Catholic church in Springfield and elsewhere fell under scrutiny from the Illinois attorney general's office, which accused the church of hiding sexual abuse cases. Attorney General Kwame Raoul, who took office in January, has promised to continue his predecessor's investigation into whether the church has properly handled cases involving sexual abuse of kids by priests.

Meanwhile, Paprocki complains about the Vatican.

Last summer, the bishop criticized Pope Francis for botching the case of Theodore McCarrick, a former cardinal defrocked in February for sexual misconduct involving minors and adults that had been reported years earlier. Paprocki says Rome still hasn't been transparent, although the pope in October ordered an investigation to determine how McCarrick had risen to power despite evidence of sexual misconduct. "Here we are in April," Paprocki says. "(W)e're still waiting for that release of information from the review of documents that the pope ordered in October."

Last fall, Paprocki was strident when the pope ordered American bishops to not enact reforms aimed at finding and punishing sexual misconduct between priests and kids. "We are not branch managers of the Vatican," Paprocki told the press. "Our people are crying out for some action."

Churchgoers in Chicago also cried for action years ago while Paprocki shepherded sexual misconduct cases.

"If this man has value to the archdiocese, then he should be placed in a situation where he can push papers," wrote a parishioner in a 2002 letter to her priest after discovering an associate pastor had been sent to her parish despite groping a preteen girl. "We always considered ourselves fortunate to be part of a parish that cared so much about its members. I guess I loved the cocoon in which we obviously lived, and I guess that's why I feel so deeply betrayed."

The Chicago way

With Paprocki in the inner circle, the Chicago archdiocese initially won accolades for its handling of sexual misconduct cases involving priests and kids, particularly by establishing a review board consisting mostly of laypeople that considered allegations, determined credibility and recommended what should be done.

Paprocki was the cardinal's delegate to the board as well as a member of a second committee tasked with deciding where child molesters should work. As chancellor, he kept the church's records. As a lawyer, he was trained in both canon and civil law.

The archdiocese, with Paprocki on the job, promised that no priests credibly abused of sexual misconduct involving minors would be allowed parish ministries. But exceptions were made, sometimes quietly, sometimes in media glare.

The commission that had spearheaded reform three years earlier, leading to the creation of the review board, warned in 1996 that credibly accused priests shouldn't be assigned to parishes but at least three such priests were in parishes. The commission also found that the review board monitored by Paprocki wasn't reading full reports on accused priests or interviewing either accusers or the accused. Paprocki was present and took notes when commissioners met with the cardinal. But pedophiles continued in parish ministry, according to church files. And they otherwise remained welcome in the church.

In 2001, Ralph Strand, a priest who'd served nearly two years in prison for abusing a 15-year-old altar boy, accompanied Cardinal Francis George on a pilgrimage to Mexico, according to church files revealing concerns that the priest had been overly friendly with an underage seminarian during the trip and that reporters might notice that a proven pedophile, required to register as a sex offender, was on the trip. Two years earlier, the archdiocese, in a document signed by Paprocki, had granted Strand, since he had completed parole, the right to wear a collar in public, after receiving approval from the review board the future bishop served on as the cardinal's nonvoting delegate.

Some cases stretched out years as the board visited and revisited allegations, sometimes dismissing accusations only to determine later that cases were credible. In a 2002 New York Times story, critics complained that the Chicago archdiocese acted only when left no choice. The archbishop of Minneapolis, who then chaired a committee on sexual misconduct set up by the U.S. Conference of Bishops, told the paper that bona fide outsiders, not boards established by churches, should be handling accusations. One month later, U.S. bishops, reeling from scandals, decreed a zero-tolerance policy: Any credibly accused priest should be removed from ministry.

After the 2002 decree, the Chicago archdiocese removed at least a half-dozen priests from ministry. Previously, the archdiocese had sometimes struggled with work assignments outside parishes. Strand, after his release from prison, worked two days a week in the vicar of priests office. Other options included hospitals and jails.

Priests deemed credibly accused were assigned monitors, told to stay away from children, to ask permission before traveling and to submit logs showing whereabouts during waking hours. They also were supposed to report what websites they'd visited. However, a church-hired consultant concluded in 2006 that it amounted to an honor system. Monitors, typically other priests, had no training in supervising sex offenders and were given few if any details on what a priest had done, the consultant found.

"Why was he allowed to darken our path?"

The Chicago archdiocese, with Paprocki playing key roles, took extraordinary steps to keep some pedophiles in parishes. Consider the case of Rev. Thomas Swade, who was pulled from public ministry after allegations made in 1992.

Accusers told the archdiocese that Swade had grabbed genitals during swimming lessons. A mother reported the priest surprising her college-age daughter by walking out of a bathroom while nude. A boy said that he and the priest had showered together and rubbed lotion on each other's bodies, including on genitals. Swade denied most of the allegations, according to church files, but admitted the part about lotion was true. The state's attorney's office told the archdiocese that accusers were credible, but the statute of limitations prevented prosecution.

Knowing all of this, Paprocki in 1997 tried selling Swade to a Winnetka parish after seven other parishes declined to take him, and after the reform commission in 1996 warned against allowing credibly accused priests back into parish ministry.

"Father Swade admitted some inappropriate contact, but indicated that there was no sexual intent on his part," Paprocki told the Winnetka parish leaders. "Extensive psychological testing and therapy indicate that Father Swade is not a pedophile."

After a reported 200 people attended a parish school board meeting in Winnetka, Swade's planned return to parish ministry didn't happen, but the archdiocese didn't give up. In 1999, the archdiocese set up a focus group in which 15 churchgoers were presented the facts of Swade's case, but not his name: Should a groper be a parish priest?

"I was surprised by the intensity of the feelings in view of the fact that it was made clear to the participants that Tom had never engaged in any kind of overtly sexual act," the Rev. Larry McBrady, then vicar for priests, wrote in a letter to Swade's file. "These findings are consistent with what I have learned at the last two summer gatherings of vicars for priests from around the country. There is just no indication that people want these priests in any situation where young people are present."

Today, Paprocki says that moves to put Swade in parish ministry were exceptions to the policy that barred abusers from being priests in parishes where they'd have access to kids. The exceptions were made, the bishop says, because parishioners wanted Swade back, despite the focus group's reaction and files that show seven parishes had rejected him. Church files show that Swade never became a priest in Winnetka. After the attempt failed, the archdiocese made plans to use him on weekends at Immaculate Conception parish in North Park.

"The church area (including the sacristy) is quite public and Tom would always be in a situation where adults were present," McBrady wrote in a notation made in Swade's file one year before the focus group convened. "The Cardinal was totally supportive of the way we propose handling this and said he felt it was just for Tom to be permitted to celebrate Mass publicly."

In a follow-up email following an interview, Paprocki said that he had spoken without benefit of reviewing Swade's file and had been thinking of a different case when he stated parishioners had welcomed the disgraced priest. He said he didn't recall details of attempts to return Swade to parish ministry.

Responses to sexual misconduct by priests aren't always predictable, Paprocki says. "I had some classmates, in fact, that were sexually abused by a priest in our high school," the bishop says. "To this day, it just baffles me, because one of them who says he was sexually abused by this priest had the priest do his wedding. That shows how complicated this is. Even though my classmate obviously felt abused, there's another side of him that apparently still thought highly of this priest…and he was willing to forgive. You can't even fathom that, but I've seen that happen."

In at least one case, Paprocki is right. When the Chicago archdiocese removed Rev. John Calicott from Holy Angels parish in 1994, after he was credibly accused of having oral sex with a 12-year-old boy and a 14-year-old boy in 1975, parishioners protested, writing scores of letters to the archdiocese, defending their pastor and demanding his return. Paprocki was one of the first to be notified of allegations and was told they were credible. After Calicott was removed, Paprocki was picked to explain things to parish leaders and parishioners who wanted their pastor back. "It was a very difficult meeting," wrote Rev. Patrick O'Malley, then vicar for priests, in a 1994 memo in Calicott's file. "The people were very angry, sad, hurt. … Overall, the people felt he should not have been removed from the parish beforehand. Some said it was just another indication of the white church trying to get the black church."

Parishioners who backed Calicott got their wish. Shortly after Calicott was returned to the parish in 1995, the archdiocese received a complaint that he had locked himself in a room with a child, even though he wasn't supposed to be alone with kids. By 2004, he was teaching sex education in a parish school. He was removed from the priesthood in 2009, 15 years after the archdiocese determined that he'd been credibly accused.

Paprocki today notes that parishioners, including one of the priest's victims, wanted Calicott back. "In a sense, the whole parish would be Calicott's monitor," the bishop says today. "Everyone knew about the allegation, everyone knew about the finding of the review board and the young man, I think, was pretty public about this: We understand what happened, but we still want him back as our pastor. Which, I think, actually kind of baffled some of us in the administration: You know what he's been accused of and what the review board said and you want him back?"

But in some cases, parishioners weren't told about pasts.

In 1995, a backstage firestorm erupted when Rev. Daniel Buck prepared to move to a parish where relatives of a girl with whom he'd had a tawdry relationship attended church. The relatives objected. In a memo to file, Rev. Patrick O'Malley, then vicar for priests, wrote that if Buck agreed to drop the pending reassignment, "then we can move on rather quietly."

The archdiocese had proof of Buck's misdeeds. In 1984, he'd written a letter to a 15-year-old girl that was found by the girl's mother. "I loved your outfit, the way it covered (and uncovered) various delightful parts of you," Buck wrote. "I tried to be careful, but I couldn't resist touching your legs and your neck, and I loved holding you close on the subway. Your cute little belly button was like a magnet to me. I hope you didn't mind me taking a peek every chance I got, and searching for it with my naughty fingers in the subway. … Finally, I promise that I will resist the urge to rip off your clothes…when other people are around, that is. I hope you'll be careful with your hands, too. Perhaps prayer will help you overcome your overwhelming biological urges. But don't pray too much!"

Church officials determined that Buck had been groping the girl since she was 10 or 11 years old. In a 1995 letter to the review board that included Paprocki as the archbishop's nonvoting delegate, Buck acknowledged that the girl had been vulnerable and that his relationship with her had been "professionally inappropriate, emotionally intense and psychologically dangerous." He also complained that the matter had been handled years earlier, so it wasn't fair that the review board was reexamining the case.

The archdiocese assigned Buck to a parish as an associate pastor on the condition that he be monitored by a head pastor, a longtime friend, and that he not be alone with kids. Restrictions were eased after one year. "Touching breasts and genital area over clothing," reads an entry in Buck's misconduct file. "Isolated incident. No risk to minors."

But the archdiocese removed Buck and seven other priests from ministry in 2002, after the U.S. Conference of Catholic Bishops approved a resolution calling for zero tolerance: Any priest credibly accused of sexual misconduct involving kids shouldn't be a priest. Buck was one of four parish priests removed from ministry after bishops approved the no-tolerance resolution. Some parishioners were angry that the archdiocese hadn't told them sooner about priests' pasts.


"Why was he allowed to darken our path?" a parishioner asked in a letter to the head pastor at St. Mary's parish, where Buck had worked as an associate pastor despite his past. "Is the lesson to be forgiveness? If so, there was an important line omitted. To forgive, one must know what has to be forgiven. And NO ONE told us there was something to forgive."

Marge Raupp, another parishioner, told the Chicago Tribune that churchgoers were "numb" when they discovered Buck had a history. "It's still hard to believe," she told the newspaper in 2002. Paprocki, as the archbishop's delegate, had been present six years earlier when the review board voted to relax monitoring requirements imposed a year earlier, when the archdiocese was informed that Buck had groped a girl.

After Buck's name hit the papers in 2002, other girls or their mothers came forward, saying that they, too, had been groped years earlier. In one case, a mother reported that Buck had given her daughter, then 12 or 13 years old, an under-the-blouse back rub in view of parents. In 2005, three years after removing Buck from parish duty, the archdiocese issued an edict formally barring him from public ministry on the grounds that he'd abused three children and engaged in "grooming behavior." Buck remained on the payroll, however, and subject to monitoring, which he resented, according to church files.

"Daniel Buck remains hostile and resentful toward the Archdiocese of Chicago and the Catholic church," an archdiocesan official wrote in a 2013 review of the case. "It is unclear why he maintains his commitment to a church he describes as 'evil.'"

Paprocki says that he doesn't recall specifics of Buck's case.

"Not all offenses are the same"

In Buck's case and others, the archdiocese acted quietly, moving priests and not making accusations public. In the case of Rev. Richard "Doc" Bartz, who was credibly accused of sexual misconduct involving a high school student, the archdiocese celebrated when the state Department of Children and Family Services said no formal report was required. "He said it was nice to get good news for a change," the vicar of priests wrote in a 1987 memo memorializing a conversation with the church official who'd called the state. "They did take the information down, just so that there was a record of the report made, but that should be the end of it."

Six years later, Paprocki signed an order barring Bartz from being alone with kids and requiring that he be monitored, and the accused priest was allowed to work as a hospital chaplain and rector of the National Shrine of St. Frances Xavier Cabrini in Chicago's Lincoln Park neighborhood. As with other credibly accused priests, the 1993 order placing restrictions on Bartz but allowing him to remain a priest began with the words "in order to preclude scandal from arising from allegations of sexual misconduct with minors."

Today, Paprocki says the word "scandal" was used in a way that differs from ordinary nomenclature. "In the technical, theological sense, scandal is an action that would, perhaps – I want to make sure I get this right – it would perhaps induce someone to do the same thing," the bishop explains. "Scandalous is that, someone did something wrong and didn't get punished for it. And somebody else looks at it and says 'Well, they did that and they didn't get punished, I can do it, too, and not get punished.'" He also acknowledges the ordinary meaning. "I think (in) the church, sometimes, it's used in both senses, maybe a little bit ambiguously," Paprocki allows. "There is that concern about not wanting to shock people, because I think that is kind of a natural human reaction, to say, 'I've got some shocking news here that maybe people aren't ready to hear.'"

In 2003, Paprocki was appointed auxiliary bishop and so was replaced as the archbishop's delegate to the review board. Two years later, the archdiocese was hit by more scandal when Rev. Daniel McCormack, who now resides in the state's sex offender treatment center, was arrested. He'd been molesting boys for years, and complaints within the church were made as early as 1999. Two audits subsequently commissioned by the archdiocese found myriad problems with how the archdiocese had handled sexual misconduct cases – the audits were triggered by the McCormack case, which broke two years after Paprocki left his role as the archbishop's delegate to the sexual misconduct review board. Monitoring didn't work, auditors found, and policies and procedures aimed at protecting kids and holding priests accountable weren't always followed. A monitor for one priest who had never visited the priest's home told an auditor he thought allegations of sexual misconduct were "baloney." An auditor found that an administrator tasked with overseeing pedophile priests sent to a retreat facility didn't verify logs required to record whereabouts: "She assumes what the accused priest abusers report is true," wrote an auditor.

It's not clear from audit reports when deficiencies began. Paprocki, who'd moved on to other duties when the audits were prepared and released, said that he hasn't read them and doesn't recall being interviewed by auditors. In hindsight, he acknowledges the Chicago archdiocese during the 1990s wasn't perfect. But any errors, he says, were made in good faith as church officials subscribed to a theory that held pedophiles are akin to alcoholics: The disease doesn't go away, but, the afflicted can learn never to drink. He stops short of saying the Chicago approach was a mistake.

"I don't know if I'd go so far as to say it was a mistake," the bishop says. "Looking back from our perspective today, we'd say that's not the way we should do it. … It would have been a mistake for us to do something we knew was wrong. We didn't know at the time what we were doing was wrong. With the psychology available to us at the time, what the mental health experts were telling us, I think we believed we were doing the right thing."

Paprocki warns against zero tolerance for abusive priests.

"Not all offenses are the same," the bishop says. "What the practice is, if you have any kind of misconduct – and 'misconduct' is a broad term, misconduct with a minor – you are out of ministry. But the reality is, you've probably seen this as you read through some of those cases, they vary in their severity. I believe there's one case that we dealt with where it was a priest who inappropriately touched a young person on the thigh. I would say that is not as extreme as actually having sexual contact with a person. Yet, if the review board (today) says that touching on the thigh was inappropriate misconduct with a minor, that priest is going to be out of ministry. I think it's a valid question to ask: Is that a proportional penalty, should a priest who does that be told, 'You're forever out of ministry?' That was a boundary violation in a sense, but is that as serious as more egregious kinds of sexual contact? I think that's a question that has to be asked."

Contact Bruce Rushton at brushton@illinoistimes.com . David Amerson contributed research for this story.