Third accusation of sex abuse made against Monsignor Harrison deemed unsubstantiated
By Stacey Shepard
Bakersfield Californian
April 29, 2019

https://bit.ly/2PKEO0F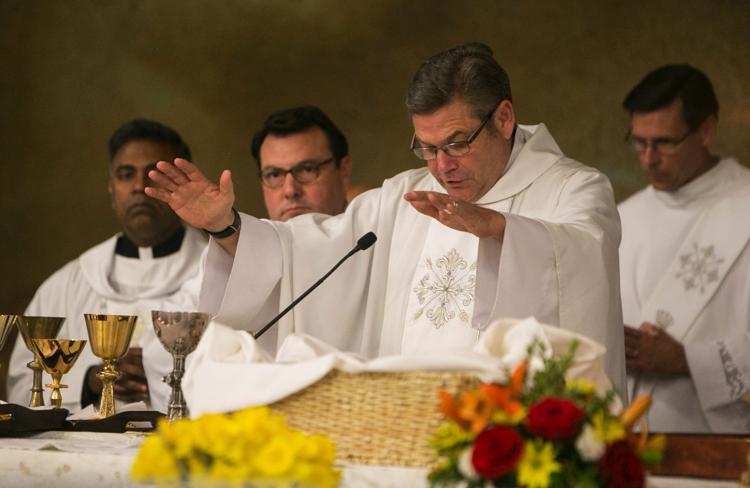 Monsignor Craig Harrison, with hands over the altar, celebrates Holy Thursday Mass at St. Francis of Assisi Church in 2017.
Photo by Rod Thornburg
A third allegation against Monsignor Craig Harrison surfaced Monday when the Roman Catholic Diocese of Fresno confirmed an accusation of sex abuse was reported two decades ago.
In 1998, a man reported the alleged abuse to the Firebaugh Police Department, and then later reported it in 2002 to the Fresno Diocese, according to Teresa Dominguez, communications director for the diocese. The diocese investigated and took no action.
"(The accuser) didn't feel that it got its due attention in 1998 so he did return in 2002 to the diocese," Dominguez said. "The diocese determined it to be unsubstantiated."
The man said the abuse occurred at St. Joseph Church in Firebaugh, where Harrison served as pastor from July 1, 1992 to June 30, 1999.
"However, it's our policy ... if we do discover something comparable that occurred in the past we bring it into the current conversation," Dominguez said.
Harrison's attorney, Kyle Humphrey, said he was surprised the Diocese of Fresno had revealed the latest accusation, given the circumstances of the allegation.
"Father Craig reported that allegation himself," Humphrey said. "This is baffling because it was Father Craig who went to the police and diocese. The young man, from what I understand from my sources, had also accused his coaches and his parents. It was reported and found to be unsubstantiated.
Asked about the Humphrey's comments, Dominguez said she couldn't comment any further.
Firebaugh Police Chief Salvador Raygoza said Monday the department was "looking at possible past investigations."
Harrison, 59, the popular local priest of St. Francis Church, was put on paid administrative leave last week after a man reported to the diocese he had been inappropriately touched by the priest in Firebaugh years ago. Then Saturday, the diocese said a second accusation had been reported in Merced, where Harrison served as pastor from Sept. 12, 1987 to June 21, 1989.
That brings the total number of accusers to three — two at St. Joseph's in Firebaugh and one in Merced.
Craig has been pastor at St. Francis in Bakersfield since 1999 and prior to that from June 22, 1989 to Oct. 16, 1991. He also serves as the chaplain for the Bakersfield Police Department and Kern County Sheriff's Office.
Bakersfield police said they have not previously investigated allegations of sex abuse against Harrison. And if a current investigation were ongoing, it would not be disclosed under department policy, said spokesman Nathan McCauley said.
The Kern County Sheriff's Office said there is no current investigation of Harrison and that it could not disclose any past investigations or arrests, citing state law.
"From the best of my knowledge with arrest records .... we can't release it according to law," said Angela Monroe, the Sheriff's spokeswoman.
Jim Ewert, general counsel for the California News Publishers Association, disputed the Sheriff's Office position on releasing information. He said California Government Code specifically allows for the release of information about arrests and incidents, unless to do so would harm an investigation or jeopardize the safety of the a victim or witness.
"There is nothing in the law that requires them to withhold it," he said.
In February, the Fresno Diocese announced it was launching a thorough investigation and would then release a list of names of priests accused of sexual misconduct dating back to 1922. It encouraged anyone who believes they are a victim to contact the diocese.
The review starts Tuesday, Dominguez said. The diocese is bringing in a former FBI executive assistant director, Kathleen McChesney of Kinsale Management Consulting, to review the clergy files.
The diocese comprises 87 parishes in eight counties, including Kern, Fresno, Tulare, Kings, Inyo, Madera, Merced and Mariposa, and it has an estimated 1.2 million Catholics.
Asked if Harrison's file would be expedited for review considering the recent allegations against him, Dominguez said she couldn't comment on that.
"All I can say is his file will be included among others with a complete, thorough review," she said. "That's good news. It's very objective. That's why we wanted professional to come in."
Contact: sshepard@bakersfield.com