The Twisted Life and Death of a Predator Priest with a Wrestling Fetish
By Pilar Menendez
Daily Beast
June 14, 2019

https://www.thedailybeast.com/how-predator-priest-john-capparellis-wrestling-fetish-led-to-his-murder-decades-after-abuse

As a priest, John Capparelli used wrestling as a pretext to molest boys. It also played a role in his murder.

As a New Jersey priest in the 1970s and 1980s, John Capparelli liked to arrange wrestling matches for parish boys. He gave them skimpy Speedos to wear, took pictures of them grappling, and even joined in—using the rough-housing as an excuse to sadistically grope the kids.

"Capparelli kind of played the role of being that cool adult that you hung out with," one of his victims, Rich Fitter, told the Daily Beast last week. "I have no doubt in my mind now that he was a sociopath."

After his sexual abuse came to light in the late 1980s, Capparelli was sent to a rehab for clergy with sexual problems, removed from parish ministry and eventually suspended from performing priestly duties. However, he continued to teach—while secretly running a porn website that featured young wrestlers.

It took two decades and several lawsuits to finally defrock Capparelli and get him ousted from the classroom. By then, he had left New Jersey and moved to a two-bedroom home in a quiet neighborhood in Henderson, Nevada, where neighbors noticed he always had a steady stream of young male visitors.

Then, three months ago, there was a shocking development in the saga of the predator priest: He was found shot dead inside his home by police who were asked to check on the 70-year-old. The motive was initially unclear, raising the obvious question of whether his death could somehow be related to his sordid past.

The answer, it turned out, was no—and yes.

The person police say murdered Capparelli was not one of the teens he molested so many years ago. But the investigation revealed that while Capparelli had left behind New Jersey and his collar, he did not abandon his obsession with wrestling.

According to police, the disgraced clergyman was killed by a young man who answered his online ad seeking out "young and good looking men" willing to wrestle for him.

"It's karma," Fitter said.

"The world is a safer place without him," he added. "Caparelli had a 40-year record of being a serial predator and he was constantly empowered by the fact that he could do no wrong. I have no sorrow for what happened to him."

Police have identified the alleged gunman as 25-year-old Derrick Mitchell Decoste, who is currently sitting in a jail cell in Michigan.

According to an arrest affidavit, Decoste went to Capparelli's house "several times" in response to a Craigslist ad. While the suspect claimed it was for a photography "gig," his girlfriend later told investigators that he intended to rob Capparelli but later claimed he "chickened out."

On March 9, one of Capparelli's friends became concerned after not hearing from the former priest for several days, went to the Henderson home and saw a "man's body through a rear window," police said.

Cops called to the scene found the ex-priest with a bullet wound to the neck—and "hundreds of homemade DVDs that featured nearly-nude men wrestling inside [his] home, presumably while the victim filmed them," the affidavit states.

"Investigators [also] located a printed out Craigslist ad which had been placed by the victim," the affidavit said, adding that Caparelli's wallet, cellphone, and house keys were missing. "The ad sought out 'young and good looking men' who would be willing to wrestle and or compete in 'submission matches,'" the affidavit said.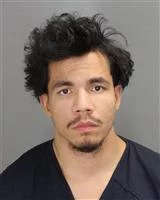 Derrick Decoste is accused of killing ex-priest John Capparelli.



Detectives were led to Decoste through texts sent to Capparelli's phone three days before his death. By then, Decoste was being held at Oakland County Jail on an unrelated case.

He was charged with murder with a deadly weapon and robbery with a deadly weapon. His girlfriend gave police a box of Decoste's belongings that included Capparelli's 9 mm Smith & Wesson handgun and a watch inscribed with "Newark Teachers Union Local 481"—a reference to the New Jersey public school where he taught math in 2011 after leaving the priesthood. The handgun matched the gun casings found at the scene, police said.

An attorney for Decoste could not be located, but he denies the allegations. Decoste is expected to be extradited to Nevada sometime this month, Henderson police said.