Man who rejected $650K priest abuse settlement calls offer 'insignificant'
By Jay Tokasz
Buffalo News
June 18, 2019

https://bit.ly/2IWbb9h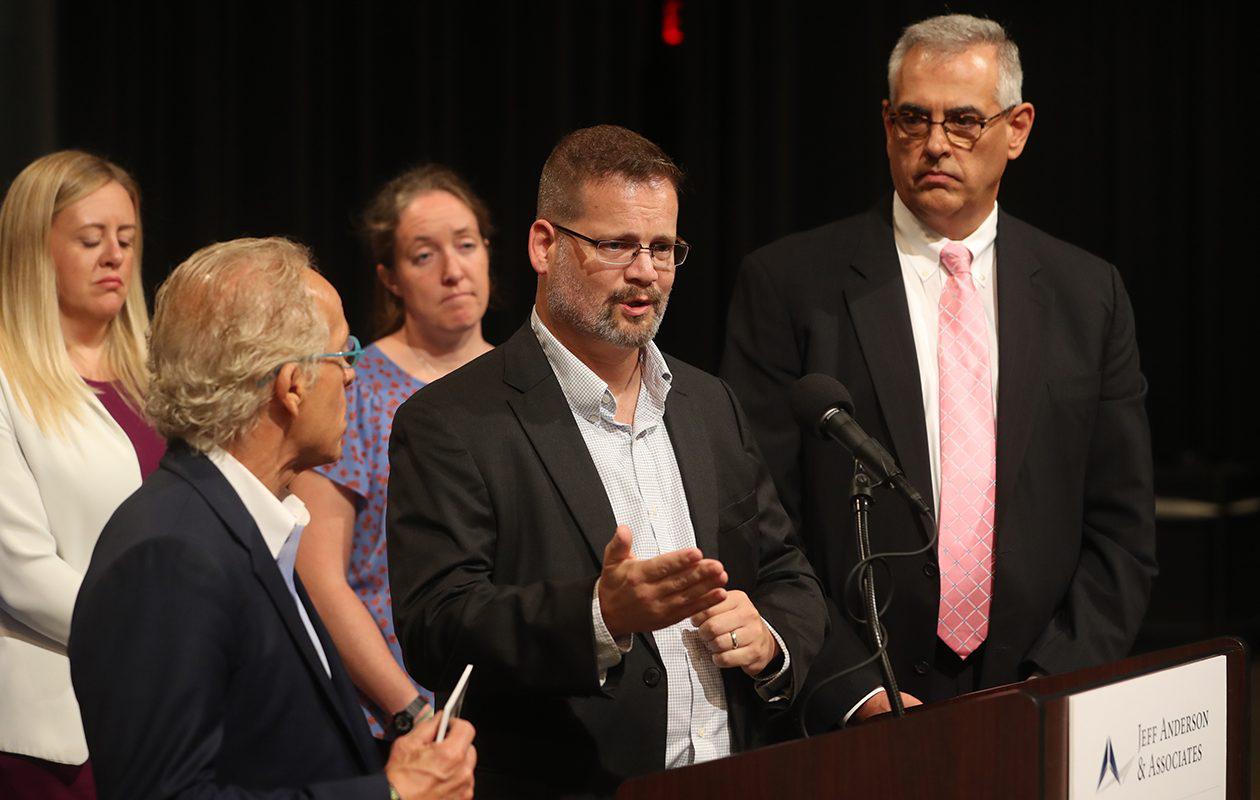 James Bottlinger spoke publicly for the first time Tuesday about being sexually abused as a child by the Rev. Michael Freeman and why he rejected a $650,000 settlement offer from the Buffalo Diocese.
Photo by John Hickey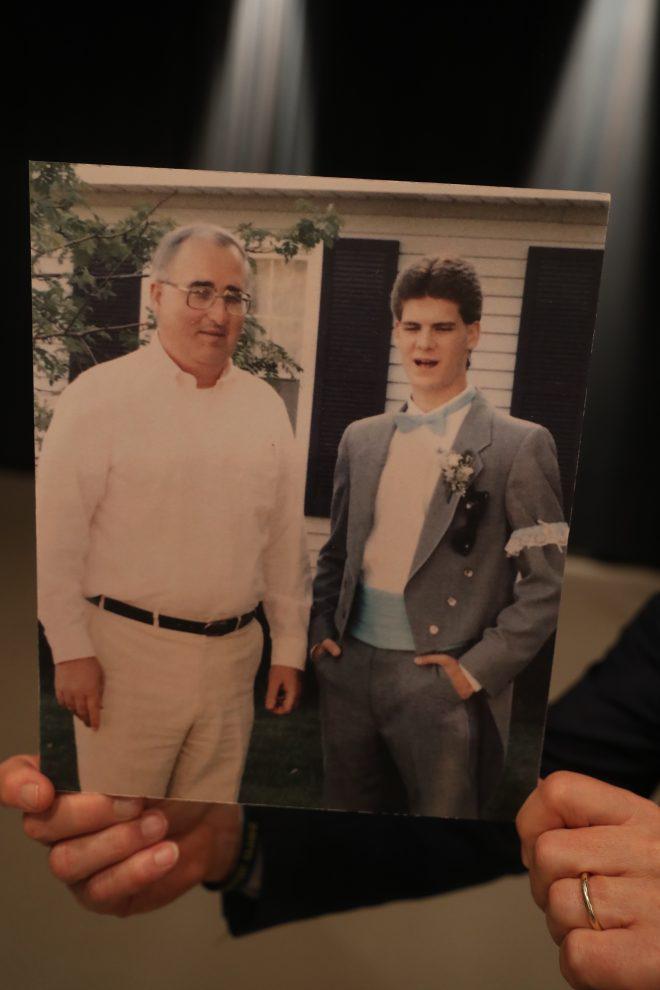 The Rev. Michael Freeman and James Bottlinger, right, in a photo taken when Bottlinger was 17.
Photo by John Hickey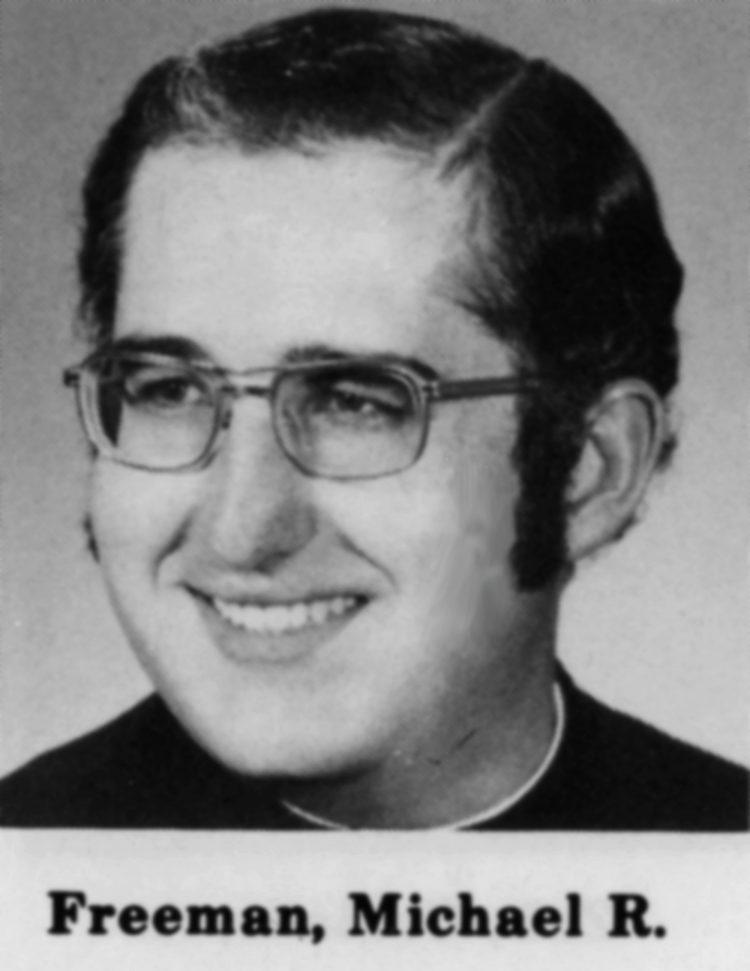 The Rev. Michael Freeman.
James Bottlinger spent a lot of time as a teenager inside the rectory of St. Mary of the Assumption Church in Lancaster, where the Rev. Michael Freeman served as associate pastor.
The Catholic Diocese of Buffalo already had received three complaints about Freeman's alleged sexual abuse of boys when Freeman arrived at the parish in 1984 and began molesting Bottlinger, an altar boy, according to attorney Steve Boyd.
Bottlinger said he remembers one visitor to the rectory in particular – Monsignor Donald W. Trautman, at the time the second-highest ranking administrator in the Buffalo Diocese.
Trautman walked in, said hello, "had a few laughs" with Freeman and then left without saying a word about a teenage boy being inside the priest's private quarters, according to Bottlinger.
Bottlinger, 50, said he has no doubt Trautman knew Freeman was an abuser, and yet "seeing me there in his room didn't faze him one bit."
"He left. I stayed at the rectory," said Bottlinger, talking publicly Tuesday about the abuse for the first time. "It didn't bother him at all."
The diocese in December offered Bottlinger $650,000 – the largest settlement award in its recently concluded $17.5 million program compensating childhood victims of clergy sex abuse.
Bottlinger said Freeman preyed upon the fact that he was a dedicated Catholic whose parents were divorced.
"He was a father figure when my father wasn't around," said Bottlinger.
Freeman could be kind and compassionate at times.
"People want to assume these pedophiles are monsters. But they're people, too. There's multiple sides to everyone. He could be very caring," said Bottlinger.
Bottlinger, who is now married with two children, said he's not gay and didn't enjoy the abuse. But he continued associating with Freeman because he revered priests, he said. Freeman also made an impression on him with his association as a chaplain with the Airborne Rangers and with area police agencies.
Freeman regularly took Bottlinger on his boat and out to dinner at area restaurants, he said.
"He knew all the police. He knew all the restaurant owners. He was kind of a celebrity," said Bottlinger.
But the priest also did horrible acts of abuse and was controlling and manipulative, he said.
Freeman frequently gave Bottlinger alcohol, and he regularly took the teenage boy to Alcoholics Anonymous meetings around Western New York, said Bottinger.
After some episodes of abuse, Freeman put on his priestly stole and took out a black case filled with special oil that he used to absolve Bottlinger of his sins.
"I think it was more his own guilt," said Bottlinger. "I was absolved so many times. That was the compassionate and almost priestly part of him."
When Bottlinger started dating girls, he said Freeman became possessive and sabotaged any burgeoning relationships. In more than one instance, the priest showed up at Bottlinger's home, waiting in the boy's bedroom with fuming jealousy.
Bottlinger said Freeman physically assaulted him in front of family members and other witnesses.
Buffalo Diocese officials knew in 1981 that Freeman had a history of abuse, according to a Pennsylvania grand jury report released in August.
The report said Freeman admitted to committing sexual misconduct with minors at St. Margaret and St. Lawrence parishes in Buffalo, where he served in the early 1970s, and at other clergy assignments. He also taught at Bishop Turner High School.
"The Grand Jury found no documentation in Freeman's file that indicated that the Dioceses of Buffalo or Erie ever notified law enforcement officials, despite the fact that Freeman admitted to sexually violating children in at least five of his six ministry assignments," the grand jury report said.
One of Freeman's accusers told The News that he first notified the diocese about Freeman in the early 1980s. The man, Paul Barr of Niagara Falls, said Freeman molested him in 1980 in the rectory of Sacred Heart Church in Niagara Falls.
The Buffalo Diocese did not inform the public about Freeman until March 2018, when Bishop Richard J. Malone released a list of 42 priests who had been credibly accused of sexual misconduct with minors.
Freeman died in 2010 at age 63.
Boyd said he's spoken with two victims in addition to Barr who complained to the diocese about Freeman prior to the priest's association with Bottlinger.
"What bothers me the most is they knew," said Bottlinger. "The church purposely covered this up. There were victims before me."
Bottlinger said he wants to see all of the diocese's records on Freeman, including his treatment and disciplinary files. And he wants church leaders to explain their inaction.
He's especially interested in what Trautman, who was chancellor and vicar general of the Buffalo Diocese in the mid-1980s and eventually moved on to become bishop of the Erie Diocese for 22 years, has to say.
"He's got a lot of answering to do," said Bottlinger.
Trautman could not be reached on Tuesday to comment.
In a 2018 interview with The News, Trautman said he didn't recall the accusations against Freeman or how the priest's case was handled in Buffalo.
"The general practice was if the priest has proven sins against him, he's taken out of ministry," he said.