Top Buffalo Diocese Official Allegedly Scolded Boy Who Accused Priest of Abuse
By Jay Tokasz
Buffalo News
June 20, 2019

https://buffalonews.com/2019/06/20/top-buffalo-diocese-official-allegedly-scolded-boy-who-accused-priest-of-abuse/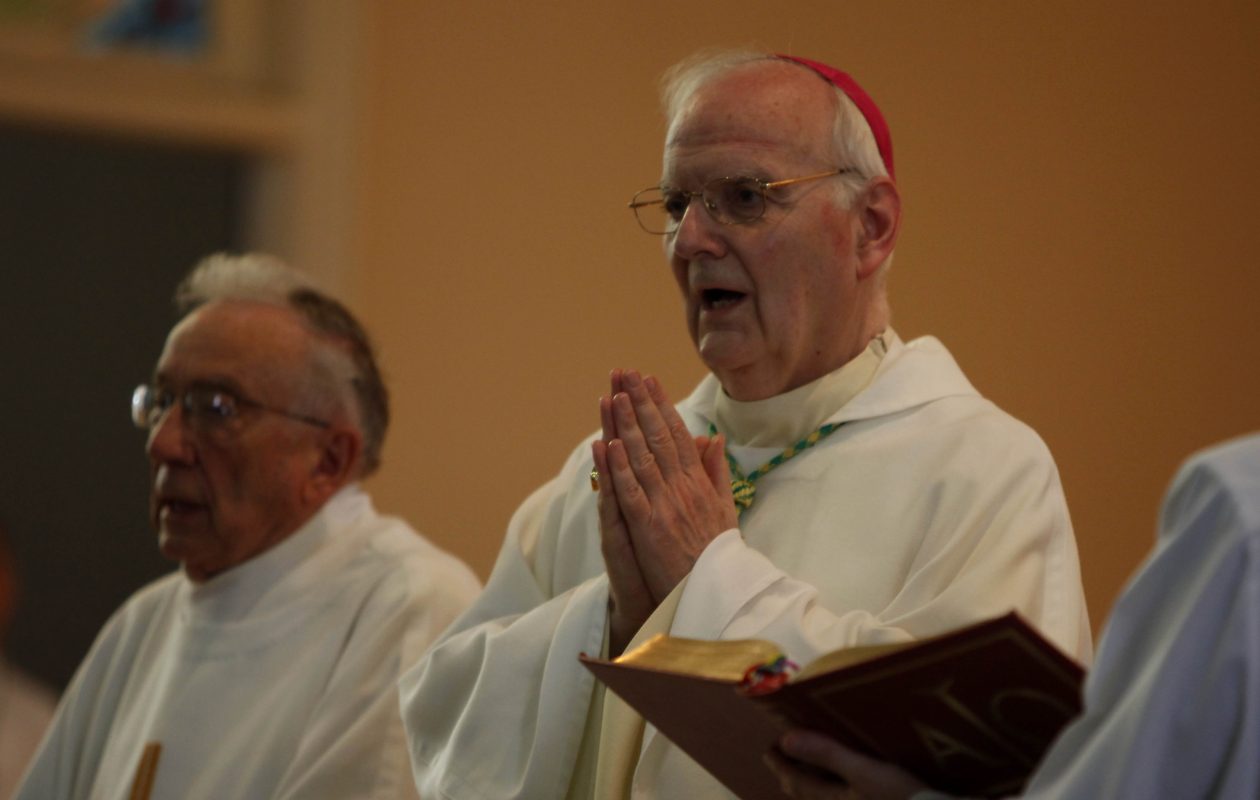 Bishop Donald W. Trautman prays during the 175th anniversary of SS. Peter and Paul Catholic Church in Williamsville in 2011. Trautman's handling of clergy sexual abuse cases in the Buffalo Diocese in the 1980s has been criticized by a Pennsylvania grand jury report and James Bottlinger, a man who says he was abused by the Rev. Michael Freeman. In 1990, Trautman was appointed bishop of the Erie Diocese. He retired in in 2012. (News file photo)



The second-in-command of the Buffalo Diocese in the early 1980s allegedly blamed a teenage boy who accused the Rev. Michael R. Freeman of sexually abusing him.

Monsignor Donald W. Trautman told the boy in a meeting at diocese headquarters that he should have avoided Freeman, who was assigned to St. Christopher Church in the Town of Tonawanda at the time, according to local attorney Steve Boyd.

"Trautman told the teenager: 'You should have never put yourself in that position,' " said Boyd.

Freeman remained in parishes for years after the diocese first received complaints about him.

Trautman didn't specifically respond to Boyd's claim, but he said in an email to The News on Thursday, "I did not cover up anything."

Boyd represents James Bottlinger, who rejected the diocese's $650,000 offer to settle his complaint that Freeman abused him as a teen after the priest was removed from St. Christopher and sent to St. Mary of the Assumption Church in Lancaster in 1984.

The diocese in December offered Bottlinger its largest settlement award in its recently concluded $17.5 million program compensating childhood victims of clergy sex abuse.

Bottlinger, 50, called the offer "insignificant" in the face of the abuse he endured, and said he plans to sue the diocese, preferring a full accounting of how and why the diocese allowed Freeman to continue in ministry for so long.

Boyd said he's spoken with three other men who went to the diocese in the early 1980s with complaints about Freeman and sexual abuse.

One of them is Niagara Falls attorney Paul Barr, who rejected a $45,000 compensation offer from the diocese and already has filed a lawsuit over an alleged molestation in the rectory of Sacred Heart Church in Niagara Falls in 1980. Barr said he reported the abuse in person at the diocese chancery around 1982.

Boyd said the other two men who allege Freeman abused them want to remain anonymous and declined to be interviewed by The Buffalo News. Boyd said one of the men recounted how Trautman had told him that he should not have put himself in a vulnerable position with Freeman.

Boyd said the men at this point are not his clients. They contacted Boyd separately with questions related to Freeman, he said. The men each told Boyd they had a face-to-face meeting with Trautman and reported abuse by Freeman in the early 1980s, while the priest was stationed at St. Christopher.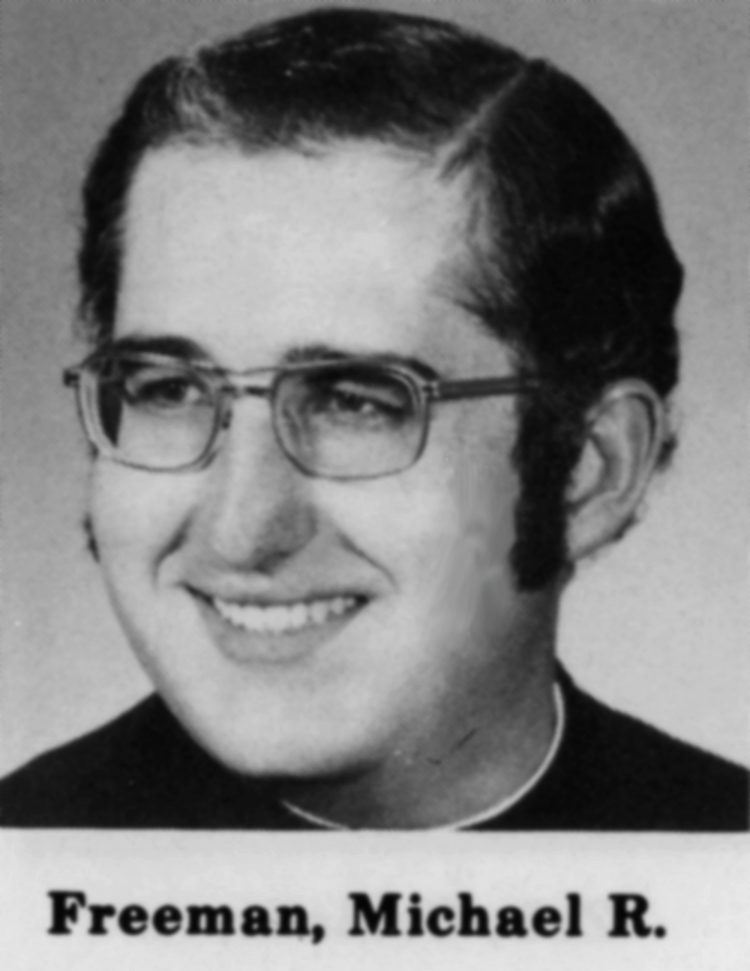 Rev. Michael Freeman



an was appointed bishop of the Erie Diocese, where he stayed until his retirement in 2012. Trautman was heavily criticized in a 2018 Pennsylvania Grand Jury report detailing the church's handling of accusations against nearly 300 priests across Pennsylvania.

Boyd said it's clear that Trautman failed to protect Bottlinger from Freeman.

"Bishop Trautman knew Paul Barr had complained, two others had complained, and each time there was a complaint they just moved Father Freeman around until he ended up at St. Mary's in Lancaster. And that's where he met James," said Boyd.

A spokeswoman for the Catholic Diocese of Buffalo told The News that the diocese will wait until a lawsuit is filed before answering allegations that diocese officials allowed Freeman to stay in ministry despite multiple complaints of sexual abuse of minors.

"Mr. Bottlinger and his lawyers have indicated that litigation will soon commence. As is customary, the Diocese will respond to all requests for documents and information regarding Fr. Freeman during the litigation process," spokeswoman Kathy Spangler said in an email.

Bottlinger said he intends to sue the diocese under the Child Victims Act, which gives plaintiffs a one-year window to file court claims in sex abuse cases that previously were time-barred by statutes of limitations. The window begins Aug. 14.

"There needs to be a story behind that money," he said of declining the $650,000 offer. "I don't want the church to determine here's some money, go away. I'd like the trial to happen to see how much of the story we can get out. To get the church to come to the table and admit the wrongdoings."

Bottlinger said it was mind-boggling to learn that Trautman had been made aware of at least three accusations of abuse against Freeman prior to the priest's appointment in 1984 to St. Mary Church.

Bottlinger recalled meeting Trautman in the church rectory, where he spent a lot of time with Freeman.

Trautman came in, shared a few pleasantries and left, unfazed by a teenage boy being inside the private room of a priest, said Bottlinger.

"It didn't bother him at all," he said.

Trautman denied seeing Freeman and Bottlinger together in Freeman's private quarters and said assertions made at Bottlinger's news conference earlier this week were "not accurate."

"I can state with absolute certainty that I never saw Freeman and Bottlinger in Freeman's bedroom or "private quarters," said Trautman. "If I had observed any inappropriate actions, I would have immediately corrected it."

After the abuse ended, Bottlinger said he reported it to Monsignor John W. Madsen in the late 1980s and requested that Freeman be removed from the priesthood and away from children.

Madsen, who was the uncle of a young woman Bottlinger was dating at the time, wanted him to "sign some statements," Bottlinger said.

"I said I didn't really want to put anything in writing. The sexual abuse wasn't happening anymore," said Bottlinger. "I just wanted to make a point that I didn't want Father Mike around kids, that you have to promise me to get him away from kids. He agreed to that, but he still wanted me to write some statements. I said I'll write down a little bit, but you have to take action. He promised me he would and then that was it."

Bottlinger said he was told Freeman no longer would be a priest and wouldn't call him anymore.

But Freeman remained in the priesthood and kept in contact with Bottlinger through the early 1990s. At the time, Freeman was being treated by a therapist and requested that Bottlinger attend one of his meetings with the counselor, Bottlinger said.

"I was led to believe he was trying to remain in the priesthood, in active ministry, and I was the only one holding him back, so he needed some good pointers from me with his therapist," said Bottlinger. "He said he would deny, deny, deny until his grave, so he wanted me to help in staying in the priesthood."

Bottlinger said he had no interest in helping Freeman remain a priest, and the meeting with the therapist didn't go well.

"Father got pretty agitated with the therapist. He didn't like the questions that I was asking, not making him look good, ruining his career," said Bottlinger.

Bottlinger, a graduate of Depew High School, received a bachelor's degree from SUNY Buffalo State and a master's degree from Canisius College. He moved away from Western New York in 1996 and currently works as a high school counselor at Kadena Air Base in Okinawa, Japan.

He said he had buried the abuse in his past and "was ready to go to the grave with it" when the clergy abuse scandal began exploding in the Buffalo Diocese in 2018. He nearly suffered a panic attack in seeing a photograph of Freeman that appeared in The Buffalo News along with coverage of the scandal.