Former Jackson Priest Accused of Sex Abuse
By Emily Mieure
Jackson Hole News
June 26, 2019

https://www.jhnewsandguide.com/news/cops_courts/former-jackson-priest-accused-of-sex-abuse/article_68a01817-e797-5492-98b9-1b51b6271228.html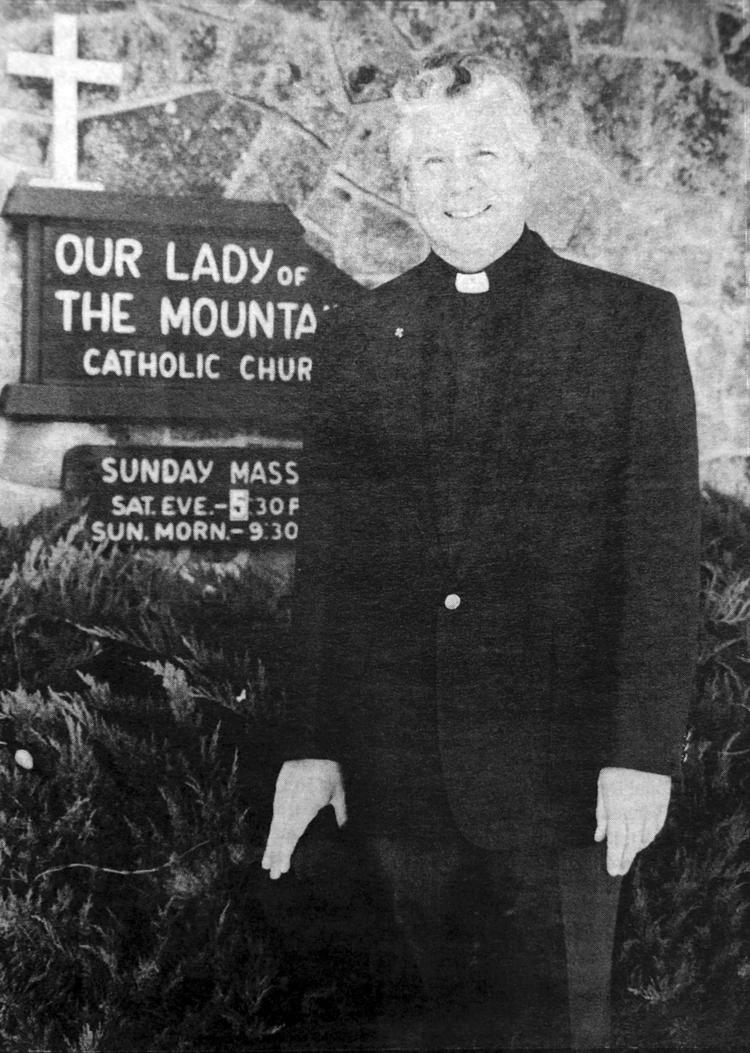 Gerald Chleborad at Our Lady of the Mountains Catholic Church in 1991.



The first name on a list of Wyoming priests accused of sexually abusing young boys is former Jackson clergyman Gerald Chleborad.

When reached by phone at his home in Colorado, 84-year-old Chleborad refused to comment about the serious claims.

"I don't have anything to say," Chleborad said Thursday before hanging up.

The Roman Catholic Diocese of Cheyenne released the list earlier this month after internal investigations revealed "substantiated allegations of sexual abuse."

Three adolescent males reported being sexually abused by Chleborad, according to the list, in 1984-85, 1995 and 2003.

Chleborad moved to Jackson in the early '90s and served as a priest at Our Lady of the Mountains and Sacred Heart Chapel in Grand Teton National Park, according to newspaper archives.

A 1991 Jackson Hole Guide article on Chleborad described him as a roller coaster enthusiast and Broadway fan who collected Christmas memorabilia.

"But even if the shepherds' flock are included in the total when a viewer tries to count the endless lines of miniature statues, the number does not come close to matching the number of people Chleborad has reached during his career as a Catholic priest in Wyoming," the Guide article stated.

Before moving to Jackson, Chleborad worked at St. Joseph in Cheyenne, Holy Name in Sheridan, St. Mary's in Cheyenne, St. Matthew in Gillette, St. Joseph in Lovell, St. John the Baptist in Buffalo, St. Patrick in Kemmerer, St. Margaret in Riverton and Saints Cyril and Methodius in Rock Springs.

The most recent report of abuse against Chleborad was made to the church in 2016, according to the Diocese.

There are no open investigations in Teton County, according to law enforcement officials.

There are also no records of past Teton County investigations involving Chleborad.

But in 1995, while Chleborad was a priest in Jackson, he was arrested in Utah for public lewdness.

"The Rev. Gerald F. Chleborad was arrested last Thursday by police in a Salt Lake City suburb after he's said to have exposed himself," the May 10, 1995, Jackson Hole News article stated.

A fill-in priest was sent to Our Lady of the Mountains to handle Chleborad's responsibilities after the scandal.

Church members interviewed by the News supported Chleborad despite the public indecency allegations.

"He's been an excellent pastor," Connie Bartek said at the time. "It's heartbreaking."

Police in Sandy, Utah, said security video in a store recorded Chleborad touching a coat sleeve on a rack with his penis.

A spokesperson for the Diocese at the time said Chleborad was placed on leave and "has met with Bishop Joseph Hart and will be receiving counseling."

Hart is also accused of sexually abusing three young males between 1977 and 1980. It was the probing into Hart's past that opened up more investigations into abuse allegations against other Wyoming priests.

Bishop Steven Biegler, of the Catholic Diocese of Cheyenne, published the list of 11 priests in the Wyoming Catholic Register.

"Each name on this list represents a betrayal of trust, a violation of the innocent and a human tragedy," Biegler wrote.

In an essay titled "Where Sin Increases, Grace Abounds," Biegler explained his reasoning for publishing the list.

"Sexual abuse by clergy is an appalling sin and reprehensible crime," Biegler wrote. "It contradicts everything we stand for."

Biegler said a "substantiated allegation" is one that has been determined to have reasonable probability or even certainty based on a convincing level of proof.

The allegations of abuse date back to 1950.

"If a priest has one substantiated allegation of sexual abuse of a minor or vulnerable adult, then he is not allowed to do any public ministry," Biegler wrote.

Biegler thanked the "courageous" victims who came forward and encouraged other victims to report.

"The Church has a responsibility to be transparent about sexual misconduct with minors by those in Church leadership," he wrote, "and I have an obligation to protect those entrusted to my pastoral care."

Read the entire list of priests who were accused of sexual misconduct and Biegler's full essay attached to this story on JHNewsAndGuide.com.