Diocese of Lake Charles defends accuracy of credibly accused list
By Ben Myers
Advocate
July 24, 2019

https://bit.ly/2Ma56JS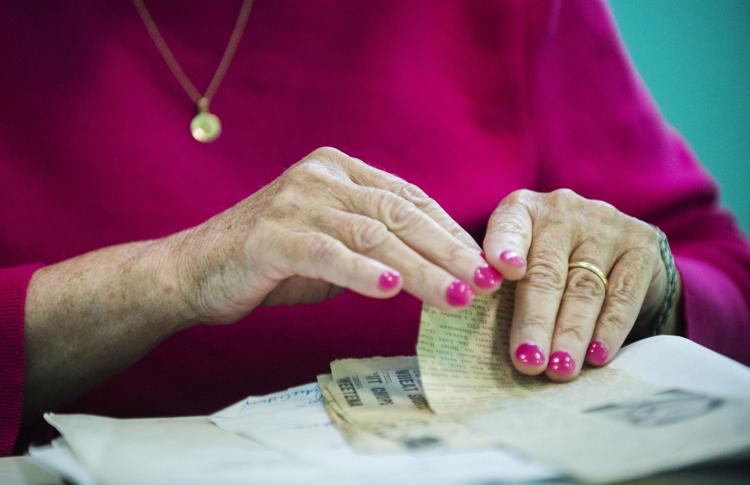 A woman who says Rev. Gerard Smit molested her in the 1960s flips through old photos, newspaper clippings, letters and notes as she discusses her allegations to the Diocese of Lake Charles on Thursday, June 20, 2019, in Lake Charles, La.
Photo by LESLIE WESTBROOK
The Diocese of Lake Charles is defending the accuracy of its list of clergymen credibly accused of child sex abuse.
The Advocate reported last week that diocesan officials knew of allegations against two priests, Gerard Smit and Mark Broussard, years before the dates indicated on the list. During the intervening periods, the bishop at the time, the late Jude Speyrer, sent Smit and Broussard to a Catholic-run treatment center known for receiving accused priests and he subsequently helped them continue working as priests, records show.
The diocese said in a statement Tuesday, "we maintain that the list is both accurate and thorough," without elaborating or disputing anything in the article.
Church officials said in an interview the list reflects the dates of the earliest written allegations on file. That standard was established by an independent review panel to ensure proper verification, they said. The panel, composed of "legal and judicial professionals," according to the statement, investigated church records and compiled the list.
SNAP, a national advocacy organization for priest abuse victims, condemned the diocese's rationale as "yet another loophole that church officials found and used to continue to hide the fact that they were aware of abuse allegations against Fr. Gerard Smit and Fr. Mark Broussard long before they were willing to admit."
Speyrer acknowledged in a 1986 letter that Smit had been accused of fondling young girls in the 1960s, and that Smit had not denied the allegations. But the diocese's list, released in April, says that it did not receive allegations against Smit until 2002. Speyrer sent Smit to the treatment center in Jemez Springs, New Mexico, and then referred Smit for part-time work in the Diocese of Wilmington, Delaware.
Church officials said in their statement that it "welcomes any further information to enhance the accuracy of the list," and urged victims to come forward with any new information. The statement does not address Speyrer's 1986 letter. The diocesan spokesman, Rev. Jeffrey Starkovich, declined in an interview to characterize the letter as evidence that the diocese had received allegations prior to the date listed.
"The information that's in the bishop's letter is the information that's in the letter," Starkovich said.
One of Smit's victims, a woman who did not want to be identified, told The Advocate she verbally informed a diocesan official in early 1986 that Smit had abused her and other girls in Lake Charles in the mid-1960s, when Smit was assigned to Our Lady Queen of Heaven.
Broussard, meanwhile, told the church's current chancellor, George Stearns, that he had informed Speyrer and another priest of his abuses in 1988, according to a transcript of his statements to Stearns a decade later. Broussard was sent to the New Mexico treatment center that year, after his purported disclosures, records show.
Yet the recent list says the church did not receive allegations against Broussard until 1994, when Broussard resigned. Allegations later surfaced that Broussard abused children in the six-year period between his treatment and his resignation.
The other priest Broussard said he had informed, Henry Mancuso, arranged for Broussard to work as a hospital chaplain in Lake Charles after Broussard returned from treatment, according to Mancuso's memos. Broussard then transferred to St. Eugene Church in Cameron Parish before resigning.
Allegations from Broussard's time as a hospital chaplain were part of his 2016 Calcasieu Parish conviction on multiple child sex abuse charges. He was sentenced to two life terms plus additional prison time, which he is currently serving in Angola state prison. A Cameron Parish charge for molesting a juvenile was dropped after Broussard was sentenced in the Calcasieu Parish case.
Broussard told church officials of his 1988 disclosures to Speyrer and Mancuso on two occasions. In addition to telling Stearns a decade later, Broussard also told Monsignor Harry Greig as Greig investigated the written allegation that led to Broussard's resignation, according to Greig's written summary.
While the diocesan statement did not address Broussard's claims that he disclosed some of his abuses, church officials said in an interview they could not speculate about an unrecorded discussion in 1988. Mancuso, who is still alive and retired, told The Advocate in an interview he had done whatever he could to help Broussard after Broussard returned from treatment. Mancuso said Broussard had spoken with him in confession, and that he could not comment further.
Broussard told Stearns in 1998 that Mancuso and Speyrer had discouraged him from discussing any allegations.
"Henry Mancuso's response was, 'Do you really want to go talk?' " Broussard said, according to a transcript of his statements to Stearns. "I was distraught. I wanted to tell the bishop about this. The bishop was out of town, and (Mancuso) said, 'You really don't want to tell the bishop about this.' He suggested, 'Let's get you help; let's deal with this.' Everybody's response was always that."
Asked if any attempt had been made to discuss Broussard's claims with Mancuso, church officials said they could not comment on the review panel's decisions.
The church declined to identify the members of the review panel or make them available for interviews.
Contact: bmyers@theadvocate.com