Retired Mississippi Catholic priest removed from ministry after credible abuse allegation
By Sarah Fowler
Mississippi ClariLedger
July 29, 2019

https://bit.ly/30X51gC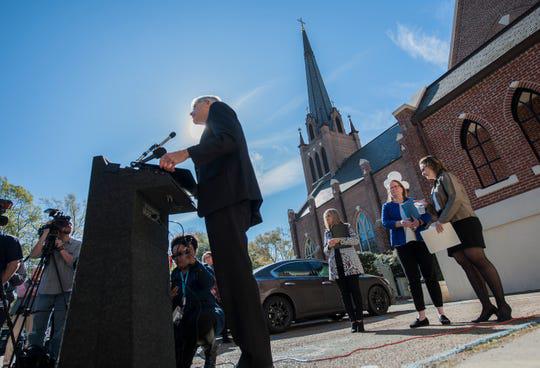 Bishop Joseph Kopacz addresses media Tuesday, March 19, 2019, denouncing the abuse of children by clergy, recognizing the victims' pain and asks for prayer prior to releasing the 2019 list of clergy with credible allegations of sexual abuse of a minor in the Catholic Diocese. The list named 37 clergy and religious. Victims, both boys and girls, range in ages 5-17 years old.
Photo by Barbara Gauntt


[with video]



A retired priest in the Catholic Diocese of Jackson has been removed from public ministry after a credible accusation of abuse.

The Rev. Edward Balser, 90, is no longer allowed to publicly identify himself as a priest after a credible allegation of years-long inappropriate touching in the 1950's, according to a release issued by the diocese.

The abuse first occurred in 1953, when Balser was a seminarian and continued after his ordination into the priesthood in 1956, the release stated. The female victim was a minor throughout the abuse. It did not include sexual intercourse. The extent of the touching or when the allegation was first made were not publicly available.

Attempts to reach Balser were unsuccessful Monday.

Balser, who served in Jackson, Pearl and Flowood, retired in March 2003.

Balser's removal from the ministry makes 38 clergy—36 priests and two religious brothers—in the Jackson Diocese who have been credibly accused of abuse. The allegations date back decades, with the most recent allegations coming in the early 2000s.

In January 2019, while the Diocesan Fitness Review Board was reviewing and preparing files for the release of the list of clergy credibly accused of sexual abuse of minors, the board examined Balser's file and the accounting of the abuse, the release stated.

The allegation was deemed credible and the Board recommended removal from public ministry. It is the only allegation against him, the release stated.

Bishop Joseph Kopacz met with Balser in February and informed him of the ruling. As his right under canon law, Balser appealed.

The appeal was presented to the board by a priest advocate on May 3. After further deliberation and consultation with an independent Church canon lawyer from outside the diocese, the board met again on June 21, 2019, the release stated.