"Long Time Coming': Emotions Run High As Survivors File Child Victims Act Lawsuits
By Maki Becker
Buffalo News
August 13, 2019

https://buffalonews.com/2019/08/13/one-clergy-abuse-survivor-finds-relief-as-child-victims-act-filings-begin/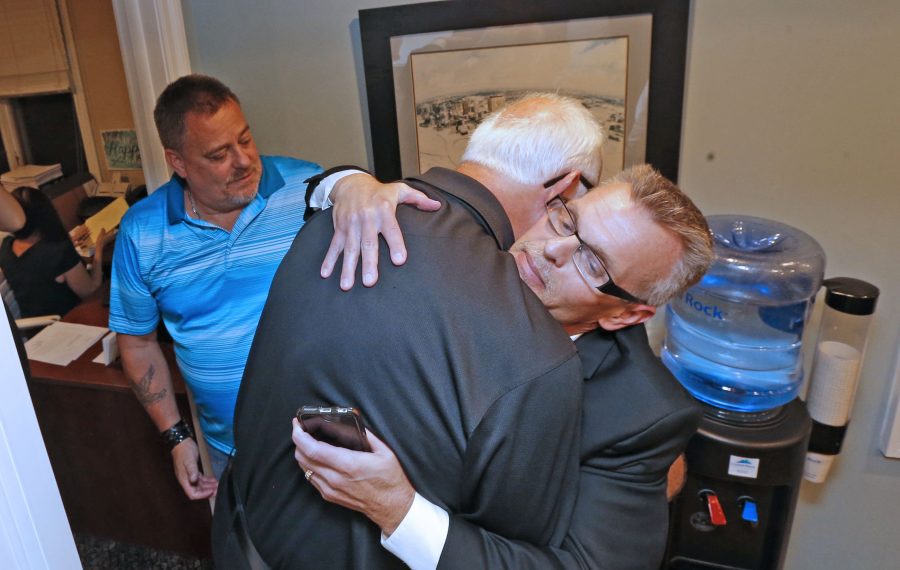 Michael Whalen, center, looks on as fellow sex abuse survivors Gary Astridge, left, and Kevin Koscielniak embrace after filing lawsuits in the Child Victims Act just after midnight at the law offices of Steve Boyd at 40 N. Forest Road in Amherst. (Robert Kirkham/Buffalo News)



Forty-nine years ago he was told he should be excommunicated when he reported that a priest at Fourteen Holy Helpers Church in West Seneca had molested him.

Twenty-five years ago he was told that he couldn't sue the priest or the church because the statue of limitations on such cases had run out.

On Wednesday, just after the stroke of midnight, Chris Szuflita saw a measure of justice he never dreamed he'd see.

He was among the very first people to sue under the Child Victims Act.

As of about 6 a.m. Wednesday, 95 lawsuits had been filed in Erie County. Ninety-two of them were against the Diocese of Buffalo; the other defendants included the East Aurora School District and the Boy Scouts of America.

At 12:01 a.m., Szuflita stood quietly behind a paralegal and an assistant seated at a computer desk in the Amherst law offices of Steve Boyd as he carefully typed in his name and the defendants' names – the diocese, Fourteen Holy Helpers and five unnamed people – and uploaded a summons and complaint into the court system.

Surrounding them were other survivors of priest sex abuse, their supporters and reporters.

"We're in," Stephanie Starke said.

Szuflita turned around and smiled.

"Gonna get 'em. Gonna get 'em," he said.

It would be a moment repeated over and over early Wednesday morning at Boyd's office and many other law firms across the state as the Child Victims Act's one-year window allowing survivors of child sex abuse of any age to sue their abusers and the institutions that employed those abusers took effect.

Boyd, who is working with the Minnesota-based Jeff Anderson & Associates law firm, planned to file 83 lawsuits against the Buffalo Diocese overnight.

Paralegals, survivors and members of the media began gathering at the house-like office to experience the historic moment.

"I'm mostly worried about the mechanics," Boyd said, who had four sets of two-person legal teams set up to methodically file each case.

Among those who came to be part of the moment was Michael Whalen. In February 2018, he held a news conference in front of St. Louis Church on Main Street in downtown Buffalo, across the street from the Buffalo diocese's main offices, and accused a retired priest of sexually abusing him when he was a boy.

Later that day, the Rev. Norbert F. Orsolits admitted to a Buffalo News reporter that he had sexually abused "probably dozens" of teenage boys in the late 1970s and early 1980s.

The case touched off an explosion of accusations and eventually forced the diocese to start releasing the names of priests who had been credibly accused of sexually abusing children.

Whalen's eyes welled up as his case was officially filed.

"Long time coming," he said, as he sought a hug from another survivor, Gary Astridge, whose case was filed just moments before Whalen's.

[Child Victims Act: Complete coverage on BuffaloNews.com]

Siobhan O'Connor, Bishop Richard Malone's former executive assistant who leaked church documents to help expose the priest abuse last year, watched the emotional scenes unfold.

"It's absolutely a victory," she said of the passage of the Child Victims Act. Previously, survivors of child sex abuse only had until age 23 to either report it to law enforcement or sue.

"But it's all predicated on a tragedy. We want the truth to be known. We need it to be known," she said.

Thousands of cases are expected to be filed across the state, many of them against Dioceses, but also against schools and organizations like the Scouts.

Below is a list of Child Victims Act lawsuits filed Wednesday:

Cheryl Bentley v. Buffalo Diocese

Cheryl Bentley was 8 when, she said, the late Monsignor James P. Hayes, who was the priest at All Saints Church in Riverside, used to pull her aside in the hallways of All Saints School and kiss her. At first, it was on the cheek. Later, it was on her mouth.

"I was a kid," Bentley said last week. "I was innocent."

That was just the beginning, said Bentley, now 49, and living in Wyoming County.

By the time she was in the fifth grade, Bentley said, the priest would make her come to his office in the back of the church, where he would force her to sit on his lap and molest her with his hands. She also said he forced her to perform oral sex.

While her parents didn't attend church, she said, her mother often worked or volunteered at the church and school to offset the costs of tuition. Her mother would sell lottery tickets for the church, Bentley said, and hand the money to her to take to Hayes at his rectory. Bentley said he would molest her on those occasions.

The abuse went on until she graduated from the school in eighth grade.

Hayes died in 1988. Last year, the Buffalo Diocese named him among a list of 42 priests credibly accused of sexual abuse of minors.

Bentley said her brother texted her a link to the article with Hayes' name.

"There's your proof," he wrote.

James Bottlinger v. Buffalo Diocese, St. Mary of the Assumption

The diocese offered James Bottlinger $650,000 – the largest settlement award in its recently concluded $17.5 million program compensating childhood victims of clergy sex abuse.

Bottlinger rejected the offer, calling it "insignificant" in the face of the abuse he endured and saying he preferred a full accounting of how and why the diocese allowed the Rev. Michael Freeman at St. Mary of the Assumption Church in Lancaster to continue in ministry for so long.

On Wednesday, Boyd, his attorney, held up his iPhone so that Bottlinger could watch his case being filed via FaceTime from Japan.

Five men sue Boy Scouts, Greater Niagara Frontier Council

In one of the lawsuits, five men sued the Boy Scouts of America and the Greater Niagara Frontier Council, alleging sexual abuse by four men who were scoutmasters or assistant scoutmasters in the '60s and '70s.

A Portland, Ore., man alleges Robert Eberhardt, a scoutmaster, sexually abused him in the late 1960s when he was 11 to 14 years old, according to the suit.

A Pittsford man alleges Robert Moll Jr., an assistant scoutmaster, sexually abused him on scout camping trips when he was 12 or 13, from about 1973 through 1976. A man from North Tonawanda alleges Moll sexually abused him on camping trips when he was about 13 to 14.

A man from Hamlin alleges Norman Grimm, a scoutmaster, sexually abused him when he was around 11 to 12 years old from about 1974 to 1975. Grimm was sentenced to 15 years in prison in 2008 for molesting three young boys in his Ryan Street home.

Robert O'Donnell, of the Town of Boston, alleges he was sexually abused by Ronald Williams, a scoutmaster, when he was about 13 or 14 around 1977 to 1978. Williams was convicted in 2006 on an indecent assault charge and is serving a 15-year prison sentence. O'Donnell told The News in May he planned to file a lawsuit.

This is a developing story. Information about additional lawsuits will be added as filing begins and throughout the day Wednesday. The Buffalo News will try to contact the defendants and people accused of wrongdoing in the lawsuits, and will add their comments. Check back for updates.